Thought I'd share with those in Japan - what we got up to this weekend.
Some of you know Aki & I started TGR about a year ago to help introduce racing to people here. 5 of us have each bought 20% of this car and we race it together, with occasional guest drivers joining us.
In a little over a year we've produced a competitive car from what started out as a very clean, but near standard Prelude Spec S and the fun's getting better every time
We're often looking for additional drivers especially when an owner can't attend for any given reason. Next event's in November, a 6 hour race, then there will be another in Spring, Summer & Autumn of 2011...
Watch our progress on
TGRacing Datalog
.
Dino, you might be interested to hear Yoshi had his own race team there too.
They were driving a white 180SX... But I;ll leave him to tell his story at our next meet at his restaurant (Put up a thread about this soon - 2nd Wed is coming up!)
This weekend's event been one of our greatest races so far, bettered of course by our previous 1st placed finish by Simon, Tom & Mike in June – but no less eventful for it.
I think we're all pleasantly surprised at how well our Prelude Spec S has developed (touching wood as I write this..!) and how it's taking the punishment in it's stride.
Simon commented during the race that Honda's top brass should attend one of these races and see how many 10-15 year old V-Tecs are used in this series and note the following and enthusiasm their performance cars have and I think he's right. TGR sticks out like a sore thumb as the single foreign team in addition to driving the only Prelude amongst a sea of EG6 Civics, DC2 & DC5 Integras, Mazda Roadsters, Silvias, etc.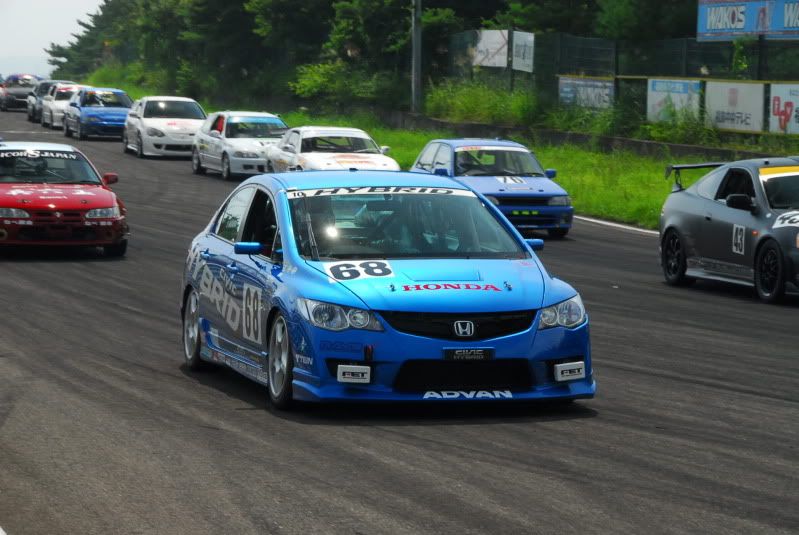 As the Prelude Spec S is considered a heavier car than the lighter Civics and there's a lack of tuning parts in Japan for it (Many of our parts were imported from the USA) it's unlikely other teams will follow suit, but we have every intention of making our car even more competitive... possibly at the risk of upsetting a few of the more competitive Japanese teams. The further modifications will come not only before November, but also in winter whilst we have more time to work on the car. If all goes to plan, by Spring we'll have finished the development on this car as we're running out of things we can do to it, being an N (Road registered) classed car but I'm sure we'd all like to see it become the fastest Group N car we can possibly create.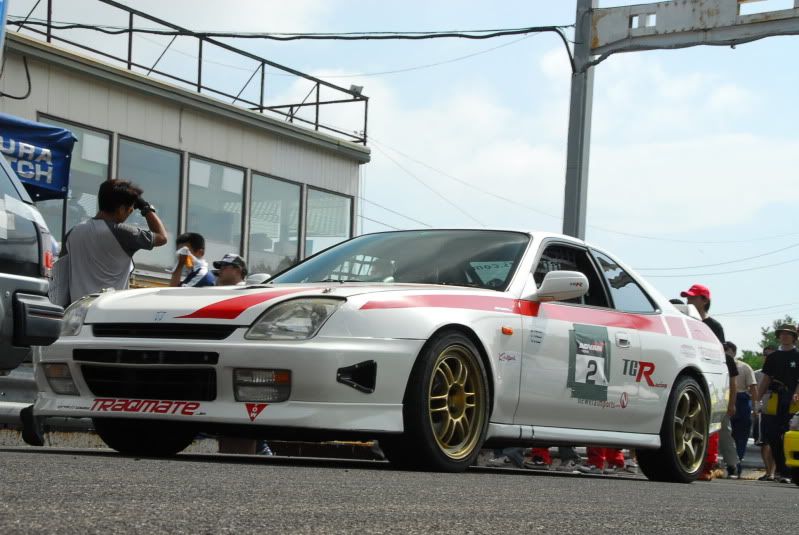 For this event James, Simon & Sumi mostly took care of the preparation and fitting of tyres, pads, oil changes, etc., whilst Mike and I were away to avoid the August heat & humidity.
I returned home the night before leaving for Fukishima, to drop off my wife and daughter. Friday morning I packed up our Toyota Hiace Diesel with a full compliment of tools & supplies and cruised 400km to Koriyama, to meet Mike and James for around 6.30pm. Arriving an hour or so too early – I drove around till I found a large Cainz home centre and bought the things I needed for that night's work on the car… James had volunteered the task of driving up in the Prelude – a brave task getting out of Tokyo in the raging August heat with 70% humidity & no air conditioning! Everybody on the team except Sumi & myself had wisely invested in a cool shirt and Mike had made a cool iced water pumping system with a clever way to remove the water and replace with ice blocks. That night, in the Hotel car park Mike fitted it, whilst I put safety nets on the window frame of each door.
We now had a properly prepared car for endurance racing in the heat..
With our Spec S Prelude's handling finally improved to the point it's wayward under-steer & tyre wear problems have been banished forever and wearing a much better set of suspension springs, I was looking forward to driving a well sorted car. It had been over a year since I last participated in a race, having only driven our Prelude a few laps since when I came to be team manager in November last year. Looking back it's come a long way, as has TGR and so I was looking forward to this whilst praying nothing would go wrong!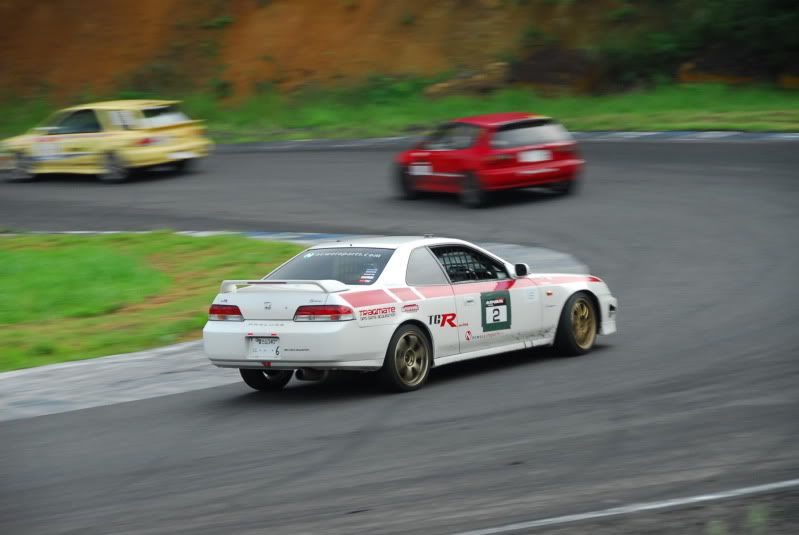 Mike didn't manage to sleep at all, but did admit to finding the porn channels (Again)! I woke up at 3am and couldn't sleep any more either. At 5am we all met at the hotel's reception. Overnight, Simon had arrived from his business trip to China and Sumi had "launched" himself all the way from Tokyo direct from his office. We turned up at Minami Ebisu circuit at nearly 6am with full tanks of fuel and loads of blocks of ice. We immediately unloaded and begun preparing our pit for the day ahead. The car was still filthy from it's last race so Jil, James and I gave it a quick once over with some wet cloths and gave it a polish to remove the rubber marks all over the bottom line. In the 7am driver's meeting I found my T-shirt was soaked through with sweat already. It was going to be a very hot & sticky day…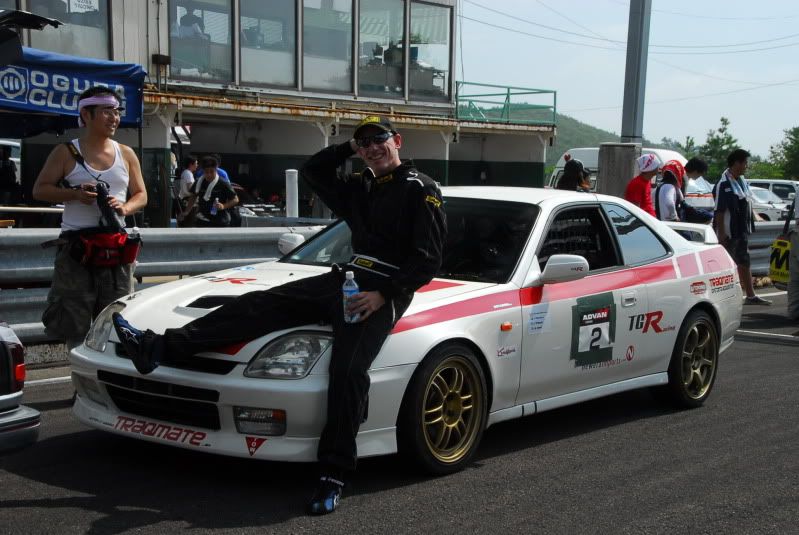 At 8.30 Simon went out and set a scorching 1.13 lap, putting us just in front of the middle of the grid. With 37 cars out there all trying to set their fastest lap, that was about as quick as Simon could have gone in all that traffic in front of him.
Some of the entries were a lot slower and there were some stupidly inexperienced drivers out there.
Quite a cocktail, considering there were some professional drivers in other teams such as Rire Racing and Yashio Factory.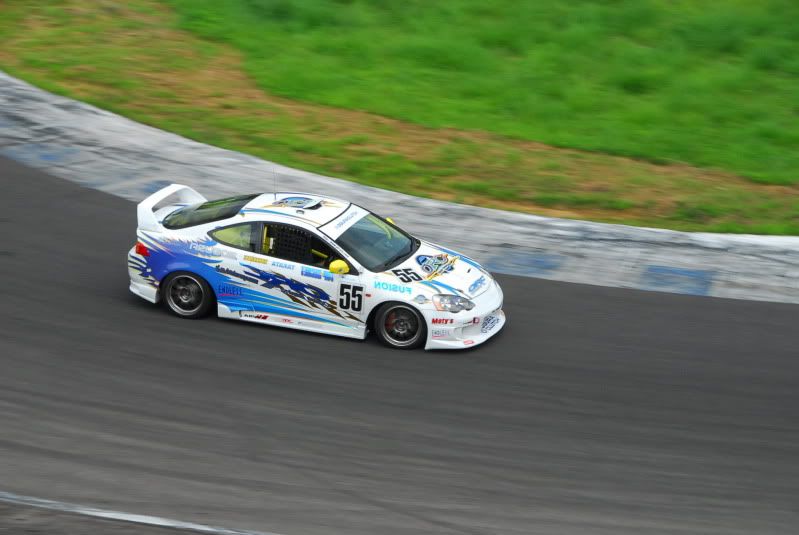 Simon came into the pits at about 9am having scalped his first victim. Our neigbouring pit's Westfield 7 had tried to cut into his racing line at the top of the main straight just before the right hander and collided with our Prelude's rear wheel when he ran out of braking space We had a graze on the rim and some easily removed rubber on the paint, but the Westie was never to be seen again – already retired before the start of the race from suspension damage. They did have a well prepared matt black DC5 as a second entry, which went on to complete the race, so it wasn't all bad.
Simon said he loved the new ice cooled shirt –he'd felt almost cold whilst driving round the track! James also commented it was the best thing he'd bought yet for racing with.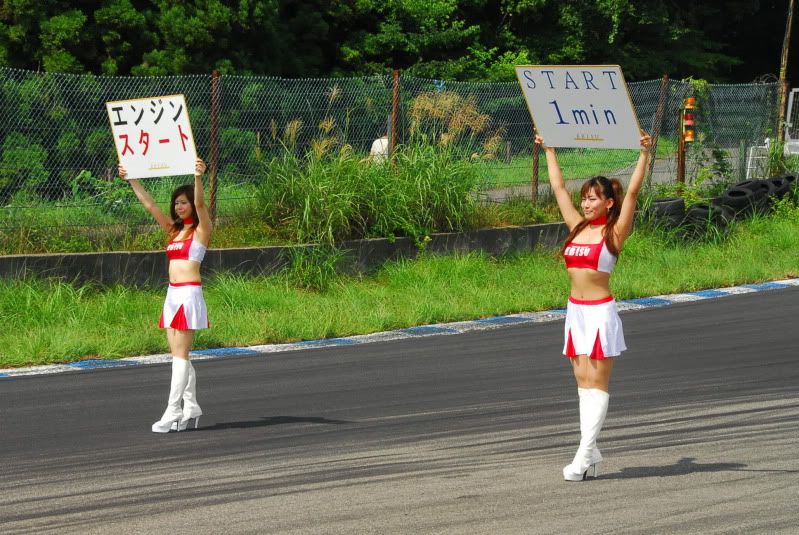 At 9.30am Simon started the race,putting in a steady & fast pace to get us into the top 4 cars in our class.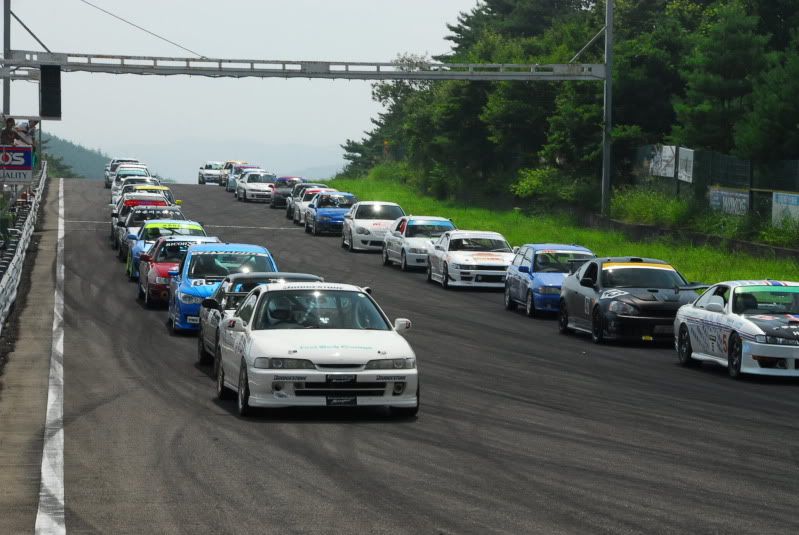 James, Sumi & Mike each drove their stints for 90 minutes. Some of our drivers were slower, Mike set the fastest lap of the day at 1.12.8 and did some consistently smooth & fast laps.
Even in the dry I was amazed to see cars going off the track and getting stuck in the dirt. Once every 90 minutes or so the race would be slowed to a crawl with the safety car out whilst the tow-truck went out to clear the carnage and we'd take the opportunity where we could to refuel and change drivers – to save on lost laps. This meant some people lost about 15 minutes of their drive, but it was worth the sacrifice. We had a few missed opportunities during other safety car sessions where we could have used the time to better our advantage – but endurance racing's also about strategy and knowing when to make pit stops and it's important to have good car to pit communication – which was almost non existent for this race. Lessons were definitely learnt!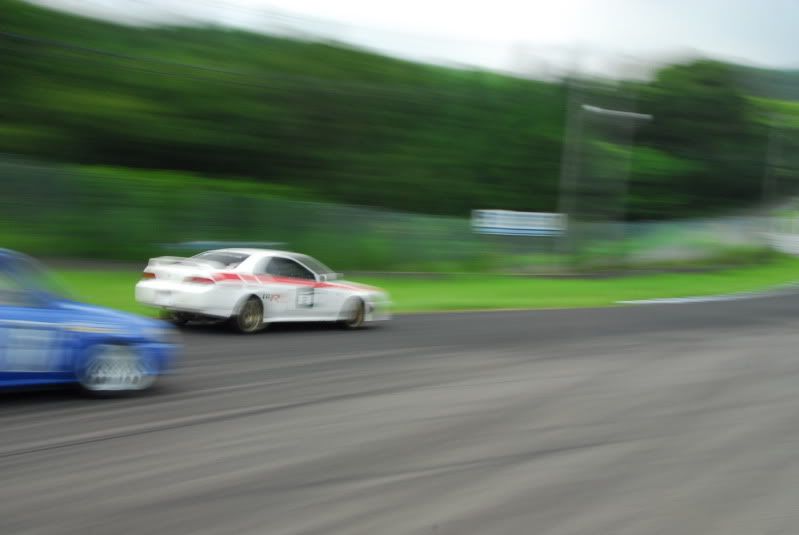 (Mike takes a well earned rest before his first stint).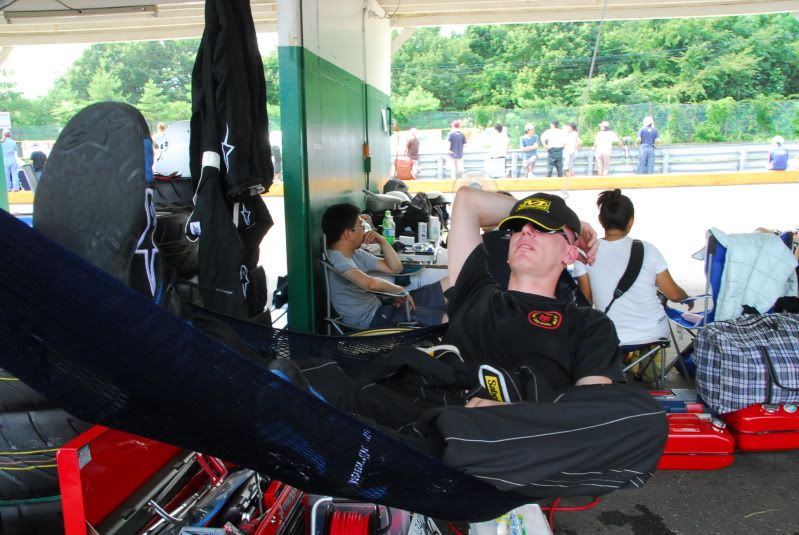 Come my turn at 3.30pm the first 6 hours were already over so the tyres were changed super quickly whilst I strapped myself in, oil was checked and topped up, car refueled, Traqmate memory changed & reset. With a toot of the horn to get errant pedestrians out of the way - I was off!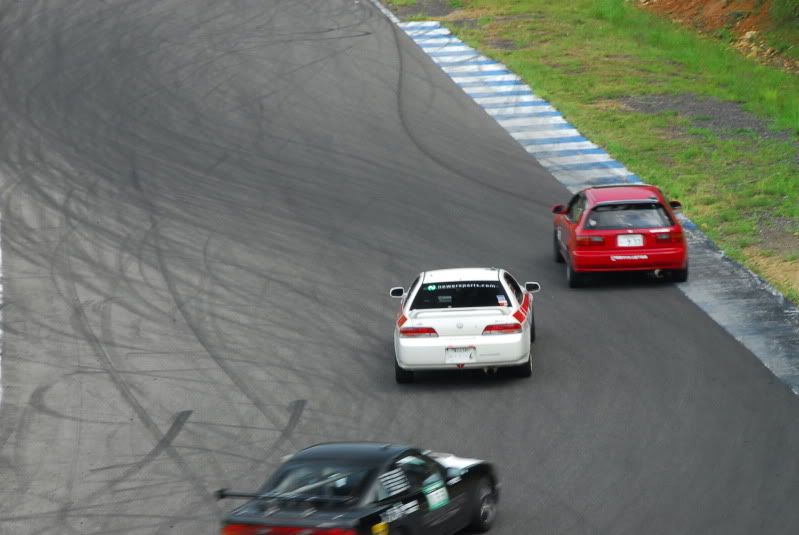 At first it took me a few laps to re-learn the circuit and get into the groove – then I began putting in consistently smooth laps whilst trying to keep the car cool and preserving the tyres. Some of the other drivers were really slow, so I worked out that by switching on my head lights and applying full beam when I wanted to overtake, I'd get them to move. The indicator helped show which way I wanted to go, but wasn't reliable, as I'd usually apply it when going over one of the chicane berms and be sliding slightly sideways whilst approaching a car in front very quickly, so no time to look at the dashboard. Just pulled the lever back and looked for a gap to open. The marshalls would usually notice the urgency too and wave a blue flag to the slower cars.
(The eventual race winner - Yashio Factory's B class S15 Silvia).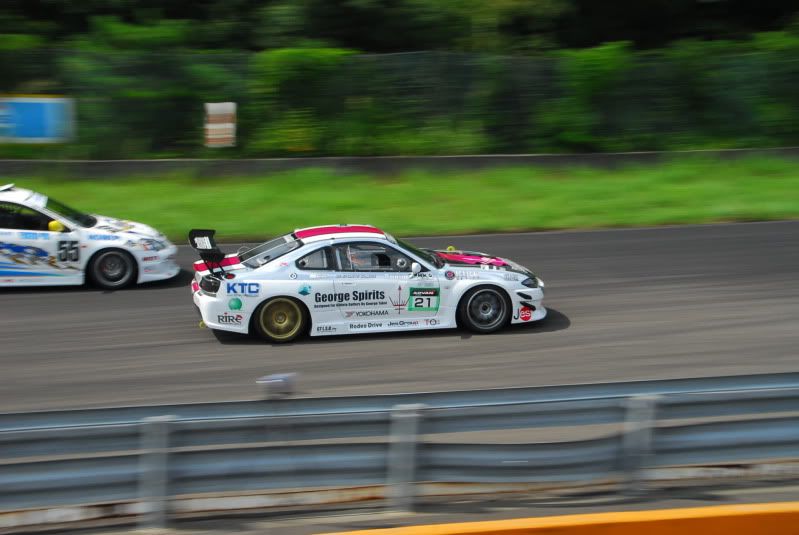 I found that by making the chicane as straight as possible, with just a quick dab of brakes before entry, I could make up a lot of ground on other cars which were taking much more of an S to avoid the berms upsetting their car. By momentarily coming off the throttle in the transition through the S, I could make the back end a little lighter and reduce the chances of under steer coming out of it onto the back straight. As I got to the bottom of the hill I'd be carrying a lot of speed, but could out brake most cars whilst occasionally triggering the ABS – and with headlights on full beam they'd usually stay to the left, giving me a tight entry to the hairpin before exiting wide and accelerating strongly up the hill. I also noticed when exiting widely I could come on full throttle right away without any under steer. Car felt good! The next hairpin was a doddle, just had to make sure nobody was sneaking up the inside. If they were, I'd slow to be right up their chuff, then take a tighter exit before acceletating down the hill on the outside and usually cutting into the 4th gear kink to straighten that slightly off camber corner as much as possible, where the car would slide nicely sideways without getting flustered, before hardish braking up to the bottom of the hill. I also noticed it was easy to be misled and brake too hard for that corner – it's actually faster than it looks, especially as the steep uphill section actually helps slow the car down before putting the power back on. I never did try a 3rd gear entry in Tom's style, preferring to accelerate harder in 2nd to just before the rev limit and changing swiftly to 3rd to continue up the hill. A couple of times I had cars drive me wide to the right, putting a wheel on the grass briefly – but I'd do my best stuff them up the inside of the next corner at the top of the hill. The horn definitely helps..
Lots of slower traffic to overtake, but I had some good tussles. Like Mike, I was surprised to find our car was quicker than the white Rire Racing B class Roadster and a lot quicker than many of the EG6 Civics.
The car I'd really wanted to dice with was a beautifully prepared & driven B class Toyota Levin AE111. We were very evenly matched so a good scrap was possible, but I was dissapointed when eventually he waved me by... I'd intended to scalp him fairly!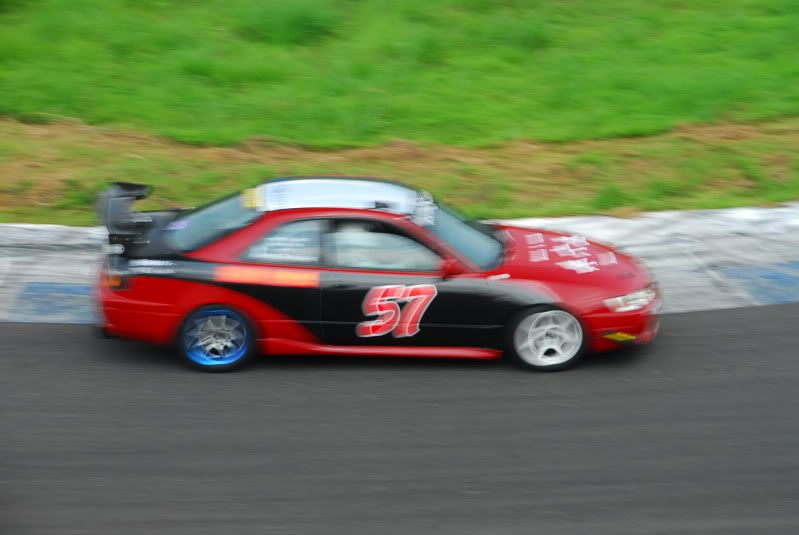 As it started spitting rain during my stint I began to wonder if the Prelude's hard suspension mixed with all the rubber on the track - now being wet would make the Prelude nervous, but it turned out the tarmac was so hot the water would instantly evaporate and there was no noticeable loss of grip! Our car was quicker through the corners (Especially the fast Chicane and fast kink) than the matt black (Very fast) Integra Type R from our neighbouring pit, but would lose out on the uphill straight…
The Traqmate was working on my stint – as James had changed the memory card during the pit stop, so I could tell my lap times were in the 1.12 & 1.13's mostly – which in this heat and with so much traffic still out there, I was happy enough with. Like everyone before me, I came in feeling the car was very well sorted and had a great time out there... Thanks to James for lending me his (Still soaking wet!) cool shirt and for the ice donation from Mike and the others, I was comfortable for most of my stint. I'm a convert and take back every disbelieving thing I said about these. I want one, maybe even one for my helmet, as it was soaked by the time I came in at 5pm!!
It's possible I didn't get a full tank of fuel before going out – I was running on below half a tank within 40 minutes and the orange reserve light came on as my session finished, but I didn't have to slow down – so all good…