**WIN A FREE PARTICIPATION NOW!** - scroll down
Hi guys,
I thought this might be interesting for those who like to drive their cars on the track. "SLB Raceleague" are organizing this time-attack event on 16th of July on the Chambley race track in France (close to Metz). I've been organizing trackdays regularly for 2 years now on that track and finally decided to try and make time-attack a little more popular over here.
Some basic information:
- Circuit de Chambley (F), 3,3km long
- 4 classes (street & open)
- professional timing with transponders by RIS Timing (24h LeMans, aso.)
- almost any car/driver can take part in the event due to vastly open rules
- up to 3,5 hours of track time for each competitor
- paddock opens at 5pm on 15th of July, camping allowed in the paddock
- 215£ / 240€ entry fee for each car
Any further information can be found on our internet-site
Super Lap Battle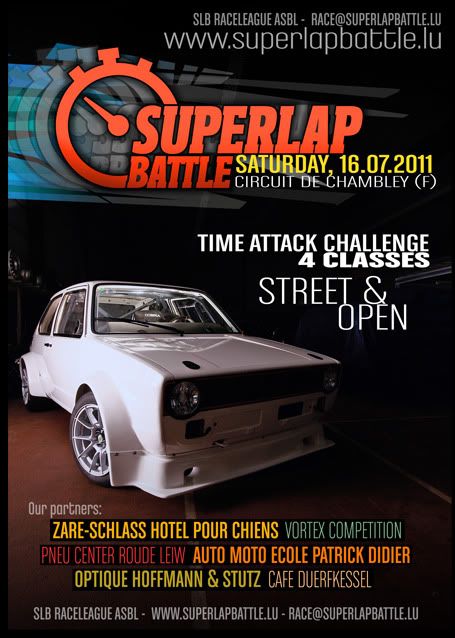 ** WIN YOUR FREE PARTICIPATION TO THE 2011 "SUPER LAP BATTLE" NOW **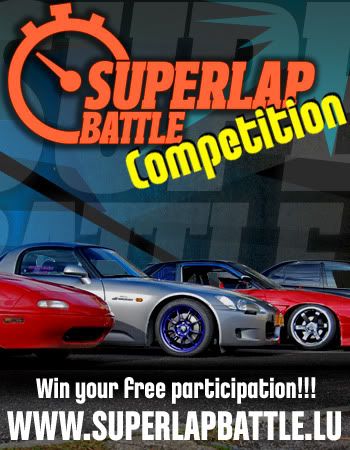 Send us a picture of the car you want to run in, together with your name to "race@superlapbattle.lu" (subject: SLB Competition). We will add your car to our "SLB Competition" gallery which will be online on our Facebook-page from 20th of June to 7th of July. The two cars which get the most "likes" will have a free participation to the 2011 "Super Lap Battle" edition at the Circuit de Chambley (F) on 16th of July. Hurry up, send us your picture and get your homies to vote for you!!!!
by SLB Raceleague:
on facebook:
http://www.facebook....134427613302373
on the net:
Super Lap Battle