Discussion Starter
·
#1
·
My GTR has just passed 100,000 miles last week, all of them driven by me.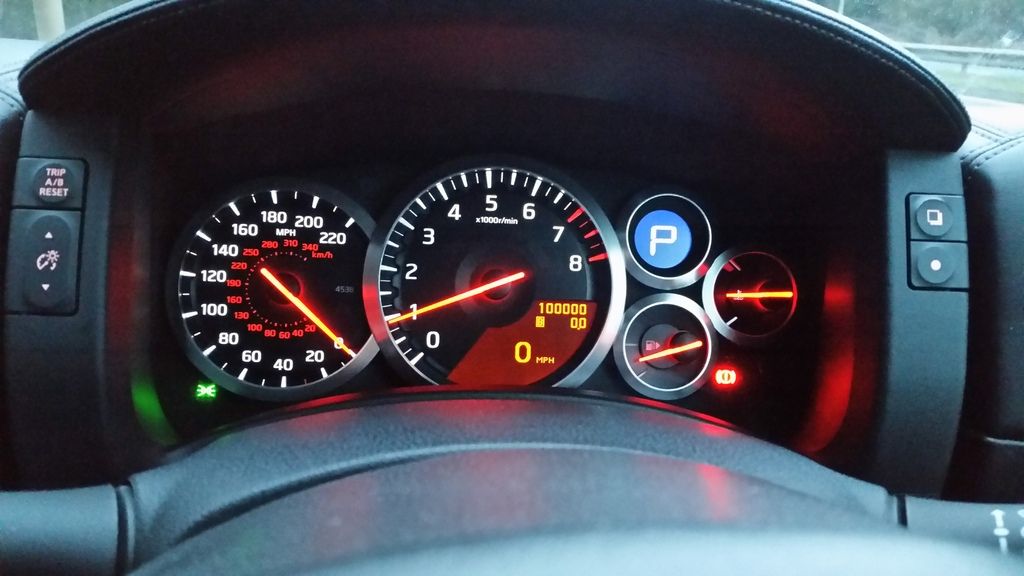 While 100k is "just a number" I thought some of you might be interested in how it's holding up, how much it's cost, what's gone wrong , and what hasn't.
I bought the car new in June 2009, a base spec in DMG from Middlehursts (non-dimming rear view mirror, non-bose hifi). The basic price was £52,345.60 including mats and reversing sensors.

I had the first few services done by Middlehursts and have used Litchfields since the 4th one. I stuck with 6000 mile service interval until it was 3 years old and then switched to 9000 miles.
The car is pretty much unmodified except I've run a generic stage 1 Cobb accessport map from the beginning, I had the later gearbox software installed when it became available and have had Andy's Audio system fitted. It has the original exhaust.
The interior is holding up well, not creaking signficantly, the seat bolster is holding up well despite my lardy ass.
The exterior is mainly very good – I had a clear wrap applied to the entire front of the car the day after I picked it up – there are four areas where the paint is starting to bubble a little: the rear view mirror and around the door handle, both on the driver's door; the passenger side mirror, and a little bit on the bottom lip of the boot.
Oil consumption has been pretty constant. When I had it serviced every 6000 miles I never needed to add any between services, with the 9000 mile services I need to add a litre between 6-7k miles after a service. This hasn't changed with the higher mileage.
I bought it to use as my everyday car and use it for most journeys. I've never tracked it and never intended to significantly mod it. It does spend a lot of time on motorways, but I do live in the middle of nowhere and the start and end of most long journeys is either 30 or 65 miles of A and B roads to/from the M6 or M42.
What's gone wrong? The gearbox would only engage 1/3/5 and went into limp home mode (50k miles), a power steering pipe sprung a leak (64k miles), a wheel bearing got very noisy (60k miles), the front speakers decomposed (from about 10 miles), and the multi-function display expired (90k miles, 2 months out of warranty).
The gearbox was cured by the fitting of the piston caps, the power steering pipe was replaced with a "pipe kit", the wheel bearing was replaced, the speakers were upgraded and the MFD was replaced with an exchange unit.
The disks and pads lasted 75k miles, and the battery was beginning to show its age after 5 years.
I had the steering lock fixed under warranty, but it wasn't causing a problem.
I haven't had any water ingress to the headlights.
The service costs have been:
30 Oct 2009, 5985 miles, Middlehurst, £210.50
1 May 2010, 11696 miles, Middlehurst, £479.19
21 July 2010, 18418 miles, Middlehurst, £905.00
15 Oct 2010, 23740 miles, Litchfield, £327.12
24 Jan 2011, 28817 miles, Litchfield, £149.98
24 Aug 2011, 36279 miles, Litchfield, £764.35
22 Nov 2011, gearbox software upgrade, Litchfield, £300
3 Jan 2012, 42736 miles, Litchfield, £154.79
4 April 2012, 47049 miles, Litchfield, £511.49
18 July 2012, 50942 miles, Middlehurst, Gearbox Piston Cap Kit, £513.32
30 October 2012, 56604 miles (54k service), Litchfield, £485.64
2 July 2012, 64367 miles, Middlehurst, Power Steering hose, £455.12
19 July 2013 65561 miles (60k Service + wheel bearing), Litchfield, £1102.45
19 December 2013, 74812 miles (66k service + F/R disks and pads + replace rear anti roll drop links) £2554.92
June 2014, Speakers replacement (along with Sub, Amp, Processor, Install, R35 audio) £1900
21 June 2014, 84802 miles (72k service + battery), Litchfield, £346.00
August 2014, MFD Display, Middlehurst, £980
1 Dec 2014, 94593 miles (78k service), Litchfield, £512.76
Tyre costs have been:
9 April 2010, Event Tyres, 2x Yokahama, £700.62
16 August 2010, Event Tyres, 4xYokahama, £930
November 2010, Tirerack (USA), 4x Blizzaks, £1350
28 April 2012, Event Tyres, 2x Yokahama, £613.28
3 July 2013 2013, Event Tyres, 2x Yokahama, £481.16
2013, Ebay, 2x GoodYear, £300
October 2014, Tyreleader, 4x Dunlop Winter, £980
So how much has it all cost? – well, I may have missed a set of tyres along the way, but strictly speaking half of the audio costs weren't "necessary", so I think that evens out.
Total Service costs: £12652
Total Tyre costs: £5355
To work out some interesting numbers we need a valuation, so the current part-ex valuation from the Autotrader site with my reg and mileage is £30,750. Whilst some of you may disagree with this, I intend to keep it for a while longer and will update this post occasionally, so we can use this for comparison purposes in future posts.
So, having done 100,000 miles in 5 years 8 months, an average of 17647 miles/year:
Total service, maintenance and tyre costs: £18007.
Original Cost: £52,345. Current part-ex value: £30,750. Total Depreciation: £21595
Total annual costs including maintenance, repairs, tyres and depreciation: £6988, or 39.6p per mile
Guy