Discussion Starter
·
#1
·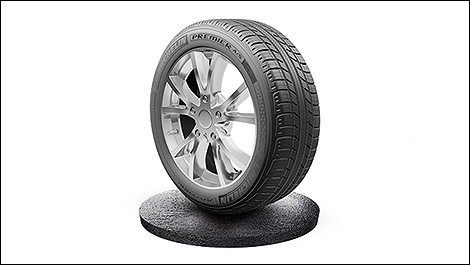 Detroit 2014: Michelin Introduces 'EverGrip' Premier All-Season Tire
Michelin claims new EverGrip tire grips the road better as it wears | News | Geek.com
NO 20 inch yet, but maybe later down the line..
It seems appropriate to introduce a new tire at the 2014 Detroit auto show, given that every car on display here has at least four of them. Michelin used the auto show to introduce its new Premier all-season tires with "EverGrip" technology, which are designed to provide better wet-weather performance over more of their lifespan.
The basic idea is that as tires wear over time, their braking and handling performance degrades -- especially in wet weather. "Quite frankly, we all drive on worn tires," said Michelin North America chief operating officer Scott Clark. The new EverGrip tire, by contrast, is specifically designed to keep its performance after many thousands of miles.
The first step in the EverGrip tire is a higher-traction rubber compound, which uses extra silica, plus sunflower oil for flexibility in a wide range of temperatures. The second part is called Expanding Rain Grooves; In a normal tire, as the tread wears, the channels that "evacuate" water and prevent hydroplaning get narrow. In Michelin's new tire, those channels get wider as the tire tread wears away, so wet-weather performance doesn't degrade as much. Finally, Michelin has Emerging Grooves that are "hidden" in the tire's shoulders. Over time, as the outer layers or rubber wear down, these grooves are exposed, providing more grip even though the tire has worn.
"The result is a tire that keeps you safe when new and safe when used," Clark said. "We believe it is the next great advancement in automotive technology."
Bold claims aside, internal Michelin wet braking testing showed that, on a 2012 Cadillac CTS, the Premier A/S EverGrip tire allowed for a 27-foot shorter stopping distance than a similar Goodyear tire. And when "used," the Michelin still demonstrated a stopping distance that was 14 feet shorter than the brand-new Goodyear tire.
The Michelin Premier A/S EverGrip tire goes on sale later this year in 32 sizes ranging from 16 to 18 inches in diameter.