Discussion Starter
·
#1
·
Now that my GTR 32 is sold :sadwavey: I have a few bits that I never got round to fitting for sale.
1. Brand New Oil Cooler Kit
Nissan Skyline kit with Aeroquip braided hoses, oilstat, remote filter, 16 ROW Mocal Oil Cooler from Think Auto. Including all the Aircraft spec fittings.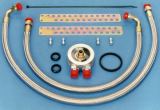 Brand new still in original boxes. £400 delivered
2. Accusump, EPC valve and fitting kit
Accusump - The Accusump provides that extra margin of protection that you need against engine damage caused by loss of oil pressure. Racing and high performance street engines by nature are put under a lot of stress by the high G-load situations that they are placed in. As oil in your pan sloshes about, your oil pump pickup can become uncovered, which causes a loss of oil pressure and sets the stage for severe engine damage. The Accusump provides oil during these times reducing the potential for damage.
Including teh EPC Valve. - E.P.C. valving has the convenience of an electric valve and the rapid refill rate of a manual valve. The E.P.C. valving allows the Accusump to quickly charge with oil when the engine's oil pressure is above a predetermined level and discharge when the engine's oil pressure drops below that level.
Comes with an electric valve, regulator, toggle switch, wire, terminals, and a pipe nipple.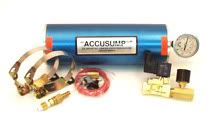 Again the Kit is brand new and was never fitted. I am looking for £250 delivered.
3. Braided hose, T piece and 4 female fittings to connect 1. and 2. together
These were bought to connect the oil lines from the oil cooler to the accusump. There is 1m of hose plus the T pieces and end connectors.
This actually cost £100.
so I'd like £75 including delivery
4. Rear Adjustable Camber Arms
Yep you guessed it brand new in the box. Never fitted. Came from Rising sun and cost £100.
I'd like £75 including delivery.
Any questions I'd be happy to answer.
Please
Email
me as I'm not in here that often but I will check my pm's.