we now are aerocatch stockists.
please put your aerocatch question hear...
(clicky..)
http://www.uniqueautosport.co.uk/fl...ry_id=13113&top_category_id=2527&model_id=166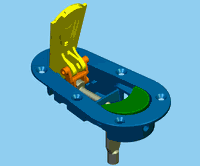 Product Information:
the aero catch is a new design of bonnet pin availble in locking or non-locking versions. there are two types availble, plus flush and flush. the plus flush has a 2.5mm thick flange that mounts on the top of the panel. the flush mounts from the underneath leaving the panel completely flat on the surface. made from glass filled nylon and stainless steel, the standard finish is black but can easily painted to match bodywork. the strike pin can be used through the base or the side making them suitable for bonnets or boots. 126mmx69mm. aerocatch is suppiled in a ready to install kit form, the pack contains, 2 x aerocatches and stud strikes, all fasteners, rubber bumpstops, panel cut-out templates, secondary lock keys (if option chose) and full instructions
Includes:
2 x aerocatch
2 x srikes (anodised aluminum
1 x pack of fasteners
2 x rubber stops
packaging - blister pack with euro hook including instructions and cut-out templates.
Manufacturers Website:
www.aerocatch.com
prices
plush flush kit (no lock) £34.99 inc vat
plush flush kit (with lock) £38.99 inc vat
flush kit (no lock) £34.99 inc vat
flush kit (with lock) £38.99 inc vat