Discussion Starter
·
#1
·
So, I'm a newbie in here and a newbie to the tuner world. I've always had decentish cars, but never really done many modifications. My bike on the other hand, well that's not quite so standard, but bikes are so easy to customise.
Bought a new MY14 GTR just last month from Alex Noble in Edinburgh...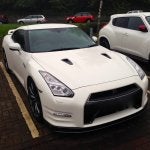 It came with the Milltek Y pipe, which does make it sound quite nice.
Anyway, I've just got myself booked in for a Litchfield stage 4 Performance Upgrade and Intercooler upgrade. This is just to get my feet wet, then as funds permit I'll slowly add to it and hopefully end up somewhere in the 800Bhp area.
I'm a bit of a carbon whore, my bikes dripping in the stuff, so I'm also booked in to see the guys a Knight Racer for some carbon goodies. For the interior I've got some RSW carbon and I'm tempted by JCR's carbon paddles, but still undecided on that one. I like the carbon look, but don't want to over do it.
It'll be a little while before I get some pictures up, I'm another offshore worker, it sucks being away but it pays for fancy toys like the GTR!
Cheers folk