Yep,you read the title right,we might have to sell all 3 of our R33's off.
If these get sold,then we're getting an R34 GTR next year
The reason being that we need the money to invest in some new business's that my parents are setting up,and since we don't use these much,it's alot of sitting money.
We'll only sell these if we get the price we want for them!
First up: R33 GTR (1995) Price £14000 ono
original for sale thread :
http://www.gtr.co.uk/forum/upload/46863-selling-r33-gtr-vspec-got-caught-speeding-over-110mph.html
the spec list is :
trust twin induction kit
twin blitz sequential blow off valves.
Uprated cams
oil catch tank
Massive trust front mount intercooler
Full Kakimoto racing exhaust system
Racing catalytic converter (passed mot)
stainless steel down pipe
uprated racing clutch with high biting point
bee-r controller (rev limiter) very very rare
apexi boost reader/controller
nismo 320 kmh dials
blitz turbo timer
Apexi exhaust valve controller
cusco fully adjustable coilovers
with cusco anodised bars running along each suspension leg for added support (dont know what they are called)
Brand New Advan 10.5" front and rear wheels with 265/35/18 Goodyear (one scratched due to low kurb
Ducaro tyres all round
Brembo Brakes
Ziax front lip
Jun style side skirts
Top Secret rear spats
Tinted limo black on the rear
Xenon type headlamps
Kenwood minidisc with remote control cd changer in boot
Front and rear gtr strut braces
Polished Twin Turbo pipe
Toad Cat 1 Alarm
Cobra Tracker
Immaculate condition IMO,just covered 30500kmh,we've only done around 4000kmh since we had the car from Febuary.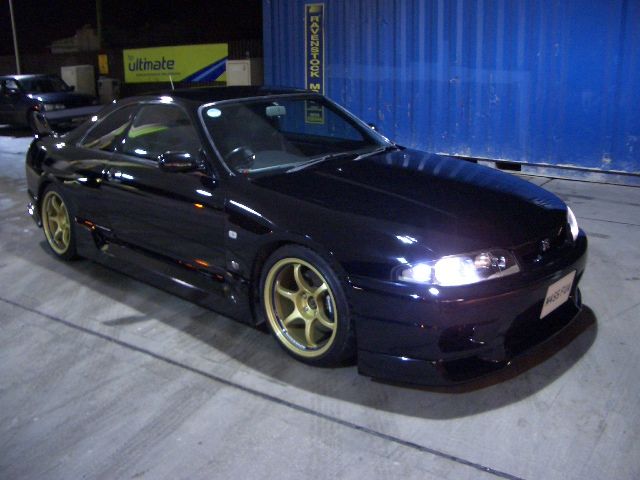 R33 GTS Spec 1Price £5000 ono
Had this car since April,and we've only drove it to london once,and once to Warwick and just to and from the garage we got the car from due to it having some problems.The problem is the fuel pump being faulty,this will be fixed before the car is sold anyway.
Modifications:
Trust Exhaust
Apexi air filter
Greddy Boost gauge mounted on A-Pillar
Enkei 17" Alloys
Body modifications(not known what type)
R33 GTS Spec 2 £6500
Had this car again from April,but was at garage till June when we picked it up.
This car doesn't have any problems with it,been driven everywhere and never missed a beat.
Modifications:
Nissan Sports Exhaust
Blitz SUS Air filter
Blitz BOV
Blitz Turbo Timer
Nissan R33 GTR alloys
R33 GTR Rear Spoiler (pictures with new alloys fitted will be added tonight)
Will sell all 3 Skylines for £25000