Discussion Starter
•
#1
•
Hi all,
Looking at purchasing a Skyline once I have got rid of my lil r32 golfy!!, (hopefully wednesday).
I'm hoping to spend between 9k and 11k max on either a 32 or 33, but ideally looking for around 600hp. Is this a realistic target with my budget?
I have been looking at a few possible targets, and was wondering if anybody on the forum knew anything about these cars or has any advice for me!!
Car 1:
Brief spec,
Had an engine rebuild last year,to inc.Forged pistons,new crankshaft,water pump,oil pump,etc.
HKS 2510 Turbos
HKS Intercooler
HKS Induction
HKS Fuel Pump
HKS Injectors
Tomei Fuel Pressure Regulator
Apexi ECU with hand controller
Spitfire Coil Packs
Twin Plate Hyper Excedy Clutch
Blitz Nur Spec Exhaust
Ohlins Coilovers
Rays Wheels
Lots of work carried out this year,Full service,all new bushes fitted to rear subframe,subframe powder coated,4 Wheel alignment,
Rolling Road set up (Abbey Motorsport)
Has also had 2k worth of brake kit, but can't quite figure out which from the photo, possibly D2? Altho didn't think they were that dear.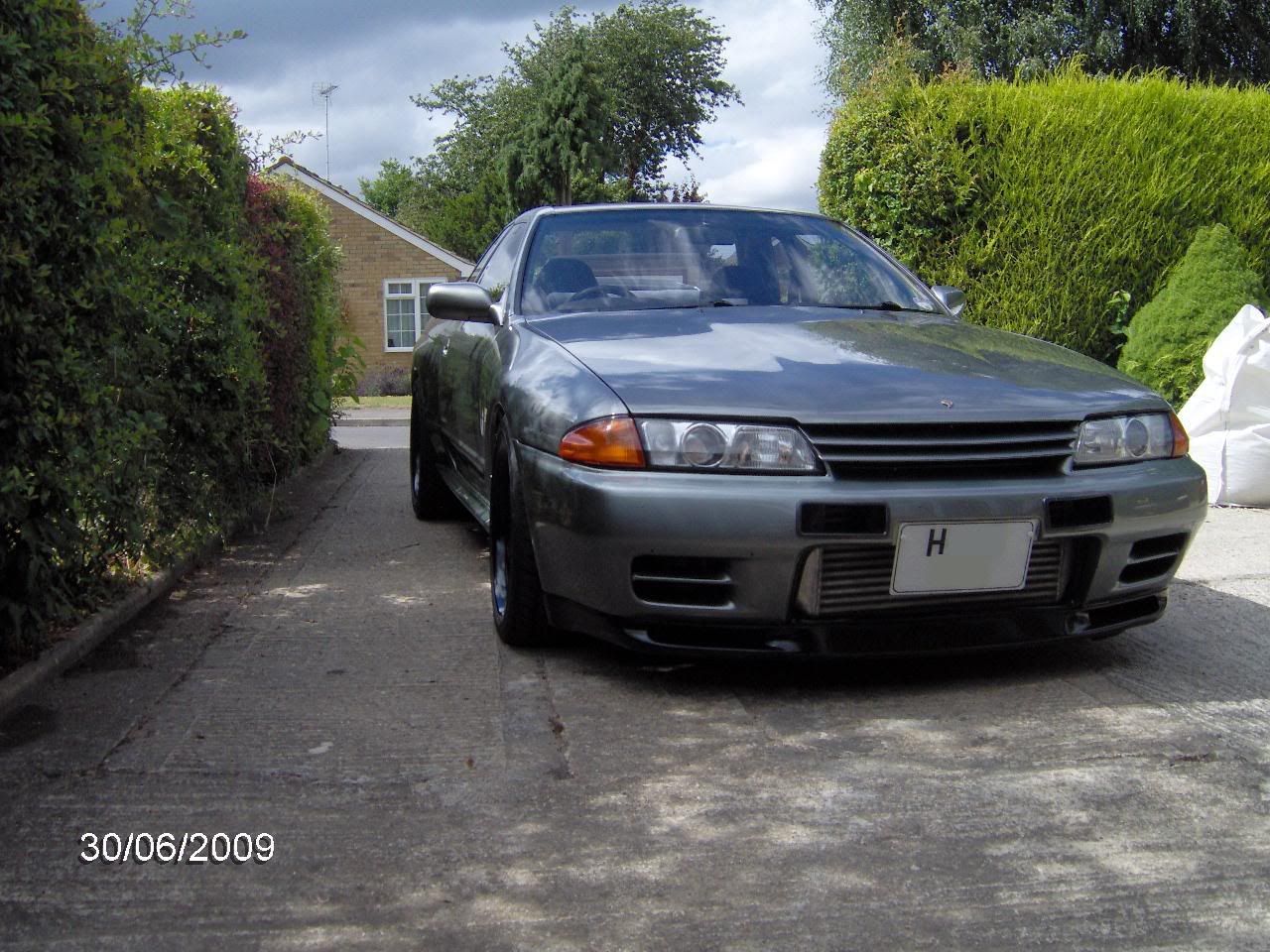 Car 2:
ITS HAD RBUILD ENGINE AND REBUILT GEARBOX IN THE LAST 5000KM SO ITS READY TO GO!!!
- Trust T88-34D Turbo Kit (Rebuilt same time as engine)900bhp
- r32 block
- Head drag ported oversized exhaust ports
- 87.5mm forge Pistons
- steel Con Rods
- Fully balanced Crank
- Modified sump/oil pickup
- HKS 1.2mm metal head gasket
- n1 Uprated oil pump and water pump
- Apexi V-MAX Step 2 cams (270 duration 11.4mm lift)
- Apexi V-MAX Valve Spring Kit
- Apexi Valve Lifter Kit
- 1000cc injectors
- HKS fuel rail
- 2 x Atec fuel filters
- 2 x In-tank Nismo fuel pumps
- Greddy 16 row oil cooler with remote oil filter
- Greddy intercooler
- Greddy uprated ally radiator
- Hks uprated cambelt
- Greddy Type-R BOV (with stiff spring)
- Samco coolant hoses
- Trust front pipe and exhaust
- HKS Super Powerflow Air filter
- Oil catch tank
- greddy clear cam cover
- hks adjustible pulleys
Drive train:
- R32 5 Speed box recently refreshed
- OS Giken triple plate clutch
- Uprated LSD's (F & R)
Chassis:
- HKS Hiper Drag suspension
- Drag modified rear subframe
- Nismo front suspension bushes
- Endless brake pads
- Hicas lock bar
- 10 x 18 volks style Alloys
- 265/35/18 yoko advans Tyres
Electronics:
-Greddy fuel pressure gauge
- HKS F-CON V Pro ECU (AFM's have been removed)
- Greddy boost controller
- Apexi 60mm Boost and EGT Gauges (with peak hold)
- Launch control/flat-shift system (Unknown make)
- Line lock
- hks oil pressure gauge
Interior:
- full 6 point cage
- Momo sports steering wheel
- Razo shift knob
- Robson leather carbon-look gear shift and handbrake boots
- cobra monco seats and rails
- Hicas, ABS & Air Con hardware have been removed
- New dash vents
outside
- top secret carbon bonnet
- as carbon canards
- as carbon front lip
- nismo rear lip
- volk/rays te37 /10x18 et15 allround
new cambelt and idler pulleys was fitted this week ready for another 100k
All the work was carried out to a high standard must have cost in excess of 50k to build
the car is excellent and ready to use i also have all power read out for 650bhp when it was mapped in the uk
Car 3:
Car 3
I've owned a few Jap cars before, a couple of GTI-Rs and more recently an Evo 6 RS but none of them were massive power.
Or do I aim for something with a bit less power and maybe a bit newer and fresher?
All help appreciated,
Cheers
Sam