SRD are now official Asnu distributors and stocking a range of these great injectors.
We have found these injectors give much better performance than others on the market and help eliminate black smoke and smells in the car. This is especially true on stage 4 cars.
Injector packages for the GTR are £699 in vat and come with harness adaptors for easy installation.
They are available up to 1100cc at the moment with larger available very soon.
As they come in 50cc increments it is possible to exactly match the injector to the HP requirments of the car to give the best drivability.
Please contact us for further infomation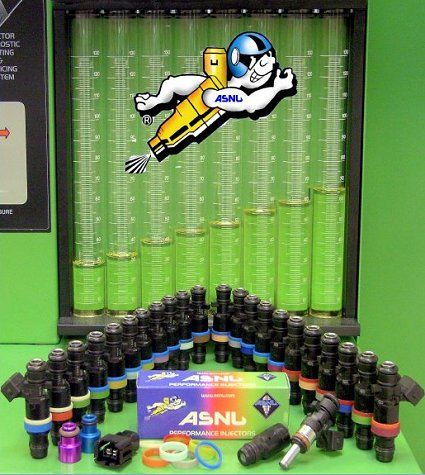 Correct Delivery- Maximum Performance - Minimum Fuel Wastage
The ASNU seven hole orifice cap gives the ideal combination of Fuel Flow, Fuel Distribution and Fuel Atomisation. The seven holes produce smaller fuel droplets that will burn more efficiently, meaning more performance and more laps for less fuel. This is a critical factor and should be considered when comparing ASNU injectors to some other "Performance" injectors.
Achieving the designated BHP does not mean you will achieve maximum performance from the engine. ASNU Performance Injectors will allow you to maximise the power curve of the engine, give instant throttle response and maximum fuel economy, all required to win races.
Correct combustion is not about how much fuel you put in the engine, its about how efficiently you get the fuel to burn and that alone will determine the combustion performance of the engine. The option of having just ONE Injector and Fifteen Flow & Spray options to "select 'n' injector" from, gives the expert Engine Management System Programmers and suppliers the perfect answer to meet theirs and their customer needs.
With one range of injector resistance and impedance settings for all injectors, the only requirement being the mapping for the fuel flow rate and injector off-set. Simply Select you Injector requirements and plug & play.