Discussion Starter
·
#1
·
Well guys I have been thinking the last while about selling my Supra. I am not 100% yet on it but i said i would at least test the water
I purchased the car early May 2011 as a project and its coming to an end up now. The supra was twin turbo first day, I then had a single turbo (PHR stage 2 kit) fitted but decided to change that for the HKS T51 SPL kit (this is now discontinued from HKS i believe)
There has been no expense spared on top quality parts and I had some very reputable garages work on the car over the last few years.
The car was serviced less than 350 miles along along with a timing belt change, this was while East Coast Customs were working on the car, since they finished their work
on the Supra i collected it and drove it back home to my garage. A few months later i then drove it about 7 miles to a local Japanese tuning garage here to have more work carried out
Since owning the car i have put up roughly 1300 miles on the Supra and that includes 2 round trips to Northern Ireland to have work carried out on the Supra.
One round trip to SSI and one to East Coast Customs
All receipts here in a folder
My Supra was originally Silver in color. Before the car was exported from Japan it had a full BN Sports kit fitted to it and veilside alloy wheels.
There was a few bpu mods fitted like blitz air filter, fmic and an exhaust system
You can see the write up here (this is the car originally before it arrived in Ireland)
Car Spotlight >> Bn Sports Kitted Supra | Speedhunters
When the car arrived in Ireland someone was nice enough to remove the original BN Sports Spoiler (some like the BN spoiler, some dont lol) to date I am unable to locate a BN spoiler for the Supra so I purchased a large carbon wing while car was in bodyshop
The car was stripped back to stock, the BN kit was removed and the bodyshop did up all new brackets so that the kit would be a perfect fit. The bonnet that came with the car originally had one too many cracks for my liking and i didnt particularly like how it flowed with the rest of the car so i opted for an oem j-spec bonnet to be fitted
The rear arches were moulded in to the body rather than having them riveted back on like how the car was originally. Deciding on a color wasnt easy but i think i made the right choice when i picked Lamborghini Balloon White (this is a 3 stage pearl) and looks awesome in any light
Currently the car is in a local garage in Cork city having a wire tuck done, new clutch fitted and mapping.
Engine and box were removed so we could spray the engine bay the same color as the car which came out great
Pics below are a few months old, the car will come with the brand new VOLK GTC's in gold. Engine bay will have the wire tuck completed, HKS induction kit, defi gauge
will also be fitted for new owner.
I will upload with new pictures to show all new mods as soon as car is back in my garage
Price is 23k euro
The car is located 5 minutes from Cork airport and 10 minutes from the Ferry to take you to the UK or France for anyone who maybe interested
The full spec is as follows (I may have forgotten some small bits but i think i covered everything)
1995 Toyota Supra Mkiv J-Spec
2JZGTE JZA80
V160 6 speed box
62k miles
Interior
Full black leather seats both front and back
OMP Steering Wheel
Boss kit
Defi boost gauge
Oil Pressure gauge
AEM Wideband gauge
Carpet has been dyed black
Carbon wrapped dash panels
Aftermarket pedals
Titanium gear knob
Leather gear gaitor
Leather handbrake cover
Switches in center console for anti lag / 2 step
Polished ignition ring surround
Polished mirror ring surround
Polished cigarette lighter ring surround
Polished heater control rins surrounds
Polished speedo surround rings x 3
Polished air vent ring surround
CNC heater control knobs
Stainless climate control panels (behind knobs)
Stainless heater switch panels
Red interior mats
SRD Battery relocation kit to boot with 0 gauge cabling
HKS Turbo Timer
HKS Wiring Harness
Exterior
BN Sports Complete Widebody Kit
BN Sports front bumper
BN Sports rear bumper
BN Sports side skirts
BN Sports front blister fenders
BN Sports rear blister fenders
Carbon rear Wing
Smoked side repeaters
OEM indicators in front bumper
OEM side mirrors
Black mesh in front bumper
J-spec front headlights with black insides (fully refurbed)
J-spec oem bonnet (underside heat insulated)
HID kit main lights & Xenon bulbs for full lights
Full Respray in Lamborghini Balloon white (3 stage pearl)
Kit removed and refitted as i wasnt happy with current fitment
Rear fenders moulded in. Originally these were rivveted on (not nice)
Turbocharger & Induction
HKS T51 SPL dbb Turbo (capable of 1000ps)
Virtual works manifold
HKS GT2 60mm wastegate
HKS downpipe (graphite gaskets custom made)
HKS exhaust system
HKS v band adaptor for manifold > turbo
HKS v band clamps
Custom oil/water lines with earls fittings
HKS intake trumpet (show use)
HKS air filter
HKS hard piping
Black turbo blanket
Polished Turbo housing
Engine Management
AEM ECU (series 1)
AEM boost solenoid
3 bar map sensor
HKS DLI
Fueling
WOTM customised fuel hanger
Twin Walbro fuel pumps
Fully custom fuel pump wiring (With individual fuses and ECU controlled relays)
Aeroquip Startlite -6 hose inside tank fuel
Aeroquip fuel hanger bulkhead fittings
Customised fuel tank cover
Aeroquip -8 racing hose fuel feed
Aeroquip fuel filter
Jiffy-tite -8 dry break fuel filter fittings
Twin Aeroquip -6 racing hose fuel rail feeds
Power House Racing fuel rail
Siemens 870cc low impedance injectors
Resistor pack
Aeroquip -6 racing hose fuel central fuel return
Aeroquip fuel pressure regulator
A-TEK -2 fuel pressure reference hose
Jiffy-tite -6 dry break fuel pressure regulator fittings
Aeroquip -6 racing hose fuel return hose
Aeroquip Startilite -6 fuel tank breather hose.
Custom made carbon fibre fuel hose mounting brackets
Customised fuel tank cover
Above all with ATek quick release fittings to make fitting easy
b
Stock Pistons & Rods
HKS 264 Cam's (shims machined for fitment)
Adjustable Cam pulleys
Iridium plugs
OEM coilpacks
OEM timing belt fitted less than 350 miles ago
New coil pack connectors & plugs fitted
Polished cam covers with 10an fittings
Polished upper water neck
Polished radiator brackets
Polished power steering cover
Polished brake fluid cover
Polished slam panel
Chrome Engine hook
Carbon fuse box cover
KU Engineering Intake manifold
KU Engineering 80mm throttle body
Injectors seats machined for fitment
TPS adaptor
3" Intercooler to throttle body polished piping
Large fmic with custom piping
Samco hoses (straights & reducers)
Stainless steel industrial clamps
Lexus IS200 throttle cable
Engine bay resprayed (engine removed)
Wire Tuck (main fuse not relocated)
Air con removed
Window cut into Coil pack cover
Aluminium aftermarket radiator
1.3 bar radiator cap
Samco bottom radiator hose
Polished upper radiator pipe with samco hose joiners
Oem fan shroud sprayed gloss black
Transmission
V160 Getrag
ORC triple plate Clutch
ORC lightened and balanced flywheel
Wheels & Tyres
Volk GTC in Gold
18'' 11J rear (+25)
18'' 9J front(+18)
Bridgestone rubbers 295/30/18 & 255/30/18
Blue tuner nuts with lock key
Spacers on both front and rear
CKS Coilovers
Audio
JVC KW-XR811 Double DIN Bluetooth/iPod/USB
Supra IOS Adaptor
Oem speakers
Security
Alarm & Immobiliser
Tracker unit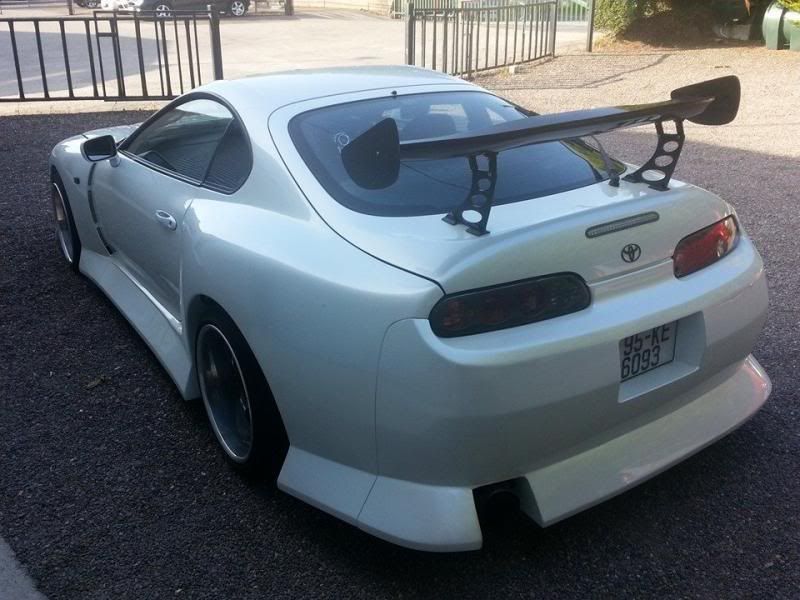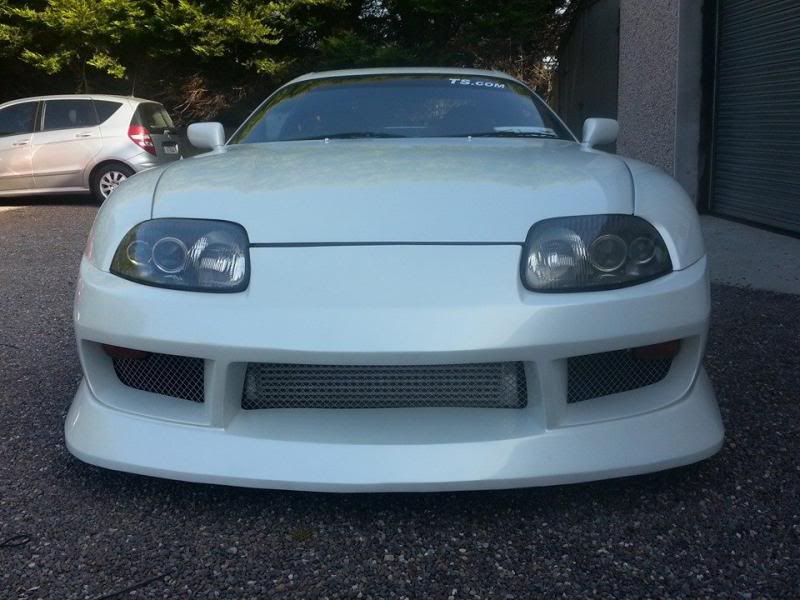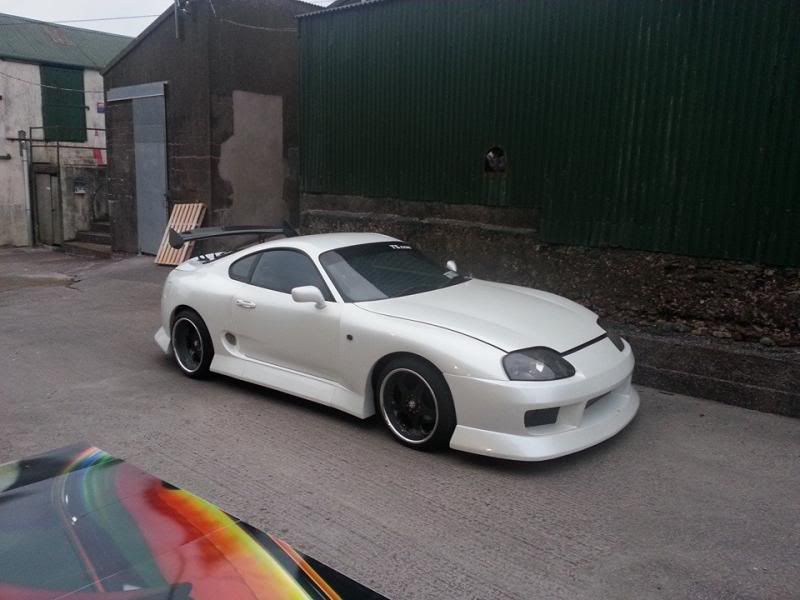 Interior