Discussion Starter
·
#1
·
As title.
Have different (non RB) engine to go in my Chaser now, so the RB26 is ready to be removed and is up for sale as is surplus to requirments.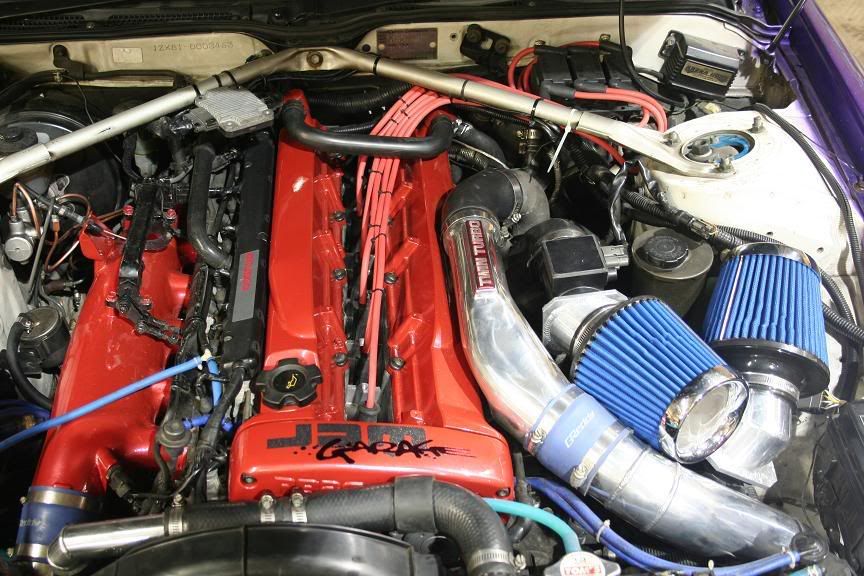 R32/33 GT-R RB26, ran just 0.8-0.9 bar boost at all times, allegedly standard but certainly has HKS cams/verniers (unknown spec, was a suprise when the car arrived), HKS inlet gaskets (fitted approx 6 months ago), and a remote coilpack conversion (again, approx 6 months old).
May have other mods, but I honestly dont know of this, so presume not.
10.5bar compression on all cyls, runs lovely and quiet (suprising for a RB26 which often have very tappy solid lifters), doesnt use a spot of oil (which has shocked me, considering past RB and general performance turbo car experience), and so on.
Done under 1000 miles in the last 6 months, and under 2000 since the car arrived in the UK (approx 12 months ago), oil changed three times so far, using 5W50 Valvoline VR1 Racing oil.
Would come with coilpack conversion, induction kit, the lovely painted and polished pipes, etc.
Currently running a RWD sump so no front diff, but thats a 10min swap (with engine out) back to a GTR one.
Also, for a small amount of extra money, I have HKS fuel rail, 800cc Inj, Emanage Ultimate ECU, 2x Z32 AFMs, single turbo manifold, wastegate, GTS-T gearbox and twin plate clutch that can be added to the mix.
£2500 no offers for the engine/turbos/manifolds/loom/stock ecu, plus extra for the above bits, depending what you want.
Im in no hurry to sell as its almost winter and I hardly use the car anyhow (currently off the road while I paint the rollcage/interior), so wont take some silly offer, but it is for sale 100%, no two minds about it.
Have more pics if needed, but to be honest, the pic above shows it all.
Happy to transport the engine and meet at the UK port of choice if someone from Scandinavia/Europe wanted to purchase.
£2500.
Thanks