Discussion Starter
•
#1
•
Hi all,
Been on this forum a long time, don't post much so thought it's long overdue that I create a project thread - hope you enjoy!
My skyline ownership started back in 2004 when I bought a very clean R33.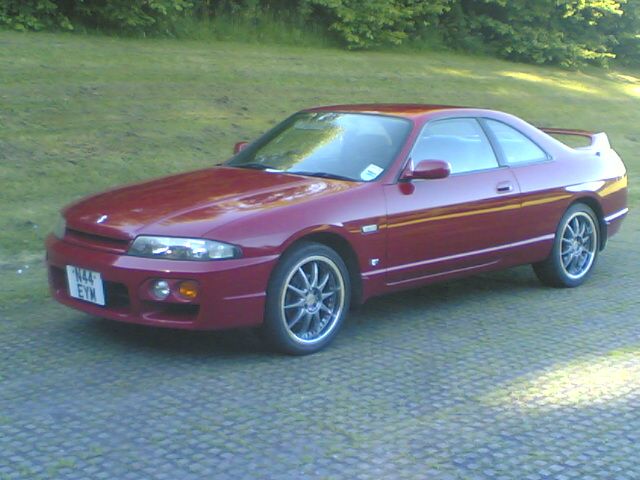 It was an auto so never quite bonded with it, it got me thinking what a GTR must be like so I decided relatively early on that my next car was going to be an R33 GTR, roll on 14 months and it became a reality.
I purchased my car in September 2006 with around 58k miles, it was imported into the UK in early 2005 by Vine Place (
http://www.vineplace.co.uk
), the 1st UK owner kept it as a daily driver for 18 months (doing very little mileage) prior to selling to me. The car was a series 2 that came with some non-standard items including a HKS hi-power silent cat back exhaust, Apexi filters, Recaro speed seats (both) with recaro rails and Work Meister S2R (18"x9") wheels.
The OEM extra's I could see on the car were Nismo N1 vents, Nismo bonnet lip, carbon fibre intercooler surround, Nismo spats, a de-locked boot with both front and rear gold GTR badges.
The bad points were that the car also came with some silly front side lights attached which were wired using the original side light wiring with holes being cut into the bumper, this was the first thing that I had to put right.
Pic of car from original sale advert:
The wheels were also missing one centre cap so I decided to remove the remaining caps as I couldn't source a replacement, to be honest I wasn't a big fan of the wheels nor centre caps so the view was to replace at some point in the future. With the car sitting on some stock Vspec shocks, I felt that the ride height was far too high so I was on the hunt for some coilovers. I ended up buying a set of second hand Apexi coilovers, these were not the N1 variants but an older version (blue in colour), they were however adjustable both in terms of ride height and damper, the spring rates were very slightly harsher than the stock springs so all in all I was pleased with them.
I then decided that that the orange indicators and side repeaters had to go and some D Speed front with Nismo side repeaters were added, car at this stage looked like: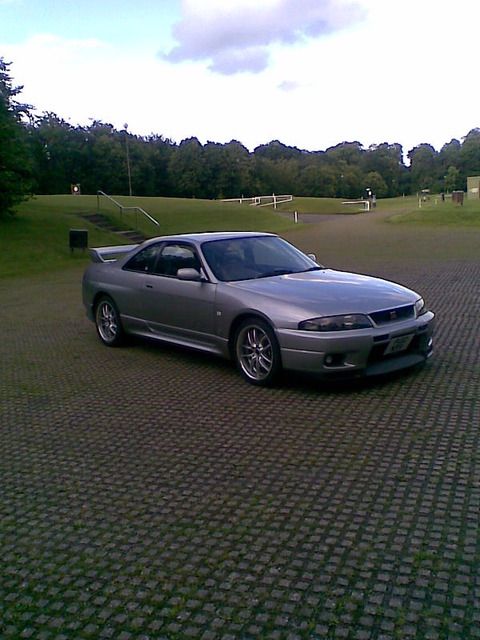 The car was then treated to a full service including all oils (engine, gearbox etc), cambelt, spark plugs and then driven as my daily. At the next MOT, only advisories were tyres (cheap budget Marshalls) that had started to split at the sidewalls, these were swapped with a set of Michelin Pilot Sports which were far better in both dry and in the wet.
The car performed very well considering the level of tune, the brake discs were however beginning to play up, pads were EBC red stuff all round which ended up eating away at the discs. Marc @ the Garage in Motherwell was contacted and I decided on replacing these with Performance Friction 2 piece front discs with DBA 4000 series for rears with Ferrodo DS2500 pads all round, this combination I felt worked well for a road car however let off a bit more brake dust than the EBC red stuff pads.
Things were well...........up until.......November 2007. A spirited drive one night ended with a spun bearing. Recovery was called immediately and the car was transported to The Garage (Motherwell). The worst case scenario was confirmed by Marc so at this point I had already decided I would go down the forged route, question was on whether I wanted just a forged bottom end or a stroker kit, price wise wasn't much in it so decided on purchasing a Tomei RB28 stroker kit (86.5mm pistons). Marc commenced the built and 6 months later after some delays my car was ready to pick up, budget constraints meant turbos etc would stay stock for the time being. No pics to share on the actual engine build as inadvertently one of Marc's staff ended up losing my build pics.....not much that can be done about it but full build consisted of: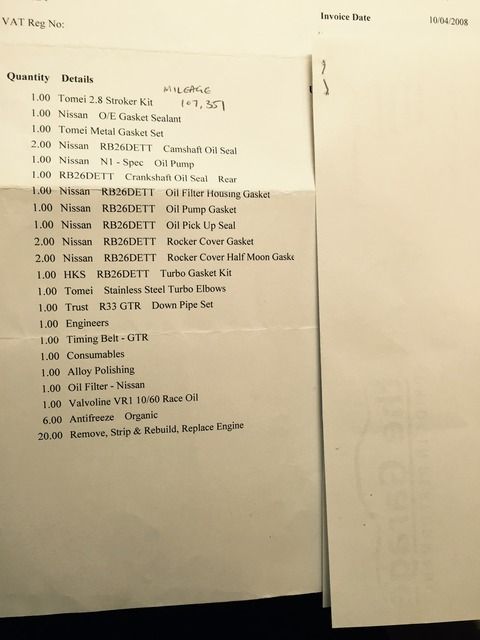 I ended up adding a couple of extras into the build, Tomei Turbo elbows with a Trust downpipe. Without a re-mappable ECU, the AFR was checked and then a decat pipe added, performance wise the car certainly sounded a lot more throatier, with a lot more low down torque / stock turbos spooling that little bit sooner.
I had also bought a daily driver so the car was then only driven at weekends and just to finish things off decided to refurb the wheels as the paint was flaking with the aim being an all round presentable car.
Wheels wise decided on mirror polished lip (carried out by the Polisher) and then centres painted gunmetal by Buchan Automotive:
Before: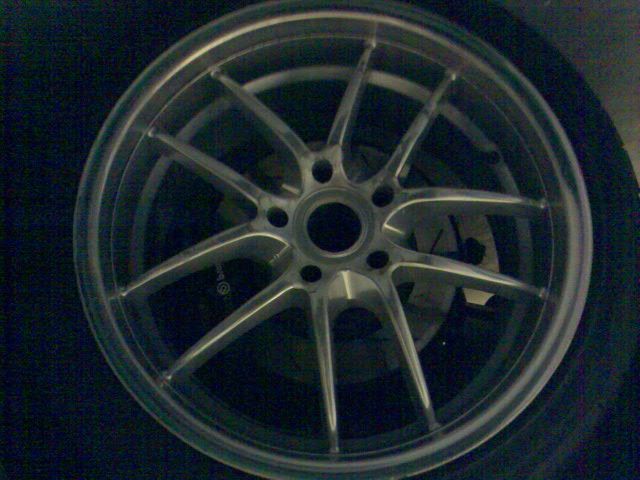 WIP: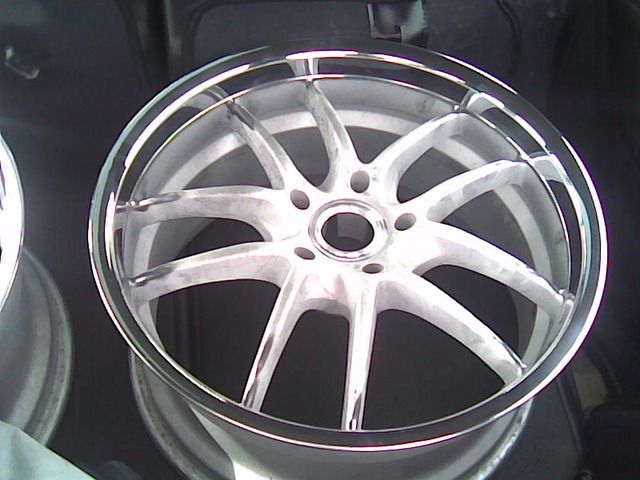 After:
With the addition of 20mm hubcentric spacers all round: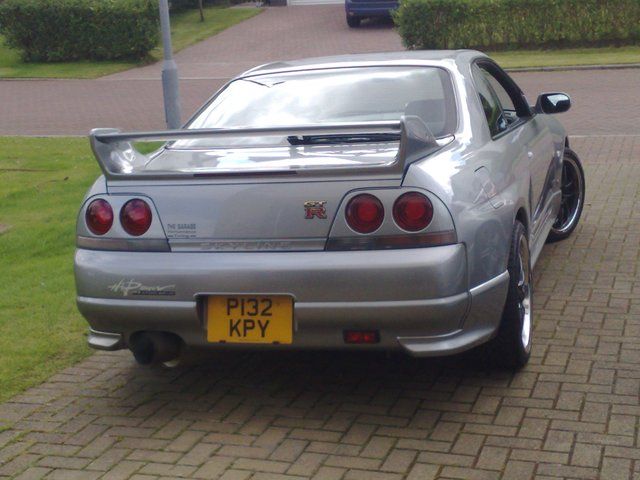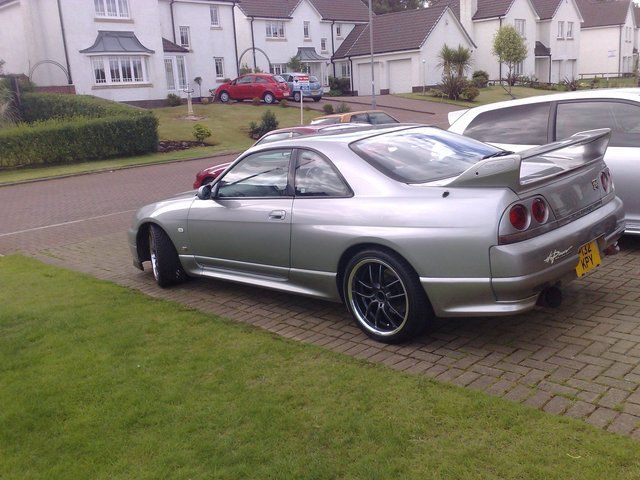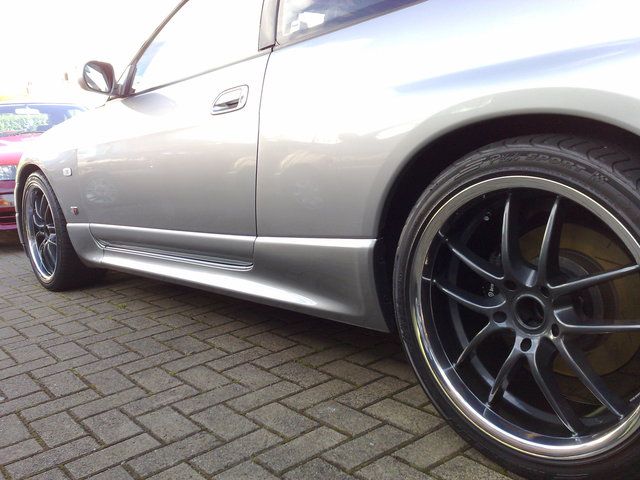 Engine with polished tt pipe and apexi hardpipes, painted rocker covers and plenum:
Night pic:
Roll on six or so months and my suspension top mounts started to squeak, tried a couple of fixes which didn't work so replaced the suspension with Tein Superstreets with top mounts and EDFC, the decision was based on the car being a fast road car and the ability to send the units off for a refresh/rebuild if needed in the future. Suspension was fitted with the car being lowered further and then tracking all set.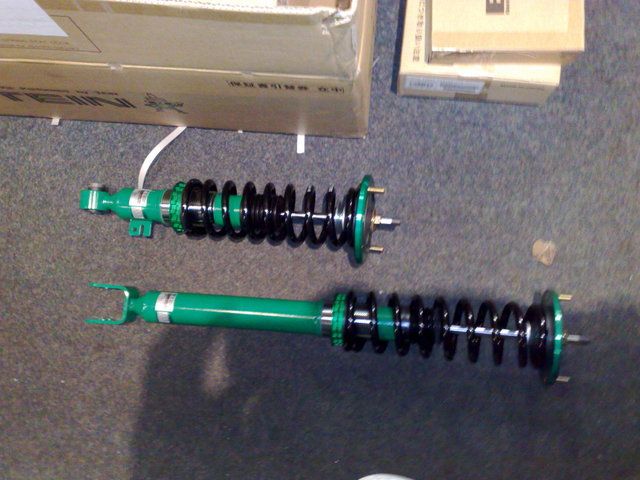 Added a GTR fuse box cover / washer bottle cover purchased from the GTROC shop and some Tein tension rods fitted (no pics).
Around 1 year later, I then started to purchase parts slowly in order to fulfil the potential of the stroker kit, parts included remappable ECU/ boost controller / AFMs / turbos / injectors / clutch / cams. So ended up with a nice collection that looked like:
ATS Twin plate Carbon Clutch (addition of OS Giken pull to push converter)
Tomei ARMS Turbos M8260 kit
Tomei Poncam Type B
Nismo FPR
Injector Dynamics 1000cc injectors
Tomei Fuel Pump
Nismo AFMS
Apexi Power FC with Commander
Apexi AVCR Boost controller
Next step naturally was to get everything fitted: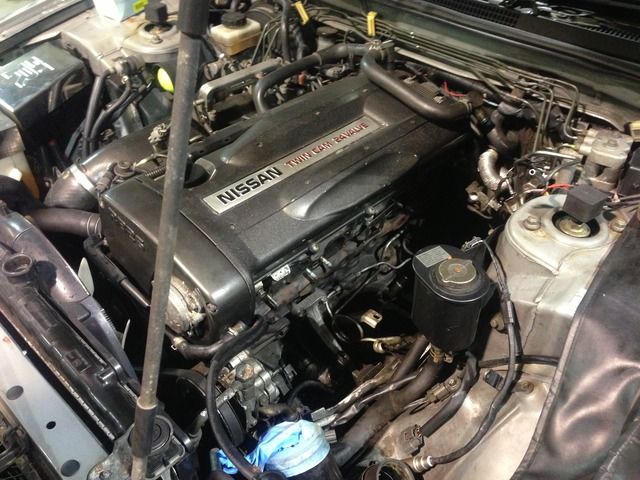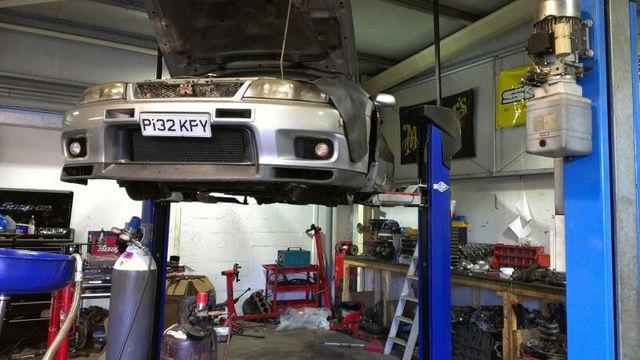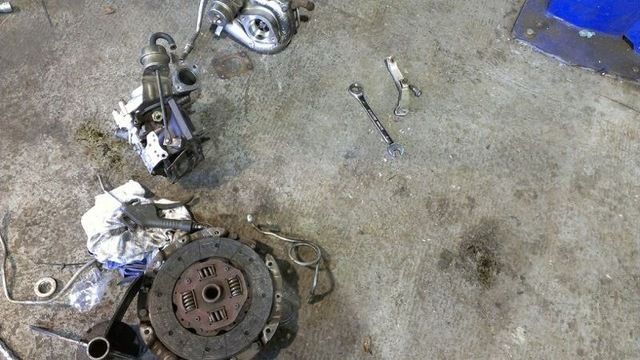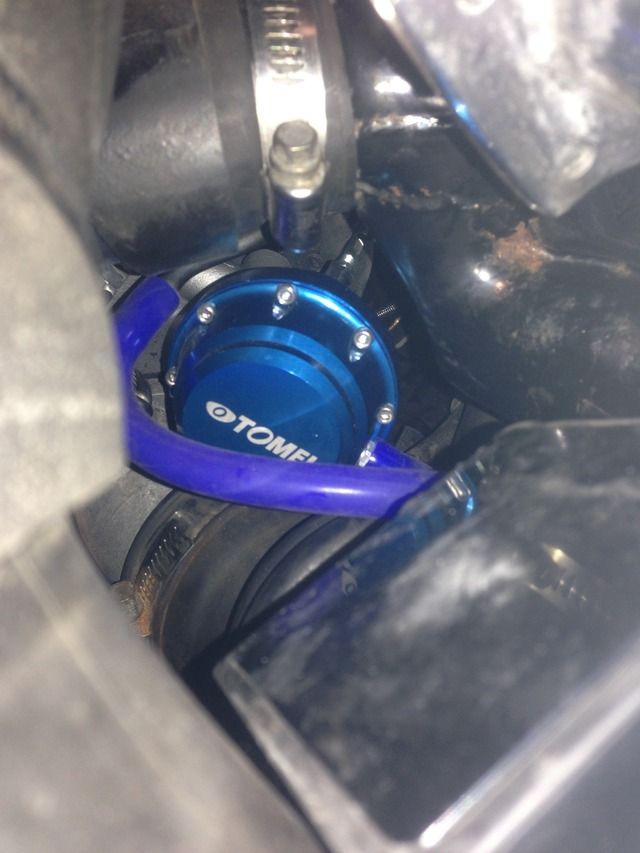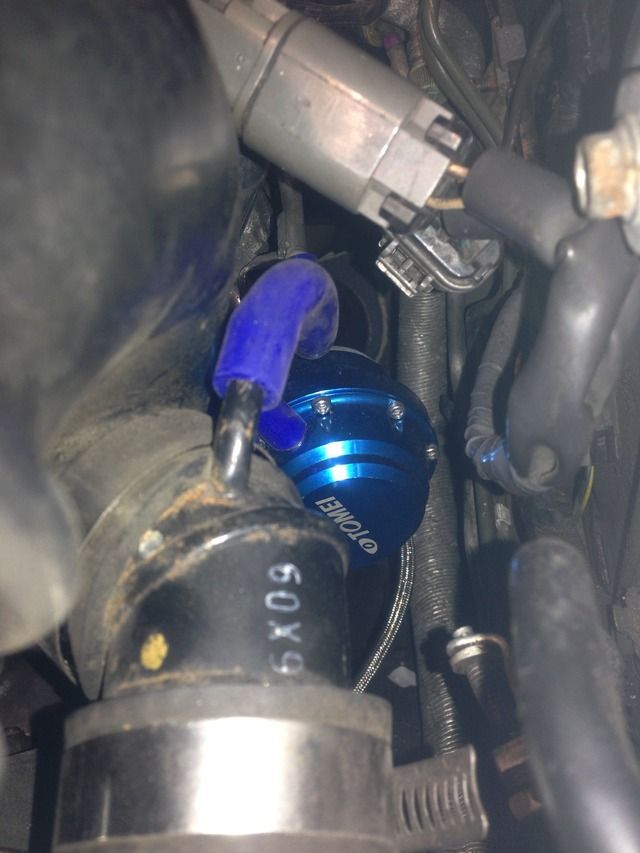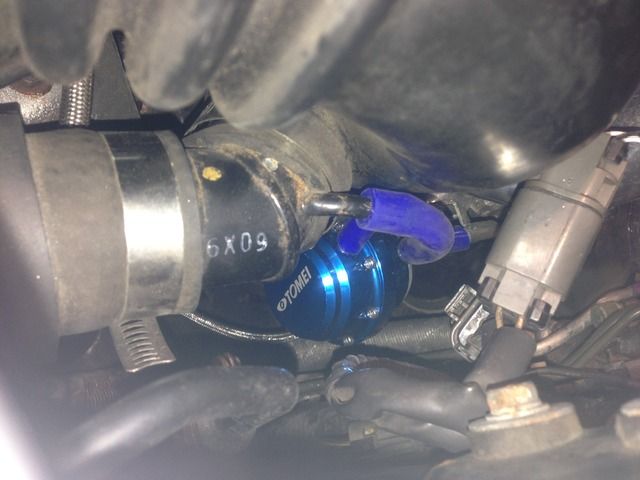 Also changed spark plugs (same as before Greddy HR 8) and coilpacks to splitfires: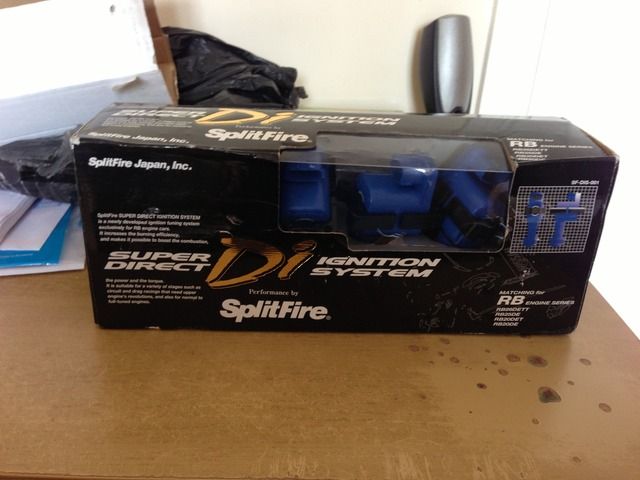 Car was then road mapped - low boost 1.4 bar / high boost 1.7 bar.
Boost levels on boost controller:
Low boost: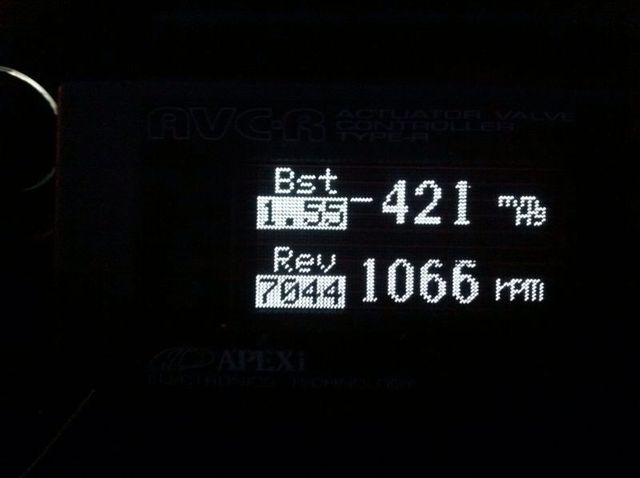 High boost:
Next was a set of OEM xenon's (won't go into the all the issues here!), let's just say lesson learnt.....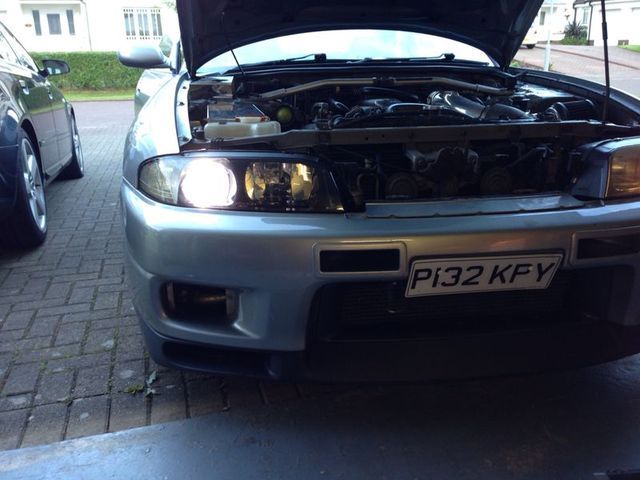 Felt it totally freshened up the front of the car.
Also added some instrument LED bulbs (no pics taken).