Discussion Starter
·
#1
·
Figured It's about time i put up a thread about the car some of you know I've been throwing together recently for my website
Drive Addiction
I'l save you the sales pitch for the site in another thread
So... the car.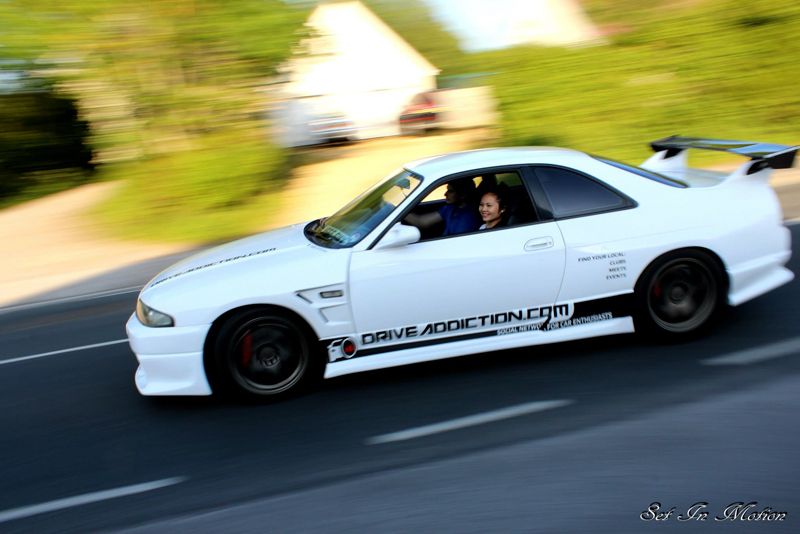 Bought this a few years back at a very very nice price, or atleast nice enough to warrant me throwing so much money at it since.
It's a spec 1 (fools a few!) and came with a body kit, fake GTR wing, stage 1 breather mods , badly tinted windows, a super tiny steering wheel and some WORK Alloys. Still; It was white and a GTS-T, so perfect for what I was after!
Since then it's gone through quite a bit of transformation.
I'l go into details about specifics if anyone wants to know more about any of the mods, just ask
Spec list as it stands today is as follows:
Top secret Front bumper
- modified to house GTR front indicators and Jap style 7 character front plate (yet to fit!)
Top Secret Side Skirts
- smoothed in
Top Secret rear Spats
- soon to be smoothed in
Rear GTR Over fenders
- reinforced and smoothed in
Front Vented Wings
- 40mm wider with clear Nismo side repeaters
Spec 2 front end conversion
Project & HID retrofit lights
- with highbeam modification
GTR Spoiler base with Carbon Bee*R wing
Ganador Wing mirrors
- blue tinted glass version
RAYS nismo LMGT 4 wheels
- Staggared fitment 8.5x18 & 9.5x18, refurbished in Rays Bronze.
HKS Dragger Exhaust
Apexi Induction
FMIC
- Painted Black
Splitfire Coil-packs
Full GTR interior
Nismo Gear knob
Nardi Twin steering wheel
Red L.E.D center console lighting
- clock and all buttons show as red instead of the faded yellow/green
[B}White L.E.D Speedometer lighting[/B]
White L.E.D Interior and boot lighting
White L.E.D side lights and number plate lights
Fog light relocated
- now sites in one of the reverse lights
Carbon front grille
Tinted Windows
Stealth Audio install
- 4 channel amp hidden in boot, 2 way front components with tweeters mounted in wing mirror interior panel, heavy duty 6x9 in rear shelf, under seat subwoofer to come
GTR Carpets
Nismo front Strut Brace
- with brake stopper
Cusco rear Strut/Boot Brace
Whiteline front Anti Roll Bar
Cusco rear Anti Roll Bar
Nismo 2 Way Differential
Solid Subframe Bushes
Solid Differential Bushes
Driftowrks CS1 Coilovers
- fully adjustable with pillowball front and rear mounts
Driftworks front Camber Arms
Driftworks rear Camber Arms
Driftowrks Hicas Lockout Bar
TEIN extra lock Tie Rod Arms and Ends
Full window out Respray
- QM1 White, new window seals, all surface rust removed and full undercoat
Apexi Turbo Timer
Greddy Boost controller
RAYS locking Wheel nuts
Drive Addiction website decals
To come...
Bee*R
- sorry I know it's a love hate thing
RSP Stage 1 ECU
Underseat subwoofer
Only had her back on the road a few months, but loving it! so much fun to drive, handles so much better than the other R33's I've owned, the ARBS, Braces, Coilovers and 2 way really transform the car!