Well it was off to Goodwood yesterday for my first track day in the GTR. I got to the track nice and early and met up with another GTR owner that has had his car as long as as I have. I found out he lives round the corner from me yet we have never seen eachothers cars even though they are both daily drivers. Once there I went to the noise test area to be be measures (was I nervous) I registered 102Db which is more than I thought I would (Milltek Y Pipe fitted)
After the drivers breifing I was in the first group of 5 cars to go out on track. I had the car set in R for gears and dampers but left the TC on as the track was a little damp and the air was misty - did not want to spin on first session. After the warm up lap and a quick reintroduction to the track I started to press on, now in RRR. I have drivien the car quick on a few private roads but on the track you can really start to give it full beans. The steering is good on the road but amazing on the track and allows you to put the car right where you want it. I am amazed how the weight of the car does not affect its ability to be thrown around a track, especially into corners and it was not long before I started to spank some of the other cars. As it was a 5 car day we went out 10 seconds apart and even though the sessions were 15 minutes long I was catching all sorts of cars that had 30 second head starts.
I have seen many people on here replace the standard brakes and I have to say I am a little puzzled as to why. Goodwood is not a killer on brakes but there are two 140mph straights that require the brakes to be stood on at 140 down to 40-50mph and my brakes never let me down, not once - very impressive.
Through out the day I got quicker and quicker as I got used to the car and got to the point I was probably the quickest thing there - and there were some quick toys there R8 V10 and 430 Spyder. The only real downside was the tranny temps kept getting up to 115 and so I am gonna need a service in the next 1800 miles butnthat said there was another GTR that came in a lap early to let his cool (clever chap) by the time I noticed the temps it was too late (was having too much fun). Darren, Westover's GTR tech came down for the day and I took him out for a session (he was shocked as to how quick the car was and I think I frightened him a little as we had an 80MPH 4 wheel drift out of a very fast corner) His missed also had a go and was way calmer - at 130-140 I asked if she was ok and she replied "yes, it's very nice" wish my nerves were that good.
So all in all I was very impressed, the car never missed a beat, the steering was excellent and sensitive without being twitchy, the gear box was stellar and made the driving way more involled as I never had to take a hand off the wheel. The brakes worked perfectly and the car sounded excellent - way better than anything else except the F430 which sounded just like a slightly quiet F1 car.
Everyone there was stunned with how quick the GTR was and I think it gained a lot of respect - including the Ferrari 430 Spyder owner who happens to be my MD and calls my GTR a Fat Lardyboy Nissan. John, the senior instructor was there giving tuition for the day and said that he was at the Autocar round up a few weeks back and could not get over how good the GTR was, to the point that he said it was much better than the the GT3 and over 1.5 seconds a lap quicker - take that Porsche.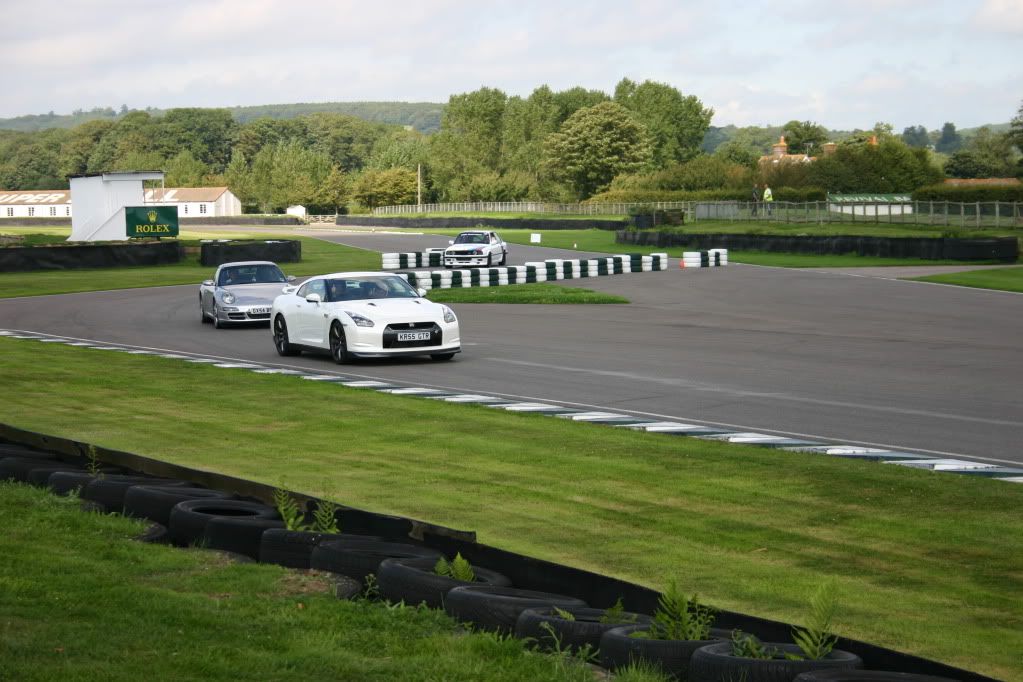 Kp