Recently did a front pad change on my R35 and there wasn't a great deal of info out there on what to expect. I therefore thought it might be an idea to pull together a brief how to guide.
Firstly, apologies for the pic quality. I wore my camera batteries out last night on another project so only had my blackberry for pics
In terms of difficulty it is actually very straightforward. It's a good design. I score it a 2 out of 5 spanners, but this is mainly based on having the kit.
So to start, this is the kit you need. New pads, torque wrench, socket set (with 21mm and 13mm sockets), a smallish hammer and some brake cleaner
Add to it, large flat head screwdriver, copper slip and a punch, some kitchen roll plus a trolley jack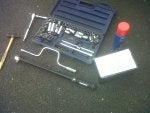 Then you need to jack the car. Mine is lowered and I have a normal height trolley jack which doesn't fit under the car. So to get around this I drive the car onto planks of wood (on both sides) which raise it enough to get the jack under. Wheel bolts are 21mm. You don't need to raise the car much to be able to remove the wheel. Getting the wheel off isn't too hard although be warned, it is quite heavy but is mostly an issue when putting it back on.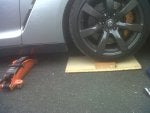 I took the opportunity now to give the callipers a courtesy clean. Now would also be the time to soak / clean your alloys if you were so inclined.
Then I removed the two thin bars as per the pic. These are gently tapped out of the calliper, from the outside of the calliper, to the inside. This is where punch is required. It makes it easier although be careful or you could hit the calliper and damage it / scratch the paint.
The lower thin bar is holding down a metal retainer. There isn't significant force on this so as the lower bar comes out it shouldn't spring too much - but yours may be different so proceed with caution when sliding it out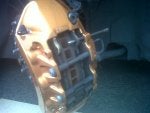 Then remove the metal spring clip. If you use a screwdriver carefully and rotate the clip and hold the screwdriver head against the clip as shown, then with a little forward force on the screwdriver, you can use your other hand to rotate the long part of the clip which pops itself off. Should be fairly easy if you have the correct angles. I didn't find I had to bang it with a hammer or make the metal deflect a great deal.
The next step once the two little bars are out is to remove the thicker bars. These are 13mm bolts and not tight or difficult to remove. Once the bolts are out you need to slide them out of the calliper. These are removed from the inside to the outside. The fit will be tight, as there will be brake pad residue on them. I took care and made sure that if I persuaded it at all, that it did it square on, not damaging the threads or using a great deal of force. It really is gentle persuasion, or wiggling (by hand) to get it out.