Originally bought from Miguel at NewEra earlier this year with a fairly extensive spec. list, this R32 GTR needed quite alot of work to get her set up right once in the UK. A not infrequent problem with cars new to the UK that have been modified early in their history in Japan.
Difficulties centred around the impossibility of mapping the car at low and high revs which led to replacement of carbonated injectors, AFMs and new lamda sensors. Eventually a decent map was made with the car making 440 hp ATW.
Early major modifications included a Trust/Grex oil cooler and remote filter kit (few imports seem to have this), Apexi Power FC and commander, Skylab torque split controller, D-Speed clear front indicators and Wisesport LED rear lights.
At this state of tune it became clear that the brakes could not cope with the power even though she had CCX pads and uprated rear discs, so an Ap Racing big brake kit was installed together with DBA slotted rear discs.
Power delivery throughout the band was improved by HKS step 1 cams. The old HKS mechanical boost controller was replaced by an Apexi boost control kit wired through the PFC. Despite reports to the contrary this device actually works very well. A continuing slight air leak on the inlet side was rectified by steel gaskets.
The difference new tyres makes when setting an import car up cannot be underestimated, even if they have good tread depth. Any signs of cracking mandates change and transforms the car. The car is now shod in Toyo R888s, which are brilliant in the dry but IMO lethal in the wet as I found out in a cloud burst! I'm getting some Toyo Proxes T1-S' ASAP.
As she looked in Japan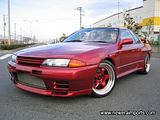 As she looks now
Removed at request of poster - Admin.