Discussion Starter
·
#1
·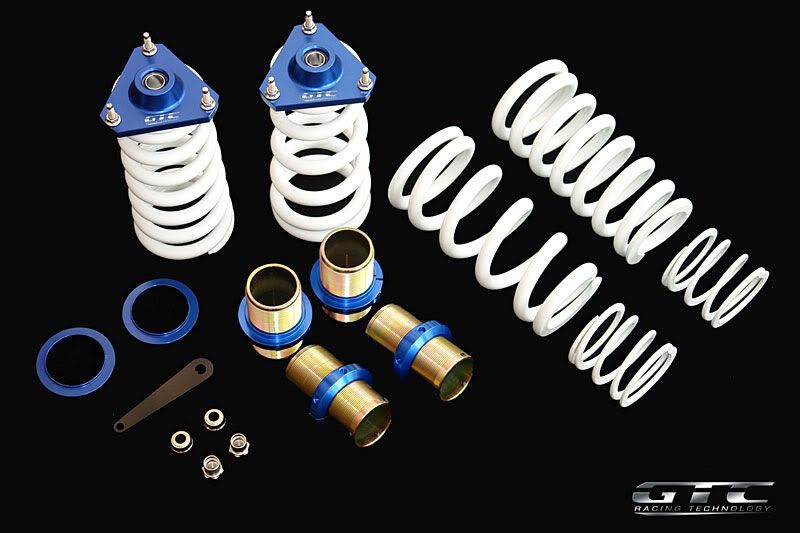 The GTC kit consists of pillow ball upper mounts and a full conversion to
turn the stock Bilstein dampers into a height adjustable coilover kit. This
system comes with selected custom springs (20k front and 12k rear).
They can be installed without damage or modification to the stock shocks.
Full adjustment of the stock suspension is retained with this system.
The kit includes springs, strut tops, height adjusting collars and new
rubber bump stops.
The R35 GT-R GTC coil-over spring kit features fully ride height
adjustability while maintaining the factory electronically adjustable
suspension. The factory shocks are very well built so it is not necessary to
upgrade but we found the factory springs are too soft and it causes a lot
body roll and understeer. Stiffer springs to reduce body roll when
cornering and reduces nose dive under hard braking. With this setup, the
car will be easier to control and appears less understeering.
Besides lowering the ride height, you also have the ability to adjust corner
weight balance to ensure all shocks have the same amount of stroke and
shock travel. Testing on 3 UK circuits, handling will be significantly
improved, more so in combo with sway bars.
Kit comes with pillow ball (spherical bearing) upper mounts, to increase
the suspension feedback by eliminating deflection from factory rubber
bushings. The mount is made out of Forged A2017 aluminium for weight
reduction and durability.
Spring sleeves are made out of CNC machined chromoly steel with rust
proof coating against corrosion. We offer bolt-lock type spring perches
(single) for easy adjustment. The spring perches are made out of CNC
machined forged A2017 aluminium to handle high stress and quality
assurance.
Coil-springs are made with cold forming process and it meets SAE
standards. Special designed tapered shape to increase shock travel and to
reduce binding. GTC kit comes with F. 20k and R.12k.
Fitting time 5 Hours.