Hi guys,
Would like to wish every one a fantastic Xmas & New Year !!!!
Please do take it easy and drive safely, a number of R35's were crashed last winter (we know as we supplied the replacment parts!) and this year a lot of you have way more power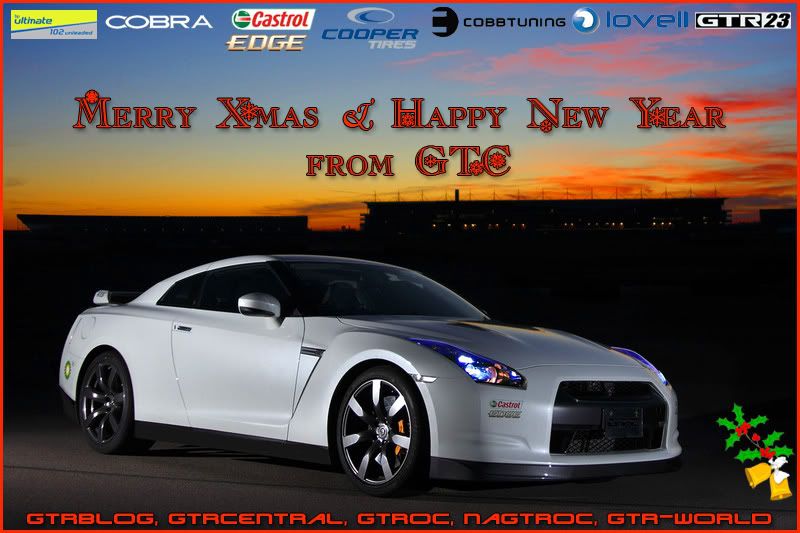 Would like to thank everyone for the amazing support in the Golden period of the new EDM GT-R
Too many great guys out there but would like to give special mention for Dave Yu, John Hatton, Jurgen, ScottyB, Rich GT, andy aka charles charlie, Alex, Jonas, Jan Kilslik, Lars, Phillipe, Bruce, Kevan, shipsly, Victor Le, Pepe, Farooq, Marco for sharing the same GT-R passion and obsession we have, & help make this place a bit more exciting
Things to look forward to in 2010:
1. People using the W word less :clap:
2. aftermarket to further look after the GT-R over OEM prices
3. GTC Light kit V2 - lower priced
4. GTC Full Carbon range
5. Cobb AccessPORT John Banks major developments - air/fuel calculations, tcm control + more. all for big power
6. 700hp + Turbo kits
7. Transmission and engine cooling
8. Inconel downpipes
9. Trans upgrades
10. Total stock GT-R running a 10.* run with just remap
Our 35 is currently off road for December/Jan, but if your in the area come check her out at the Autosport show @ NEC Jan 14th-17th.
Sneek peek of UK GT-R Turbo's CNC machined in UK for 700hp +