Discussion Starter
·
#1
·
After i searched here a "How to" for installing my SLD, i have choosen the more difficult way and find it out (allmost) myself.
What is so difficult installing a SLD?
Nothing.
But the Manual is only available in Japanese. :chairshot
Togheter with hikari and his wife (native japanese), i was able to translate Parts of the Manual and install the SLD succesfull (many THANKS to them!!).
Befor you start, you should decide if you dont want to buy a ECU Extension Harness.
If you own a clean Car or you want to organise the messed up wiring from your Boost Controller etc. it is something i recommend to buy one!
I bought mine from
www.rhdjapan.com
where it is called "FIELD One Touch Coupler Engine Harness Extension".
When ordering, dont forget infos about your Car:
Year (1996)
Make (Nissan)
Model (Skyline GTR)
Type (BCNR33)
Engine (RB26DETT)
Transmission (5 Speed Manual)
and the will send you the right one. ...the HKS SLD is also available from them.
Important: This "How to" is based on my R33 GTR, other years/engines/Types may be different.
1. Where can i find my ECU?
It is located behind the Panel in the Passenger footwell.
Remove the sillcover (simply pull it up, clips, no screws), remove the plastic nut and pull the Panel careful toward the center Console (2 clips).
...there is your ECU. :smokin:
2. Disconnect negative Battery cable.
If you work on your Cars electronics, it is allways a good idea to disconnect the negative cable from your Battery... even if you know what you are doing.
3. Disconnect ECU.
The Connector is secured with a 10mm screw... be carefull and DONT bend the Connector or overtighten the Screw when reassembling!
4. ECU Pin Layout.
Now you need to know the Layout of all these Pins...
I found it on
Welcome to the Uk's 1st Nissan Skyline R34GTT with 450hp RB26 GTR Engine Conversion
->
http://www.r34gtt.net/skylineecupinouts.pdf
5. Before wiring your SLD.
It is important to set its switches in the right position.
For all Skylines (GTR/non GTR's from R30 to R34) the switches must be in upper Position.
6. Wiring
There are two ways of wiring the HKS SLD.
1. is for Cars that use a separate Sensor for the Speedometer (as it is in my R33 GTR).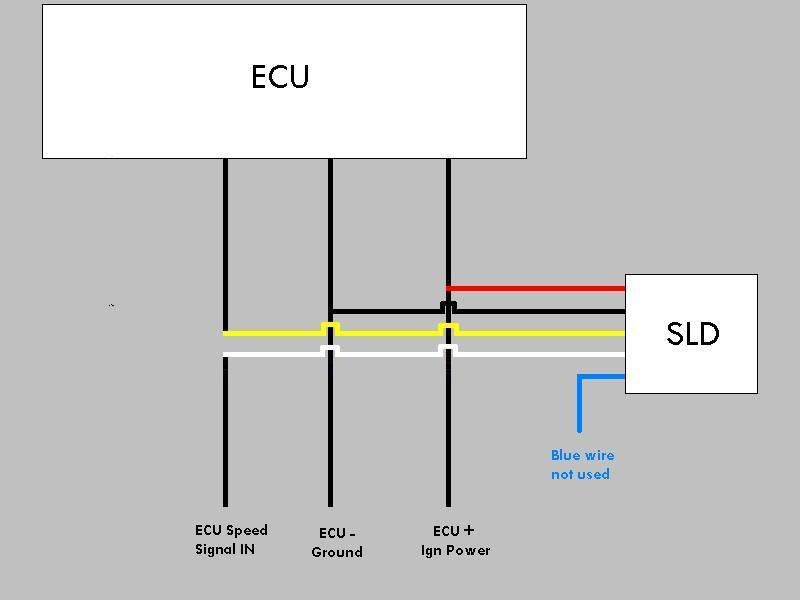 2. is for Cars that use a ECU output for the Speedometer.
Red wire:
IGN Plus. Called "B" in the japanese SLD Manual. Connected parallel to Pin 59 in a R33 GTR.
Black wire:
Minus. Called "E" in the japanese SLD Manual. Connected parallel to Pin 60 in a R33 GTR.
The wire for the Speed Signal Input, called "S" (Pin 53 in my R33 GTR) in the japanese Manual must be cut and connected with
White wire:
SLD Speed Input. Connected to the harness, delivers the "real" Speed Signal to your SLD.
Yellow wire:
SLD Speed Output. Connects to the ECU side of the harness and delivers the faked Signal to your ECU.
Blue wire:
If your Speedometer receives his Signal from the ECU an not from a separate Sensor, you have to CUT this cable and connect the Harness side with the blue wire. It will send the "real and uncorrected" Speed Signal to your Speedometer.
This was NOT necessary in my Car and MAYBE not on newer Skylines to.
If you are not sure, just dont connect it.
The only thing that happens, is that your Speedometer will stop at 180km/h because of the faked SLD Signal while your Car still accelerates.
Your result may look like this...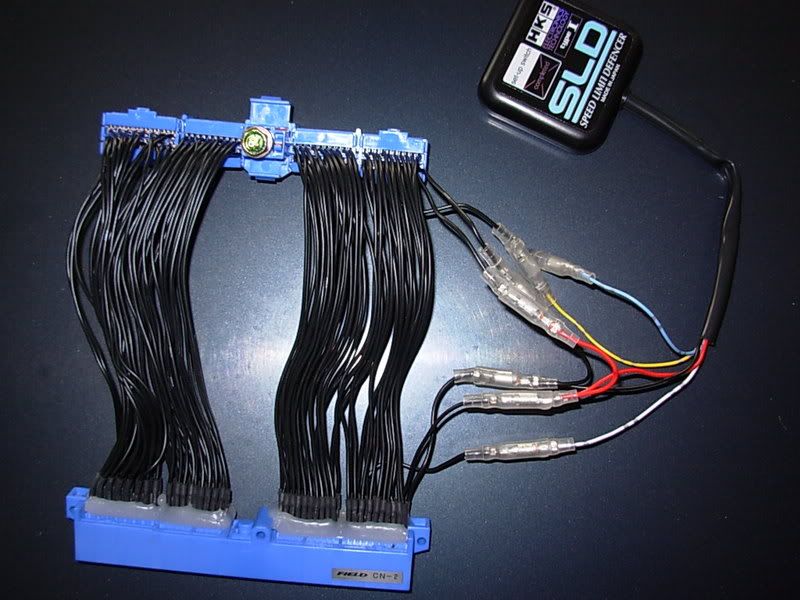 With the Extension Harness, it is a little bit difficult to put anything back behind the Panel.
I had to reroute the ECU harness a little bit and cut a very small Piece if the Plastic Panel to make space for the Connector... but this is not visible when all is back in Place.
Please be carefull when testing your Skylines new Topspeed!!!