Discussion Starter
·
#1
·
I wanted a quick release for my car just as a security measure really. My steering wheel was already really close to me, even with it adjusted all the way back.
I remember austrian gtr saying he installed a NRG Slim quick release, it's basically less than half the size of a normal one. So I ordered one thinking it was what I needed. It wasn't really cheap after you stick in import charges etc since I could only get it from the states.
The build quality was pretty good, and it was definitely very thin.
This is when I started running in to trouble. I thought it would be very easy as I would just take my steering wheel off, install this to the hub and be done with, but no.
It was only when I took off my steering wheel did I notice I had a nardi hub, for those who know a bit about steering wheel patterns, you have 2. 1 is the most used, momo pattern, then the other is a nardi pattern. The quick release was a momo pattern, incompatiable with the hub I had.
So I thought ok, no probs, I'll order a NRG hub just for matching sake. Back to searching the web, and notice that they only do a short hub srk 140 that fits on the R32 gtr spline, ordered it. Again, had to wait for it to come from the states, and not really that cheap for a simple hub.
Once it got delivered I could finally get down to installing it. As you do, you dummy fit and see how they work etc. And to my surprise the short hub was so short that the quick release couldn't sit inside it. Wtf. After searching on the net it seems like the short hub and thin quick release aren't compatible together. Great. I waited nearly a month in total for this. I wasn't going to give up.
The *only* way they would be compatible is if there was a spacer between them. 20mm spacer would be enough, as when I test installed the hub on the car, the spline was slightly protruding. I searched the web high and low for a spacer of my requirements. NRG do a spacer, but even that is not compatible as it is too big in diameter and wouldn't sit in the quick release recess. The spacer had to be no more than 85mm in diameter, and no less than 55mm inside diameter, and around 20mm in height, of course also momo pattern.
I couldn't find one no matter how hard I tried and resorted to looking at local places with cnc machining. Fired out a few emails and was getting quotes of over £120 just for one piece which is somewhat ridiculous. I decided to give the net one more go, and came across Driftworks spacer. Asked them to measure the dimensions and JACKPOT, it was perfect for what I needed. Only thing was they did it in 11mm thickness, so I had to order two.
The Driftworks spacer/adapters also come with a lip, so I had to take it off one of them otherwise it wouldn't install properly.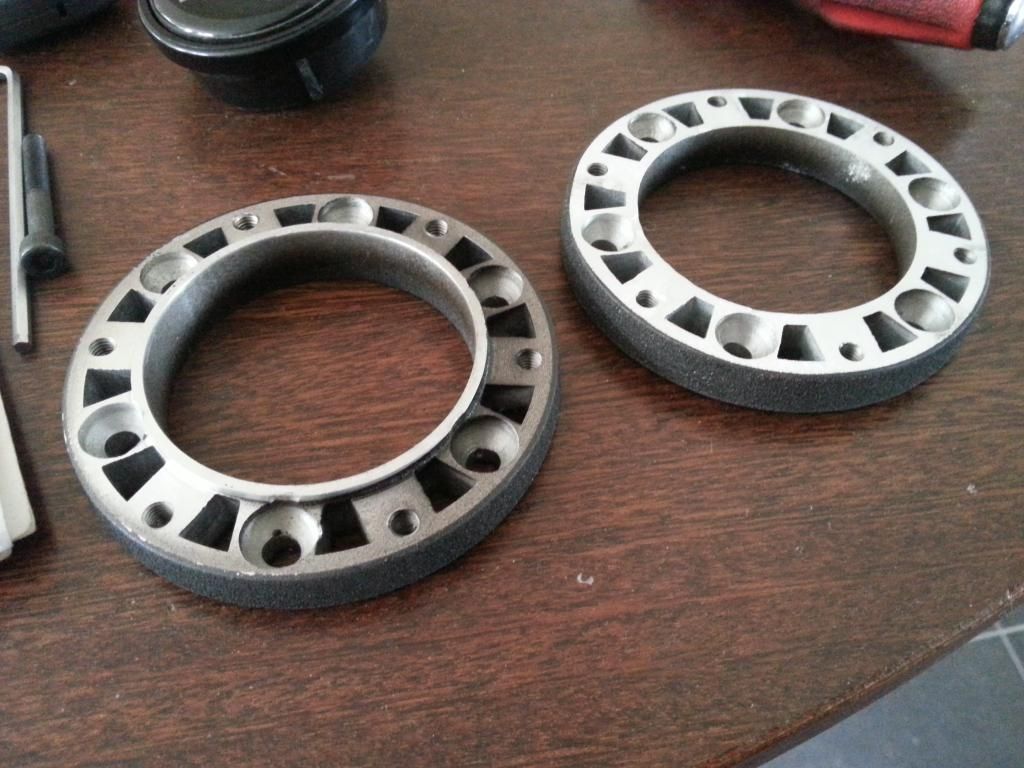 Also needed some extended m5 bolts. 40mm high tensile would do.
Once you get down to removing your current setup, you might come across this: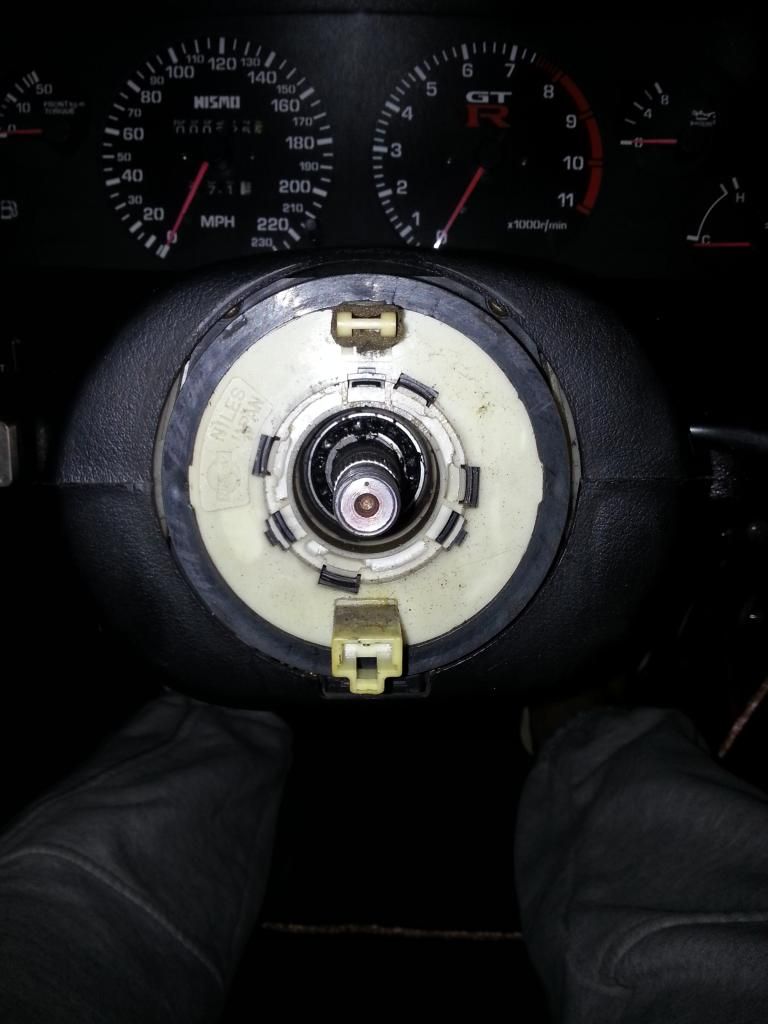 The switch at the bottom is for a horn wire. It's a steering angle sensor used for the hicas. My hicas was removed but I was worried this would affect the attessa, but after more searching it doesn't so it can come off. The short hub wouldn't be able to be installed otherwise. It's held in by 4 screws, with a plug at the bottom held in by 2 screws.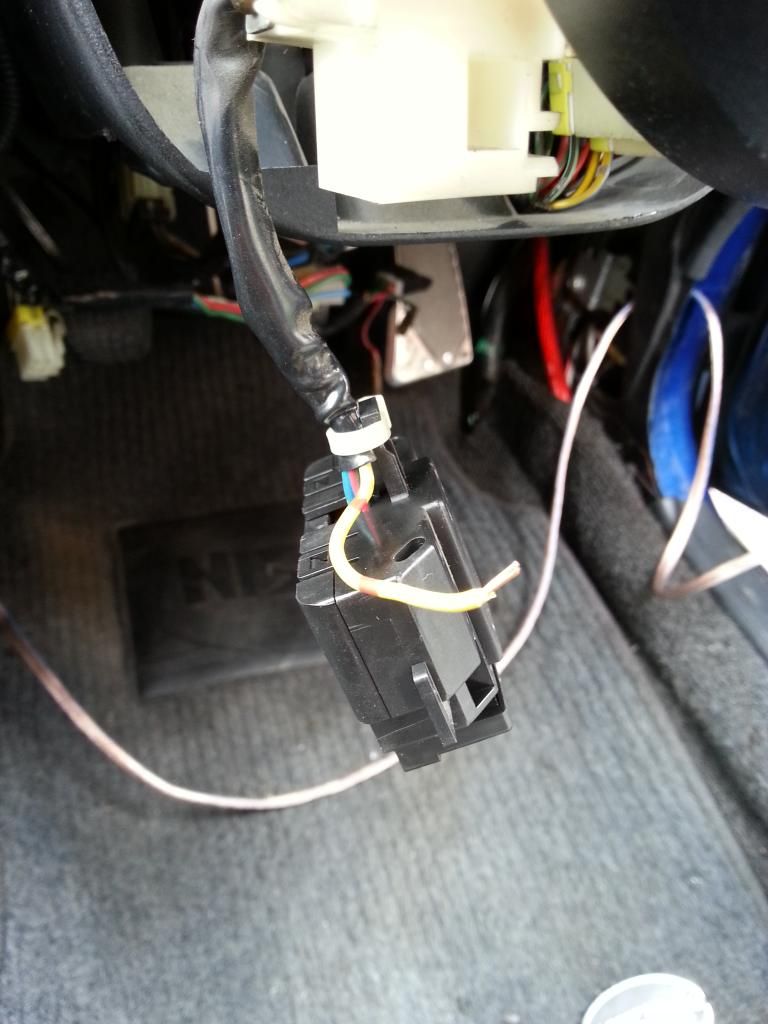 Once you take it off, you will be left with the above. The wire on the side is the horn, which we need to use. My horn used to work but started horning everytime I took a turn which was embarrassing so I removed the fuse. Now I had the chance to sort it once and for all.
Remove the plug from the bracket so it's easier to work with, remove the black tape, separate the horn wire to the side, cable tie the others to keep them in place.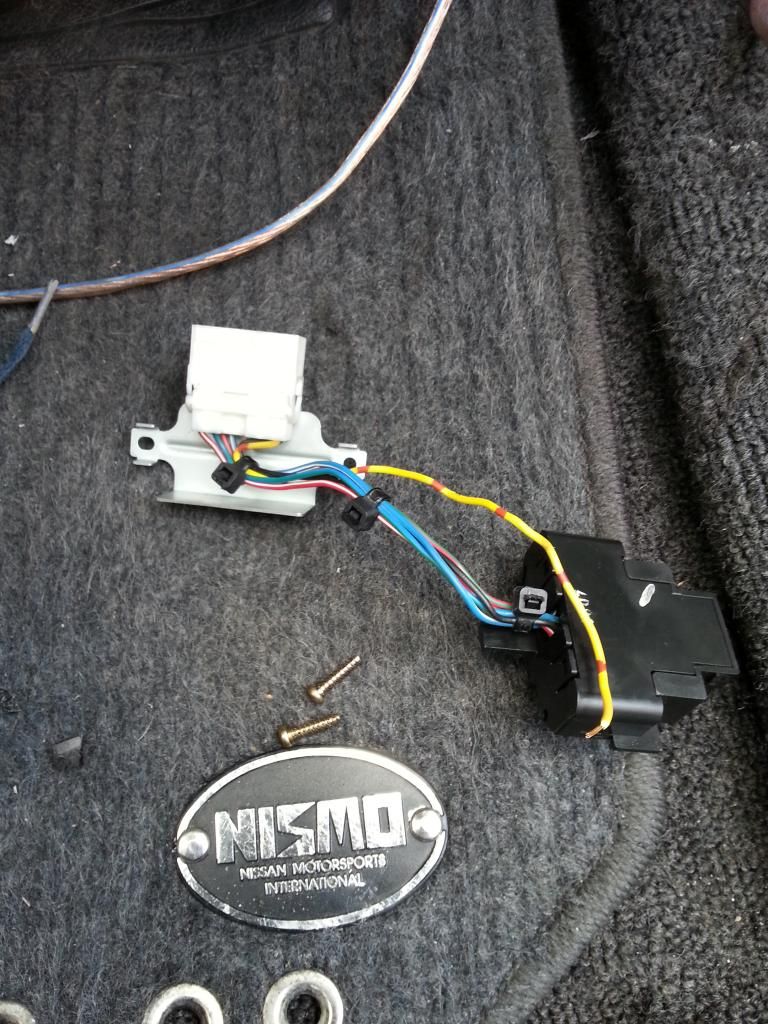 Screw the plug bracket back on and move the steering wheel sensor plug to the side, there's a gap where you can hide it out the way and route the horn wire across to the other side. There were many ways to do a horn 'mod' but I used a clip from a magnetic torch pen. I stupidly didn't take a pic but I fed the horn wire through one end of the clip, taper it up. And because the clip was designed in such a way, it 'hugged' the corner of the steering column frame and I cable tied it in place. It shouldn't move as it was pretty tight.
You can see the cable tie in this pic.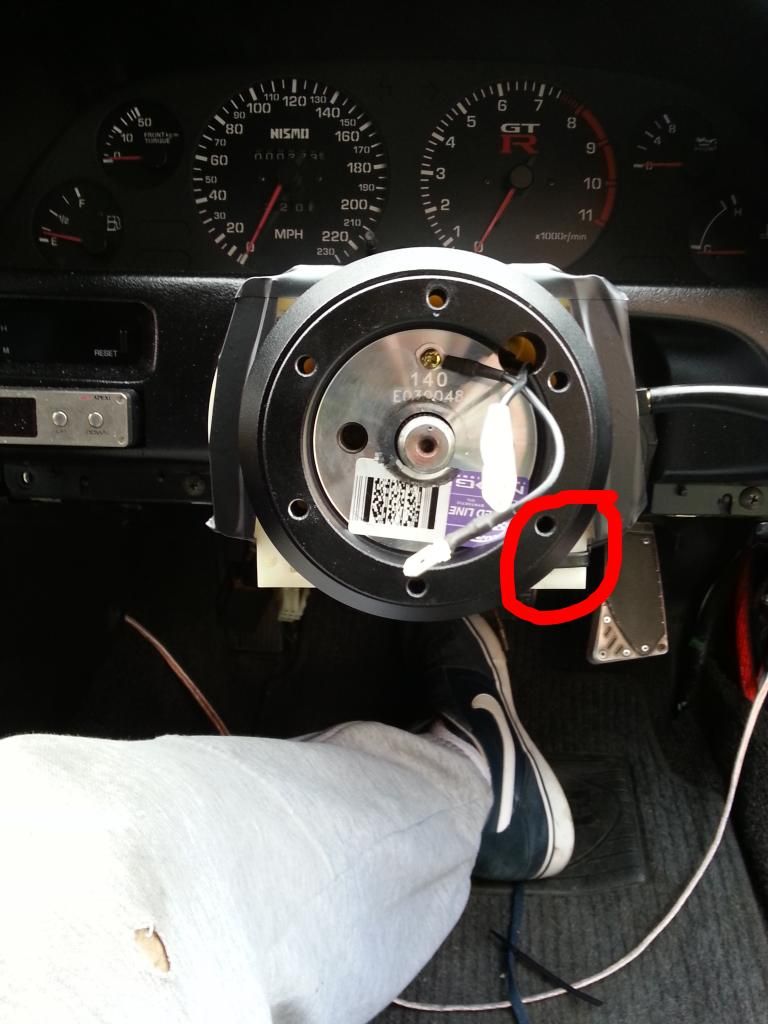 From the side view, you can see that the clip makes contact with the hub at the back.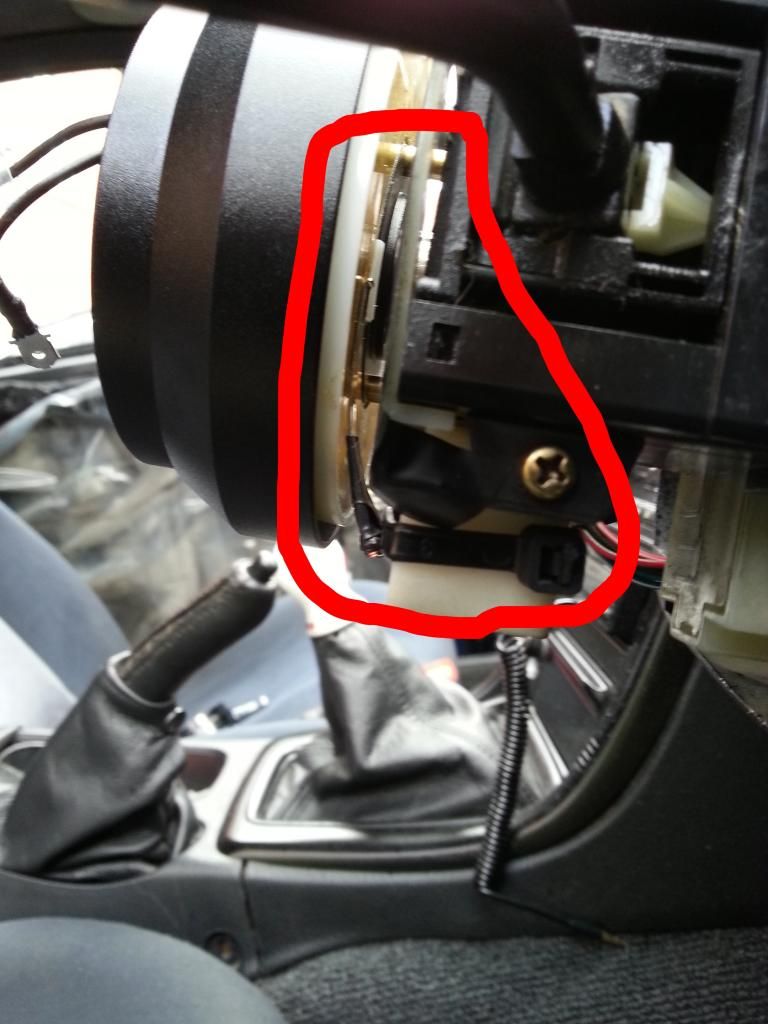 You may need to bend the clip alittle, but as long as it is touching, and doesn't move, its perfect. You can get a shoehorn, some have even tried it with a hair clip.
Bolt everything back together making sure to connect the wires on the inside. Put the two spacers in, the one with the lip going in to the hub.
Here it is with it extended all the way out.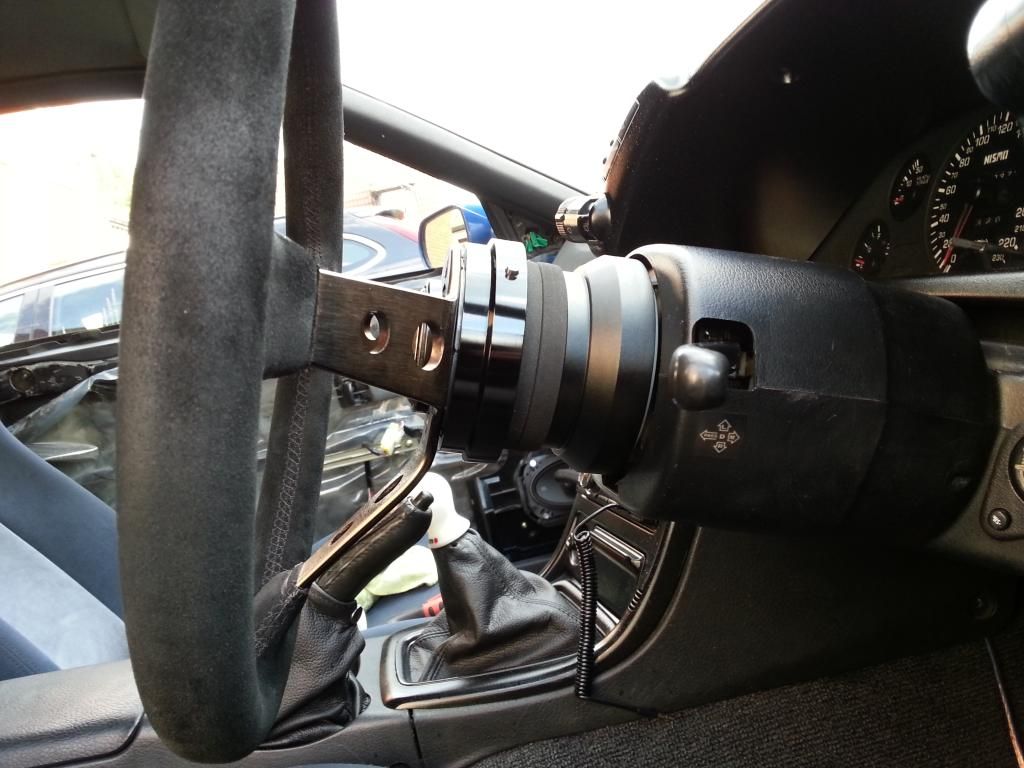 And here it is with it retracted all the way in.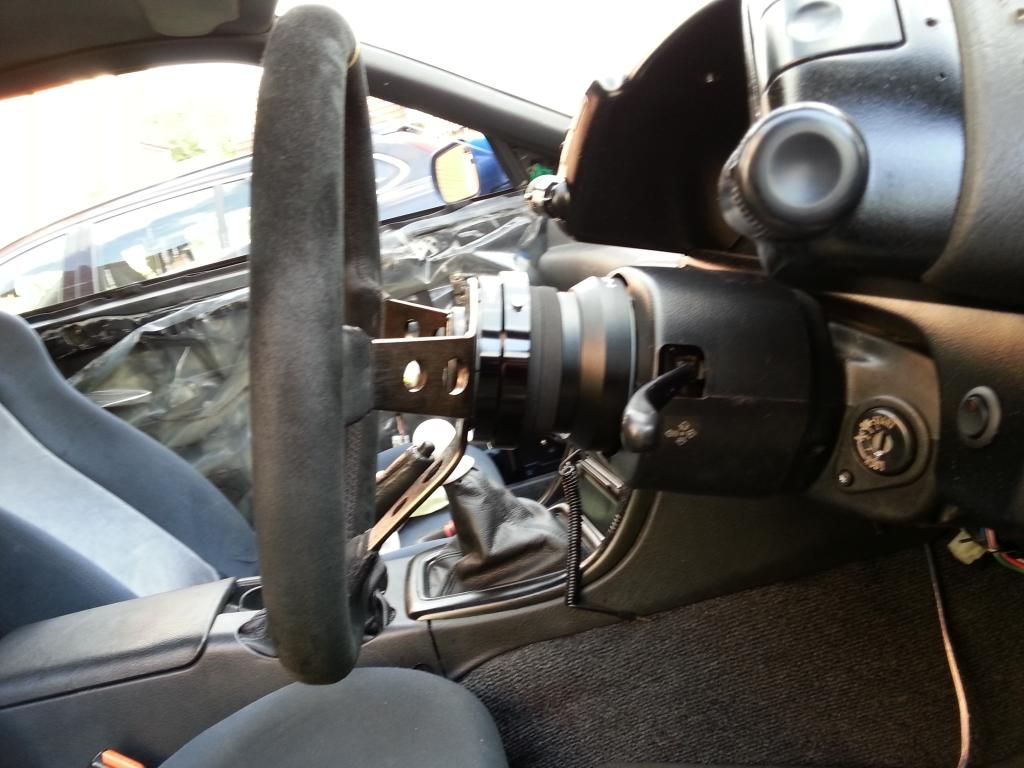 And of course the horn works! Finally ever since I had the car I can now use it without it having a mind of it's own. Some may question if the signal cancels still work and they do, it's the two pins at the back of the hub that makes them cancel out when turning.
So there you have it folks, NRG short hub and NRG thin release. I know some off you maybe thinking what was the point etc. In hindsight I probably should've gone with something that would've been an easy install. The only thing that puts me off with works bell is the price.
The short hub and quick release are perfect though, absolutely no play at all, and it goes on tight, which is reassuring.