Discussion Starter
·
#1
·
Thought I would post it up on here as you never know, someone might be after a change or know of someone looking for a very very clean scoob with a difference.:thumbsup:
This has been a very hard decision for me to make but I have decided to sell my Scoob. The car very rarely gets used and it is to much of a car to be just sat in the garage gathering dust. So here goes:
It's a 2005 Japanese (twin scroll) spec Sti V10 (hawkeye), it is in the white and there isn't a mark on it with around 18,000 kms on the clock. I searched for a very long time to find a car that was original, with no mods and had been looked after from day one, it was so original it even had the factory Subaru stereo faceplate still fitted, so the car was as it was when it rolled out the factory.
It entered the UK April 2008 where I was then registered the first UK owner. Within a couple of weeks of having the car it was booked in at Performance Developments for them to go over it with a fine tooth comb (for my own piece if mind), it had a full service, uprated filter, braided brake lines, rear strut brace and a set of Tien springs fitted.
After a few weeks it was then put on a rolling road to make sure everything was running right and the figures came out at 315hp and 316lb (graphs to prove) which wasn't bad for a standard un-modded car.
To get it to an amount that I would be happy with it was again back at Performance Developments to have an uprated Walbro fuel pump, 3" Miltek Downpipe and custom fitted 3" Japspeed de-cat system put on along with a remap. At the next rolling road it pulled an excellent 372hp and 390lb (graphs to prove). Since then a full set of BC fully adjustable coilovers have been fitted to make the car handle very well, set at 8 clicks it is just right for our naff roads.
Interior wise the car has had all the grey dashboard trim parts flocked in black, along with the blue parts of the door cards, the headlining and all the a-pillar sections, also a black Spec-C carpet was fitted. All this was done to darken the interior yet maintain a factory finish look. Also a full hidden bluetooth/handsfree system has been installed that works through the stereo speakers. The car currently has a set of black and grey WRX seats in it as I found the original STi seats to be very uncomfatable giving a very high driving position, the WRX ones were only fitted while I was waiting for the new red Sparco bucket Evo-L bucket seats to arrive but as they are so comfortable I kept them in and the Sparco's are still out of the car but can be included in the sale if need be.
Under the bonnet over 100 bolts and washers have been replaced with polished Stainless steel and the engine bay has had a serious detail along with red colour coding to many parts, basically to bring it upto the standard of the exterior.
After all that I moved onto the looks where It has had two stages of looks in the time I have had the car, the first stage was the stage that was featured in the Redline magazine before it went wide. It had a set of Ultralite Atec 2's that were in the 18x8.5 size, with a low offset to give the flush look, Chargespeed kit and Cusco Carbon wing (not cheap) fitted.
The second stage was when I gave it to Daren at
www.a-b-w.co.uk
so he could build a one off timeattack style wide arch kit that hadn't been seen before, with vented front and rear arches that were totally different from the WRC look that has been so popular for years. After the kit had been designed and fitted to a very high standard it was possible to fit a brand new set of Ultralite Atec-II wheels in a 18x9.5" size with no rubbing issues.
This car is very unique and there are a couple of magazines that are still wanting to do further features on it now it has gone wide and those details will be given to the new owner. The drive of the car has been set up to be smooth, reliable with a power that is perfect for our British roads with an exhaust system that doesn't pound your ears on long journeys but will sound like a super bike on steroids when it is in full song. No expense has been spared on this car from start to finish. The car has never been tracked and has never been ragged, it is kept garaged and gets regularly polished with Zymol, this car really is mint and needs to be seen in the flesh to be really appreciated. It has just won the best modern sports car award out of 2500 other cars at this years Tatton park sports, vintage and classic car show.
If you require any references to how clean and straight this car is, then please contact Paul @ Performance Developments as he is the only one that has worked on this car from day one when it came to the mechanics etc or please get in contact with Daren from ABW. The car has just been MOT'd and will be fully serviced and before I hand it over to the new owner (depending on agreed sale price).
Now for some pics: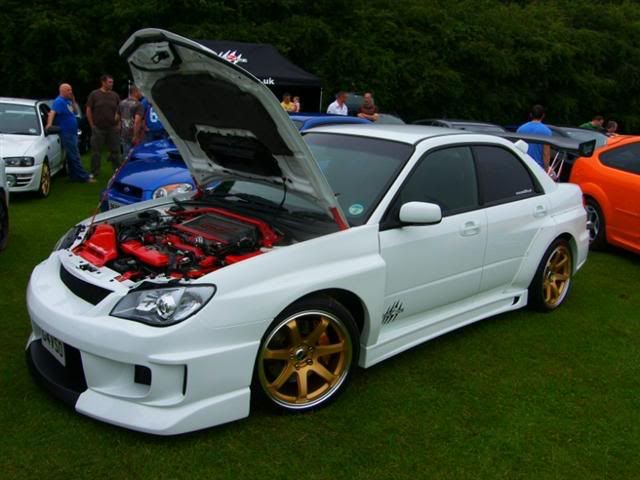 I am looking for offers over £16K.
Please pm or email me if you are seriously interested or if you have any further questions. I am based in Lancashire.
Private plate not included in the sale.
Ps. The original Sti boot will be included in the sale but the carbon wing is removable anyway if its not to your taste. Also included in the sale is a different set of Ali uprights to bring the level of the spoiler right down, very similar to the Subaru S202 look. The sparco Seats also can be in with the deal if the price is right. I am still not 100% sure I am doing the right thing by selling it.lol
Many thanks for looking.