Discussion Starter
·
#1
·
I've just had an extremely good quote on an R32 GTR and i'm selling my Integra to fund one. If anyone fancies a PX plus cash their way for an R32 GTR then please let me know what you have and what sort of deal you'd be after.
Its a 1996 model, 86k on the converted clocks with a certificate if i can find it. Its the best car i've owned so far and i really do love every moment of driving it. It handles like a dream, looks great and sounds awesome. It really needs nothing else doing other than sorting the bad bits (which arent anything major) and then enjoying it
Before i post a spec you might want to have a look
HERE
for the story of what ive done since i bought it.
Spec is:
Exterior:
Modified and meshed front bumper
Standard front lip
Standard skirts and back bumper
All stickers removed
Funky JDM tilt number plate bracket
Interior:
Standard red Recaro's
Standard rear seats
Momo corse 320mm steering wheel
Alpine double din CD/MD head unit with 6 disc changer
Alpine DDR speakers front and rear
Spec R Vtec controller
Engine:
B18C JDM Type R
8mm Leads
Genuine J's Racing Carbon Slug
Mugen 4-1 manifold
Kakimoto full exhaust (John f's old system)
HID's
Chassis:
HKS coilovers with pillowball top mounts
Standard front upper strut brace
Tanabe front lower strut brace
Cusco rear upper strut brace
Standard rear lower strut brace
16" Rota Slips with 205-45-16 Parada spec 2's
Hi Spec 4 pots with red stuff pads and 285mm discs
Standard rear brakes with uprated JDM pads
Braided hoses all round
Lightweigh wheel nuts
Performance:
Not got a clue but it handles like a go cart on steroids
Pics: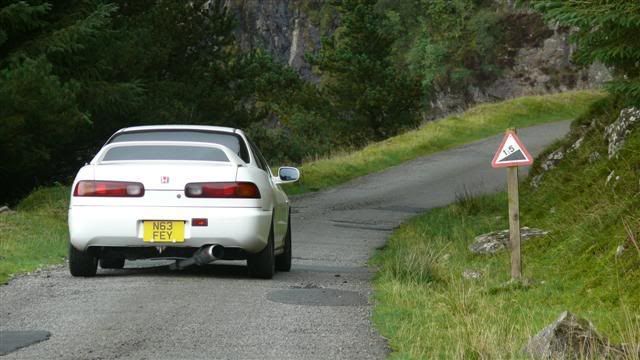 There's loads more pics available and i'll be taking pics of the bad points of the car tomorrow.
Included with the sale is also a Koyo aluminium rad which needs a small repair, and the bodykit that i removed.
The bad bits are:
When i removed the side skirts there was an imprint left in the paint in the shape of the outline of the skirts. Its not major and not really noticable unless you know they are there.
There is a small dent on the drivers rear 1/4 panel that was there when i bought the car. It must be a common place to dent as my mates DC2 Si has one in exactly the same place.
Where the front bumper attaches to the wings there has been some movement due to the kit being fitted which has cracked the paint. I was going to get them blown over over the winter but my plans have now changed.
Thats all i can think of atm. Before the car is sold i'll be doing a general service (oil, filter etc) which isn't really needed as it had a full service before i bought it from the importer.
The car isn't registered in my name yet so the buyer will be the first registered UK owner 8)
Please pm me if your seriously interested and i'll pass on my contact details.
The price is £6000 and i won't budge from that.
Nick