Discussion Starter
•
#181
•
Been busy lately trying to get these back brakes progressed...
The brackets which I had made up previously turned out not to be suitable due to a problem I hadn't forseen. The distance between the rear caliper mounting lugs on the hub is 4.5" and the distance between centres for the radially mounted caliper pins is 4.75". Given that the brackets only need to be very shallow (around 25mm ish) it means that the bracket-hub bolts would impinge on the caliper-bracket bolts.....bugger...
So, decided to go back to basics and do some proof-of-concept initial studies to see what needs to be done.
Early attempt with machined steel bracket offered up....
However, undeterred I decided to make up a bell to mount the disc so I could find what the caliper fore-aft spacing needed to be roughly..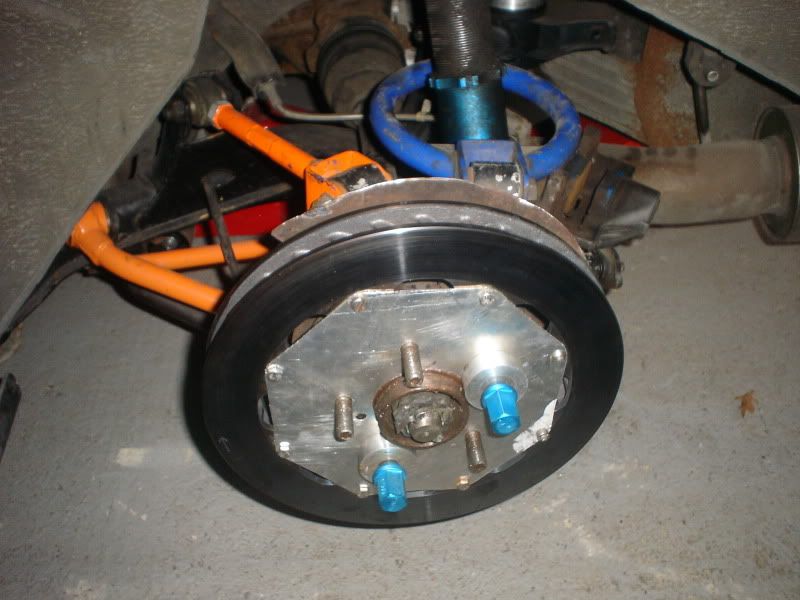 OK, its not glam but happy with the results. It was at this point that I realised the caliper doesnt need to be as far out radially as I had initially thought. It was here I had the lightbulb moment that my initial plan was somewhat flawed:bawling::bawling:
Here it is mocked-up with caliper....
Have decided that I will need to mount the caliper slightly lower than where the std mounting holes are on the hub. I shall utilise a bit of 20mm sqaure bar I have lying around and get some more precise measurements of where the caliper needs to be.
Next step will be to get caliper mounting sorted and then measure my bell requirements and have them made up. Hopefully that will be the rear 2-piece disc conversion sorted...:squintdan:squintdan.
TT