Discussion Starter
·
#1
·
hey guys, so winter is coming in canada very soon, and like most of us GTR owners, when the season change and we can't drive.. its time to get to work!!...
so i have a few things on a list that i want to do to the car over winter, and i'd like you guys's input as to wether you think these things on my list are a good idea.. and also if you could reccomend anything i may have forgotten from my list that should be considered....
i should mention this car has yet to see a track day, but hopefully after this winter it will! for now, the goal is response.. i love quick spooling turbos, and handling more than anything. and above all else, reliability.
ive posted at the bottom some photos of my car (you may have seen the build thread "JL GTR from stock to finish" etc), and the current spec/mod/maintenance list ive already done.
****WISH LIST WINTER****
- alloy radiator
- optima battery (not sure which color top? help?)
- battery relocated to trunk
- denso intank fuel pump
- yellow jacket coil packs
- replace oem nissan ignition wiring harness
- a swirl pot for engine coolant (please help where to get one? what brand?)
- remove black paint from FMIC
- remove rear wiper and wiper motor and sprayer
- relocate rear sprayer to FMIC area, relocate washer fluid bottle to boot/trunk. fill with methyl hydrate / alcohol to be used as an FMIC ice cold sprayer*
- some new >600cc injectors (w/e brand)
- HKS SSQV BOV (want to move away from blitz ones)
- trust oil cooler + filter relocation kit
- greddy profec B spec II
- turbo timer
- whiteline or cusco front and rear anti-sway / roll bars
- clean up all the wiring in the engine bay, re-do electrical tape and verify the wires for cracks. replace when necessary.
- relocate engine fuse box/relay box to somewhere hidden (where do people put these things?)
- relocate resistor pack (again.. where?) and PCM (?where?)
then when spring comes it`ll be to the dyno for a re-tune at 1.0 bar (stock tubros) and a clutch upgrade + light weight flywheel + nismo slave + SS braided clutch line.
*mythyl hydrate /alcohol has the effect of turning quickly into a gas when it comes in contact with air... so much so that at high speeds it can creat frost and snow of the quickly moving air over the FMIC.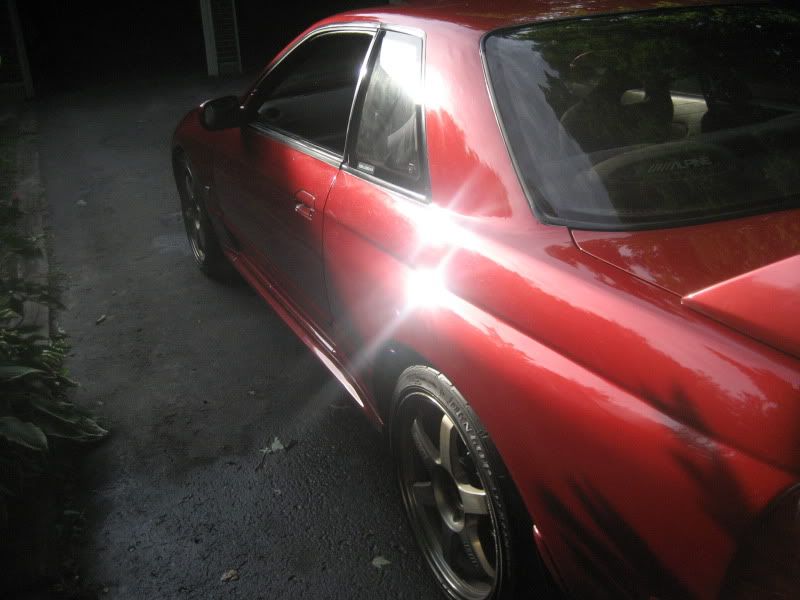 Cusco Rear A-arms
Cusco Front Tension Rods
Samco upper + lower rad hoses
Nismo Front Strut Tower bar
Nismo Rear Strut Tower bar
Tein Type-HR Coilovers
HKS Hi-Power exhaust 3.5"
De-cat stainless steel
HKS FMIC Full hard piping kit
Trust Greddy MX Equal length 3.5" downpipe
AMS Front upper control arms solid bushings
Blitz VD Blow Off Valves
Nissan OEM timing belt, Idler, Tensioner crank seal
Nismo N1 waterpump
Nissan OEM Inner and outter Rear tie rods
Front inner ball joints
Front tie rod boot
Valve cover gasket and grommet set
Motual 15w50 motor oil + oil filter
Redline Shockproof: Front Diff, Rear diff, transfercase and tranny
New OEM Nissan Gaskets (exhaust and intake)
Apexi Cold air Suction kit + filters + adaptor
Rays Engineering: Volk TE37 Bronze Fr:18x9 Re: 18x9.5 +40
2 x new Dunlop Direzza D101 265 35R18
2 x used Falken Azenis 245 40R18
Alignment done
20mm H & R rear front wheel spacers
Nismo Front extended 60mm wheel studs
2 x Front R32 Nismo N1 Cross-Drilled Rotors
2 x Rear R32 Nismo N1 Cross-Drilled Rotors
Hawk HPS Front Brake pad set
Hawk HPS Rear Brake pad set
Stainless steel braided brake lines all 4 corners with red sleeves
Replace old brake fluid with high-temp RBF660
Sandblast, grind and paint, and rebuild all 4 Nissan Calipers GOLD
Coat front + rear rotors with zinc anti-rust
coat front + rear pads with Wurth's anti-squeal
Replace Nissan OEM fuel Filter
6 x new spark plugs NGK type-R
Hicas Delete via Power Steering pump + weld rear rack
Rear Subframe + Rear diff alloy collar bushing spacers