Discussion Starter
·
#1
·
Been pondering what to do by way of 'styling' (ahem) my R32. I like the standard lines but want to do something a little different from the norm without spending megabucks.
I'd originally thought of slapping a load of JGTC graphics all over it and a whopping big GT wing to follow the theme of the 2000 Nismo JGTC R34: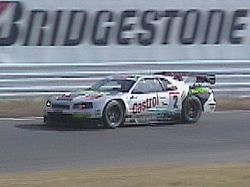 However after photoshopping it, it became obvious that the lack of masive flared wings and factory size wheel arches (the JGTC car front arches are MASSIVE!!) and even 'tiny' 18" wheels would make it look a little odd.
So I've been pondering taking a different route and came up with the following idea:
C/F boot
C/F GT wing
C/F canards
Craft Square wing mirrors
Nismo sunstrip
NISMO (old style) side stripe
Relocated front license plate
NACA bonnet duct
Open front grille with GT-R badge
Smoked indicator lenses
Just thought I'd throw it open for comments and/or ideas. Nothing's cast in stone and I'd appreciate any kind of input :thumbsup:
Cheers,
Jim