I am looking to sell or p/x both of my cars (GTR and 22B) for 1 single car. Ideally I would prefer a garage or person who would like both cars in a p/x for a quick standard car. I am thinking of a R35 GTR or Porsche 996 Turbo in p/x for these 2, but feel free to make me offers on other vehicles I might have overlooked. Cash can be either way.
First Car - R33 Skyline GTR
To cut a long story short i have owned this car for the last 6 years and it's my pride and joy and has never wanted for anything. The car has a huge spec as seen below and i would describe it's performance as VERY FAST ROAD/RACE.
In the last 2 years this car has done less than 1000 miles on the new engine and all the work done. So basically most of the car is new. I include receipts from RB Motorsport and since that and engine rebuild again less than 1000 miles done.
SPEC
Basics
1995 Nissan Skyline GT-R
Fully I.O.M. Registered and taxed
2.6L In-Line Straight Six Engine (Fully Rebuild less than 1000 miles ago)
Twilight Grey
Engine Modifications
Garrett 2860-5 Turbos
Tomei Turbo Elbows
Ported and Matched Exhaust Manifolds
Iridium Grade 8 plugs
Full Kakimoto Exhaust system
De-cat Pipe
HKS 10.5mm Fuel Delivery Rail (purple)
2 x RB Motorsport AFM (rated to 850bhp)
Tomei Fuel Pressure Regulator
Nismo Oil Cap
Nismo Full Hard Pipe Induction Kit (filters to turbo fronts)
HKS Mushroom Air Filters
GReddy Hard Radiator Pipe with Defi Attachment
Apexi 264 Cams
Greddy adjustable pulleys
Apexi Power FC ***8211; Mapped by Rod at RB Motorsport
ACL Main Bearings
N1 Oil Pump
N1 Water Pump
Cosworth Steel Head Gasket
650cc Injectors
CP Forged Pistons
Bosch 088 Fuel Pump
Full HKS Intercooler hard pipes
Motol Oil Cooler mounted behind front grill
Oil Filter Relocation Kit
Apexi AVC-R Boost Controller
De-cat Down-Pipe
HKS Steel Exhaust Manifold Gaskets
HKS Steel Plenum Gaskets
GReddy Clear cam cover
Uprated Large Front Mounted Intercooler
Carbon Fiber Full Length Slam Panel
HPI Large Alloy Radiator

Handling/Drivetrain Modifications
18 x 9.5***8221; Rota GTR Alloy wheels
Adjustable Tein Super Street suspension
Front and Rear Strut braces
Cusco Brake Cylinder Stopper
OS Giken twin plate clutch
OS Giken push system Conversion
Hicas Removal Kit
Whiteline Front 22mm Anti-Roll Bar including motorsport spherical rose joints
Whiteline Rear 24mm Anti-Roll Bar including motorsport spherical rose joints
Front 8pot 356mm KSport brakes with Pagid RS29 yellow pads
Rear 4pot Ksport brakes with Pagid RS29 yellow pads
Cusco front camber arms
OS Giken Super-LSD rear differential
Full Geometry Setup
Toyo R888 tyres all round
Driftworks Tension Rods
Styling Modifications
Carbon Fiber Rear Spolier Blade
Veilside C1 Rear Spoiler
Veilside C1 Sideskirts
Veilside C1 Front Bumper
Veilside C1 Rear Bumper
DTM Carbon Fiber Bonnet with Z-Tune style vents
Aero Bonnet Clips
Trust Gear Knob
Richbrook handbrake lever
Nismo steering wheel
Kenwood CD head-unit
Twin A-Pillar pod with Defi boost and water temperature gauges
Defi Controller II
Bride Low Max Kevlar Seats
Aftermarket Adjustable seat rails
TRS 4 point green harnesses
Second Car - Subaru 22B Replica
Basics
1998 Subaru Impreza Version 4 STI Type R
Fully I.O.M. Registered and taxed
60,000 Miles
2.0L Flat 4 boxer forged Engine
Mica Blue
Engine Modifications
Forged 2.0L Engine
Apexi Induction kit
Blitz NUR Spec Full Exhaust system
Oil Catch Can
Front Mounted Large Intercooler
Blitz dump valve
Cam covers painted red
Open neck Downpipe
Gruppe-s Heat Wrapped Un-Equal Headers
Apexi Power FC ECU
Apexi Hand Commander
Air-con Removed
Handling/Drivetrain Modifications
18 x 8 ROTA GTR Alloy wheels (Also comes with a spare set of 19 x 7.5 O.Z. Superleggra as shown in bottom picture)
Rear 20mm Spacers
D2 8 Pot 356mm Front Brakes
Mintex Race brake pads all around
Grooved large rear disks
Braided Brake Lines
KYB AGX Adjustable shock absorbers all around
Eibach Pro Springs
Whiteline Anti-Lift Kit
Whiteline 24mm Rear adjustable Anti Roll Bar
Whiteline 22mm Front adjustable Anti Roll Bar
Whiteline Heavy Duty Rear Anti Roll Bar Mounts
Whiteline Heavy Duty Rear Drop Links
Styling Modifications/Interior
OMP ***8220;Quadro***8221; Suede Steering Wheel
Flocked Dashboard
Sony 661BT Double Din Head unit
Carbon Fibre Teardrop Wing Mirrors
Clear Indicator lights
Full 22B Wide Arch Body (wings, rear aches, bonnet, side skirts, bumpers)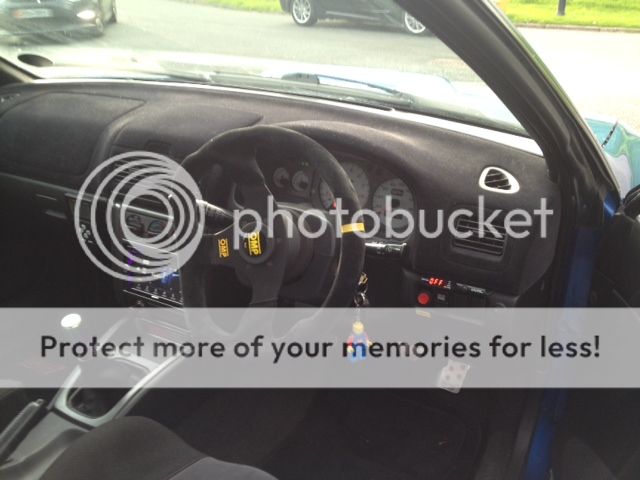 I have lots more pictures if anyone is interested. Since the rules of this forum state I have to have a price, lets say £17,000 for the GTR and £13,000 for the Subaru. But I would MUCH prefer a p/x or both cars be sold as I wish to consolidate down to 1 new car.