Discussion Starter
·
#1
·
For sale is my 1992 R32 GTR. This has been off the road and in storage for about 8 years.
I bought it to replace my last GTR however I've been working abroad since I bought it so have not had the opportunity to use it as planned.
A run down of parts fitted...
R34 GTR engine N1 NuR (24U engine code)
Purple injectors
HKS induction kit
Greddy external oil filter/cooler kit
Koyo Aluminium radiator
Twin plate clutch
Blitz digital boost controller
Greddy oil catch can
Trust FMIC
HKS super dragger stainless exhaust
Re-mapped ECU
Personal steering wheel
Blitz gear knob
autometer gauges in centre console
sony cd head unit
Engine earthing kit
Greddy strut brace
Zeal coilovers
Brembo brakes all round
Adjustable tension rods.
Cusco (front and rear) ARB
Greddy top and bottom front strut brace
Unknown carbon fibre rear strut brace
According to the model identifier on the blue VIN plate it was a V-Spec 1 originally with a cold weather pack.
SSR long champ XR4V 17" wheels.
There is possibly some other small items I've missed.
Car is completely rust free.
The car is regularly started and ran until warm, given a drive around on a private estate and topped up with fresh fuel (super unleaded). As a result it starts effortlessly. It had a new EXIDE battery fitted in January.
71 high resolution Pictures can be found here.
GTR NUR Photos by QuackShotDamo | Photobucket
You will be looking for a long time to find a better GTR than this. No larish body modifications, a real collectors piece which will only continue to increase in value.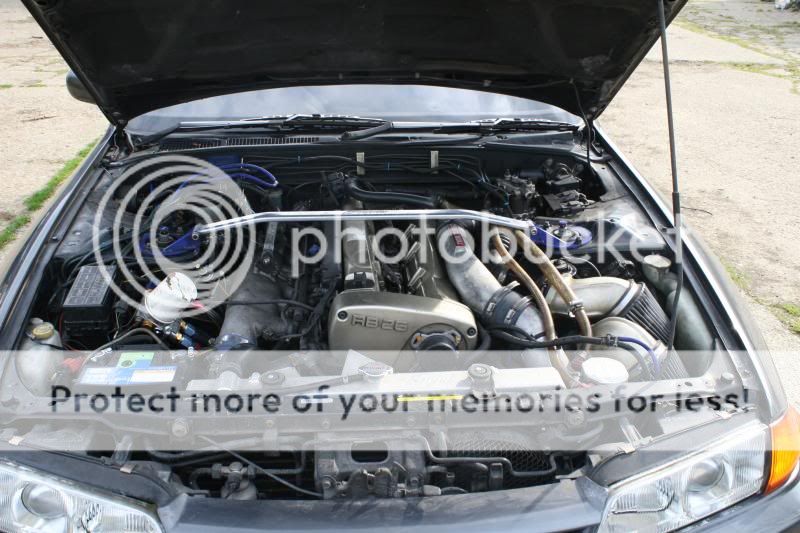 Acceleration and power delivery are astonishing and with a current tune of 400bhp it's no slouch. The engine is capable of running 500bhp.
The Nur engine was limited to just 1000 production cars.
"An engine based on the N1 racing unit set the Nür apart from any other R34 Skylines. It used a specifically prepared block, pistons and connecting rods. Unrestricted, the N1 engine can push 450 BHP. To meet legal regulations, Nissan rated the car to 280 BHP.

1000 of these specially prepared skylines were offered, all of which were quickly pre-purchased."
Every aspect of the engine is upgraded, refined and blueprinted by NISMO including forged and balanced engine components.
Serious enquiries only, I may consider something in PX.
Priced at £12'000, international buyers are welcome.