Discussion Starter
·
#1
·
For years i've loved the look of the LCD screen in the R34, and a couple of months back I saw a picture on the net of a purple R33 in Hong Kong where someone had retro-fitted the MFD. Since then, I knew I had to do the conversion myself..
Finding an MFD in itself is a hard job. These things cost over a grand from Nissan, and even second-hand command a price of around £700 when working which would be way more than I could spend on one.
A few weeks back, there were a pair of non-working MFDs for sale on here, and even though it was a gamble, the price was so low I couldnt let it get away, so I was the owner of a non-working MFD for £125!
When I got the MFD it was worse than I had imagined (in my head I saw myself swapping a blown fuse, and the unit springing into life!). The fuse had indeed blown, but before it had done, the backlight inverter circuit had also been taken out. The main screen ribbon was missing and the screws that held in the buttons were missing so somebody had siliconed them in place, but jamming the buttons in the process :chairshot
Over the past couple of weeks ive been working on fixing the problems one by one, and then this afternoon a miracle happened -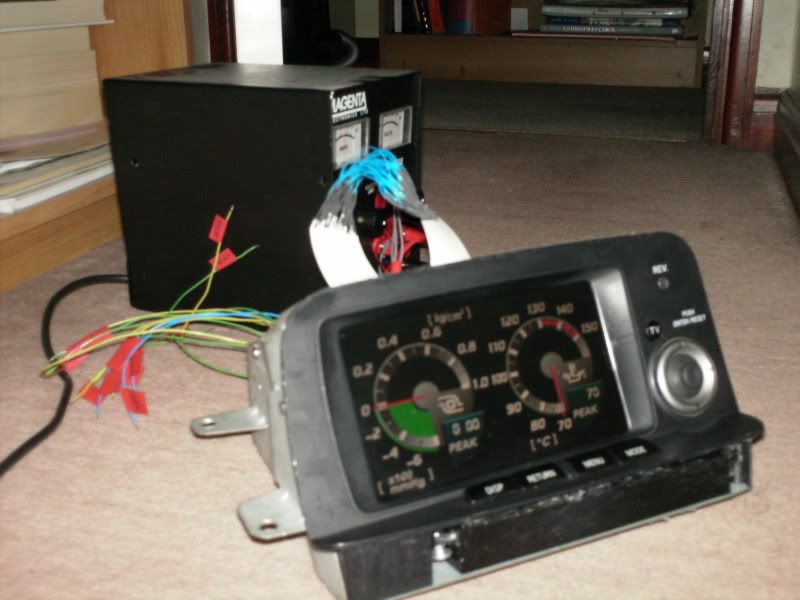 It was finally working :clap: I spent quite some time playing with all the functions, and I think this unit is from a V-Spec II (please correct me if im wrong), because it has the RS232 on the back, the boost reading is different from other MFDs ive seen and it has the lap timer function -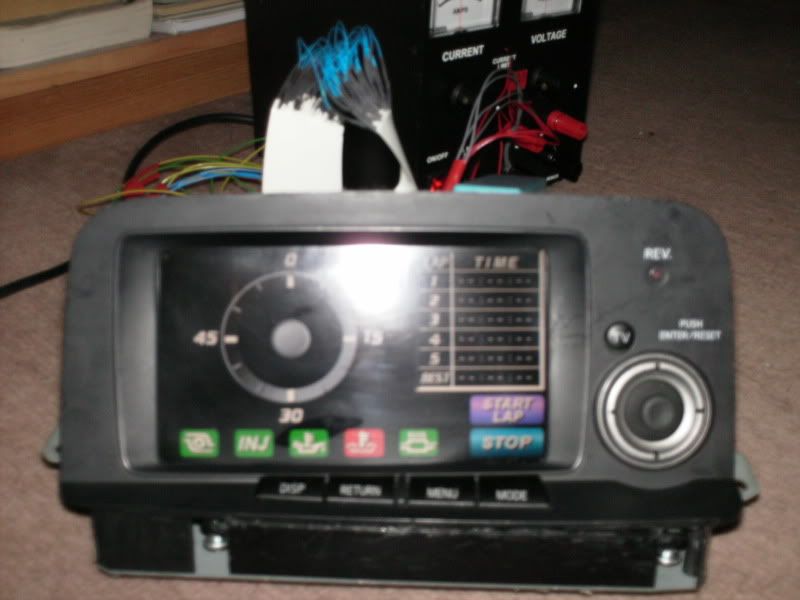 Note all of my homemade wiring - PC motherboard pins fit the MFD connectors perfectly
I have a cover on order with Nissan (only £80), which will be here in less than 2 weeks. Im still unsure of how to mount it on the dash - ive seen 2 retro-fits on the internet, one looked like it was glued on top and one looked like they had cut a section from the top of the R33 dash and slotted the MFD in...
Oh and anybody out there who has a broken MFD, dont hesitate to contact me - ive been working non-stop on mine for weeks (during lunch hours only, honest) and know pretty much every aspect of them by now.
Updates to come hopefully this weekend, when I plan to make the loom inside the car.