Hi Guys,
We thought we would announce that we are an official dealer for the fantastic KW automotive brand!
For many years, the KW automotive GmbH is the epitome for premium products in car tuning and automobile refinement. KW offers its customers the largest suspension programme world-wide. The entire assortment ; from springs over sports suspensions to coilover suspensions inox line in three damping versions such a variety of products is unsurpassed on the market. Moreover, KW automotive GmbH develops racing solutions for national and international motor sports. The racing programme KW competition is successfully used by numerous racing teams on many race tracks around the world.
With all kits available within 5-10 days for all makes and models and an unsurpassed quality & performance its without question that the KW are the coilover of all coilovers.
KW Automotive GmbH have put plenty of development time into the R35GTR with lots of testing, to find a balance between ride quality and maximum grip.
As a result KW offer a number of options to suit your requirements and below we have some of these options on offer to you at great prices.
Option 1:
First up we have the KW R35 GTR coilover spring kit allows you to lower your R35 GTR without sacrificing the electronic damper control functionality.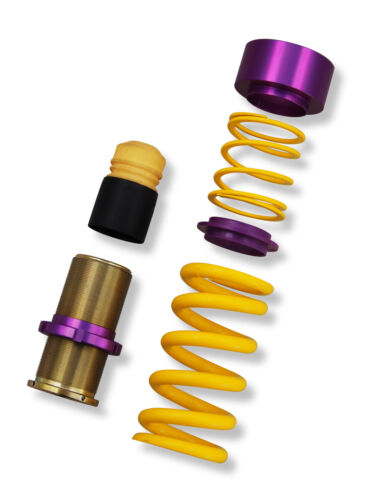 It is used for lowering the vehicle in combination with the serial dampers, even when electronic damper control is installed. This lowering solution from KW optimises the dynamic performance and the steering behaviour without the electronic damper control deactivated. For this solution vehicle specific adjustable spring seats with adjusted KW lowering springs and the matching elastomer as well as the dust cover system will be used. This complete conversion allows an individual adjustable lowering solution.
Individual height adjustability of the serial suspension kit
Serial suspension system also with electronic damper control stays active
Improved optic and vehicle dynamics
Optimal performance
Better steering behaviour
This kit Retails at £999.00.
However we can offer this to you as GTROC forum members for £874.12 Plus £18.60 Shipping.
Option 2:
We have KW Automotive's Nissan R35 GTR Variant 3 Inox Coilovers.
Providing State-of-the-art technology from motor sports the Variant 3 kit uses KW Automotive's experience and knowledge in racing to provide a comfortable kit for more performance on the road.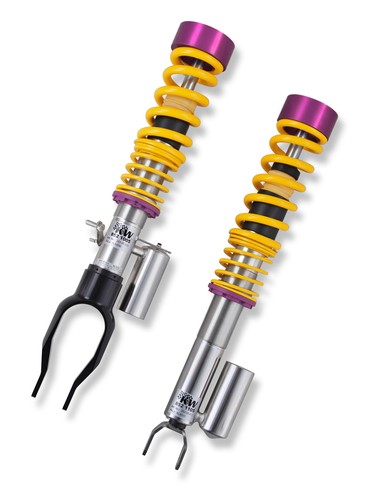 The separate and independently adjustable rebound- and compression damping allows for an individual suspension setup for different uses and preferences. The unique patented system with its two-stage valves allows a rebound damping adjustment (comfort) and a compression adjustment (driving dynamics) in the low-speed range while the high-speed range which controls the driving safety, is fixed.
Damping technology with individually adjustable rebound- and compression technology
inox-line* stainless steel technology
Individually height adjustable
Adjustment parameters approved by the German Technical Control Board (TÜV)
High-quality components for long durability
Infinitely variable rebound damping adjustment
14-way adjustable compression damping
Unique, individually working damping force adjustment
Comprehensive documentation for easy use
Fits Nissan R35 GTR 2008-2013 models.
Please note: does not include cancellation kit for OEM Nissan Electronic Damping Control. Electronic damping control settings will still be available on in-car computer but will have no effect on suspension settings of KW coilovers.
KW Part Number: 35285006
This kit Retails at £2731.00
However we can offer this to you as GTROC forum members for £2457.90 Plus £18.60 Shipping.
We can also provide the above kit as a:
KW AUTOMOTIVE NISSAN R35 GTR WITH CANCELLATION ECU VARIANT 3 INOX COILOVER KIT
This kit includes a cancellation kit for OEM Nissan Electronic Damping Control. Electronic damping control settings will still be disabled on on-board computer once fitted.
KW Part Number: 35285008
The Kit coilover kit including cancellation ECU retails at £2941.00
However again we can offer this to you as GTROC forum members for a reduced price of £2646.90 Plus £18.60 Shipping.
If you have any questions or wish to place an order then please PM or call the sales team on 08444 489 080 and we will be happy to help.
Regards
Paul​