As I'm not having much luck selling the car, I've decided to sell just the engine and gearbox from this car: Ex Redline magazine project car.
(That will leave the door open for me to either fit a standard engine/box or break the rest of the car too!)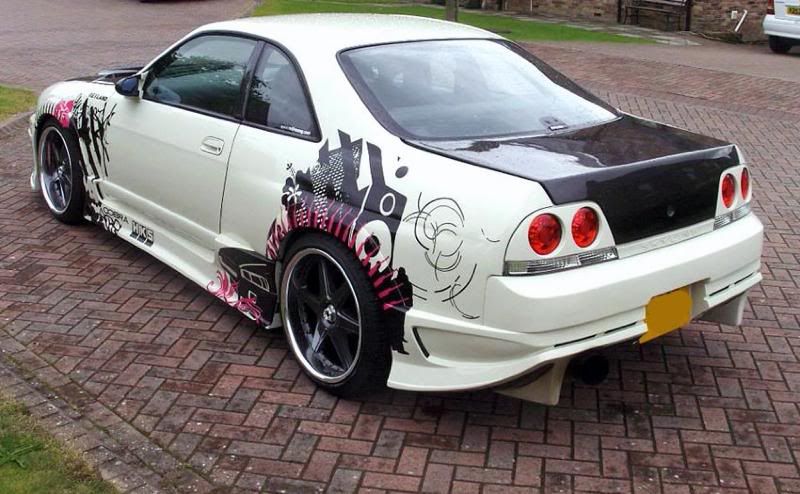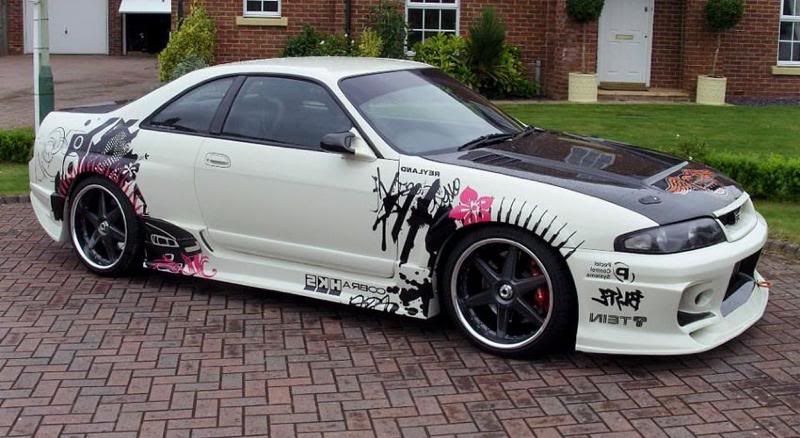 Everything is still in the car and my intention is for them to remain so until I have a deposit on the engine and box. So both can be seen running and tested and before you buy. The build of both the engine and the box was documented in Redline magazine, but I don't have copies of the features/pictures I'm afraid.
The engine:
It was built just over three years ago by Reyland Motorsport (famous for their 200mph Escort Cosworth). In that time it has covered 4,700 road miles. It has had oil changes every 6 months! So needless to say, it's internally spotless. The only 'hard work' it's done is the mapping session, a couple of 1/4 miles @ TOTB last year and a couple of track sessions (not track days!).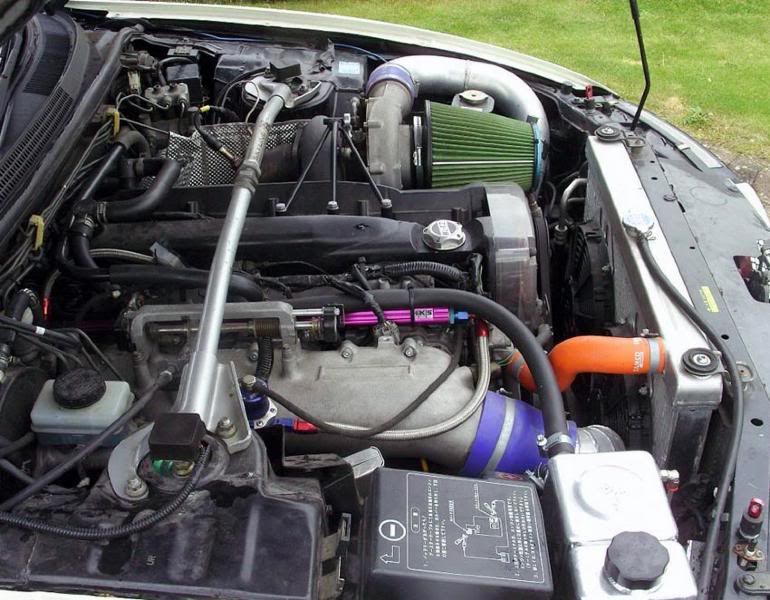 Specification:
Blitz 24401 cams (don't have exact spec to hand, but I know the head needed machining to make room for them, so they're not shy, will add exact spec as soon as I find it. RRP £483.
GREX 1.4mm head gasket. RRP £295
Wiseco 87mm forged pistons (increases capacity by 60cc) cost £600 iirc
HKS head bolts RRP £245
HKS Step 2 valve spring kit RRP £245
ATi Super Damper pulley. Cost about £450 iirc
GReddy cam pulleys RRP £210
GReddy clear belt cover RRP £80
Trust deep sump kit. Cost over £400 inc. welding.
Crank/rods/pistons/pulley (and flywheel/clutch which aren't included) were all balanced as part of the build.
It made 585.6bhp on the dyno at 7,000 rpm. At that point the injectors were maxed out so we stopped. The plan was always to get bigger injectors and go for a lot more power once it was in the car, but it never happened, so the boost was turned down to allow 550bhp to be made at higher revs.
£3,000.
The Gearbox:
This was built at the same time as the engine by Competition Transmission Services. Like the engine, the build was documented in Redline mag.
It features dog engagement 1-4th gears and normal syncro 5th and reverse.
This means that the speed of the gear changes from 1st to 4th are limited only by how quickly you can move your hand...
Some people say it's impossible to drive a dog box at low speeds on the road without crunching the gears and causing damage, I say that's bollocks, you just need an understanding of how it works and the ability to match the engine/gearbox speeds while driving slowly - which I'd be happy to demonstrate to any prospective buyer.
It is a very strong box, capable of 9sec quarters.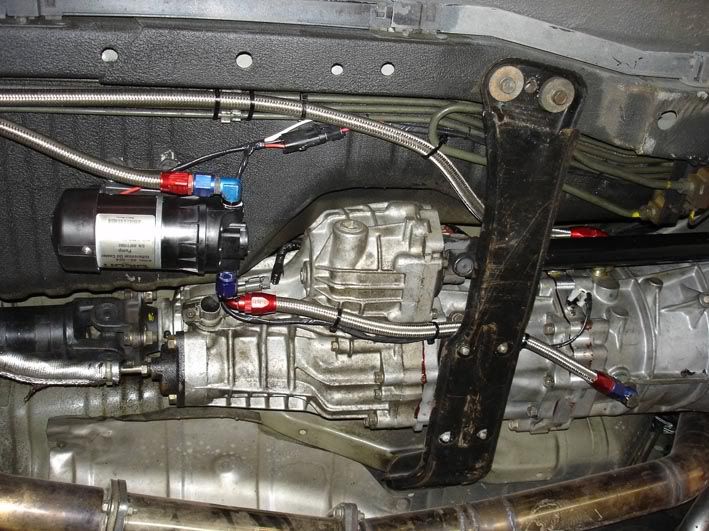 Specification:
PPG 1st to 4th Helical Dog gear set.
Shot-peened and polished by CTS.
PPG Billet 1-2 and 3-4 selector forks.
PPG Billet sandwich plate.
Transfer box was reconditioned at same time as box build.
(will require drain and fill plugs if you don't buy the cooler kit)
£3000.
The turbo kit.
Blitz 11615 kit, which retailed at £6124 (KKK turbo, manifold and 2x wastegates.)
Custom stainless downpipe.
Custom stainless side-exiting screamer pipes.
Custom turbo hanger.
Custom alloy turbo to intercooler pipe.
The hanger was made as a result of the manifold cracking. It has since been repaired. Note that one of the wastegates recently stopped sealing at idle, so will need some attention to make perfect. Boost has been turned down as a result to prevent damage to engine or turbo.
£1000
Note the down/screamer pipes in the pics below were just for the dyno!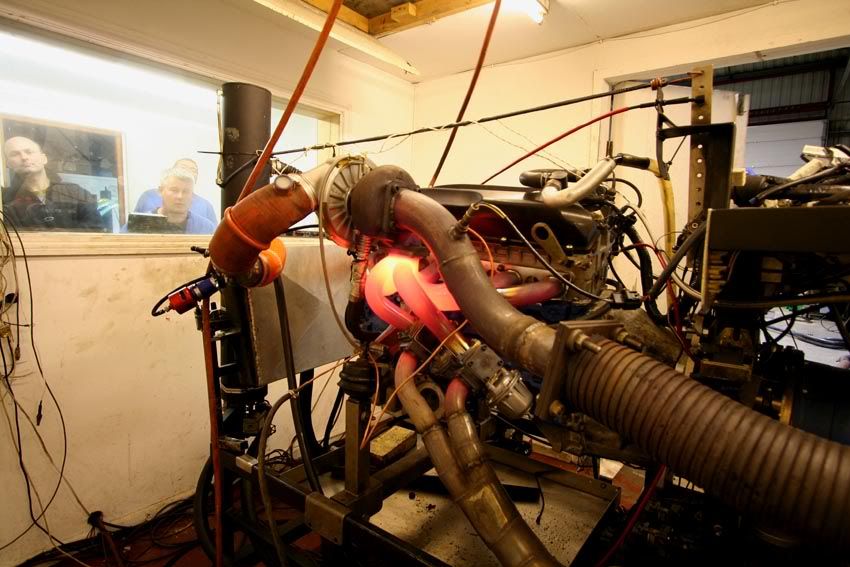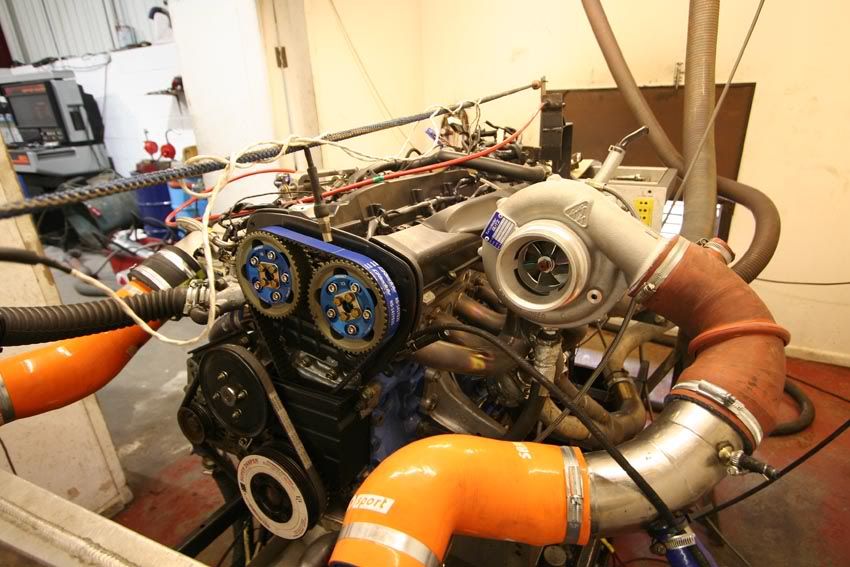 Edited to remove the smaller parts for sale.
These will be offered to the engine buyer first, sorry for jumping the gun...
Once engine/box is out and sold I'll photograph what's left and update accordingly.