Discussion Starter
·
#1
·
Sky Lines
edition 1 came out some time in early 2004 and was the GTR Owners Club's first magazine. Though the cover and inner cover pages were colour the rest was 42 pages of black and white articles packed with information and reviews of events. As a first run it was pretty good (even if we do say so ourselves) and set the way ahead for the future of the GTROC's magazine –
Sky Lines
.
Unfortunately we don't have back copies of the magazine available but some time later this year we hope to scan some of the articles and post them in a GTROC members-only area of the forum for people to download copy and read. Until then you may want to know the sort of things that were covered in the first edition.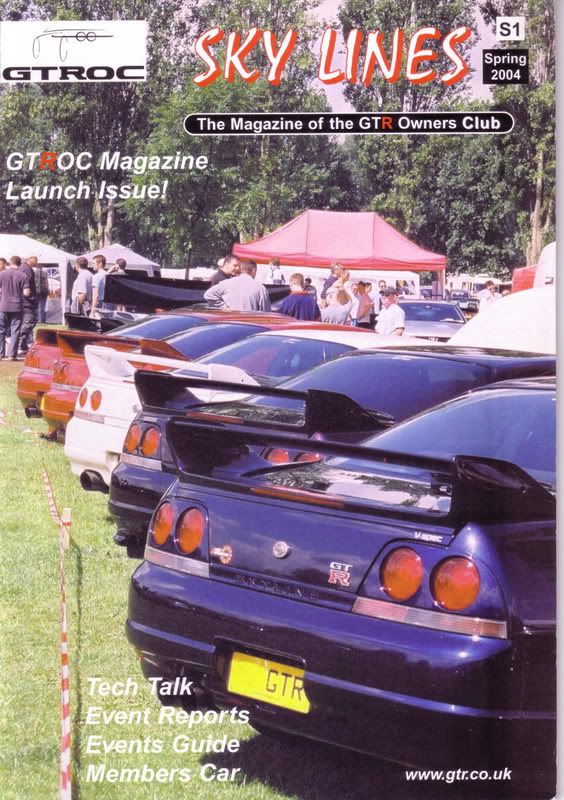 The GTR Owners Club in brief: an introduction by the Sky Lines editor.
Chairman's Chat: I thought this was going to be a one off for the editor (ATCO) to help launch the magazine. Unbeknown to me this was to be a requirement for every edition when the magazine came out – four times per year. This being the first edition this chat was about how the club came about and how it evolved from within the forum.
Converting a Skyline to LHD:
"Many of you have probably heard of LHD Skylines but very few people know what is required in achieving the feet. You might feel that Skylines should have stayed RHD however, many people who were interested in LHD conversions have been left in the dark when they wanted to know how this conversion is made possible. Hopefully the following will help….."
An introduction to the GTROC's technical (paper) library. This is run so you can borrow books, magazines, CDs and DVDs. They are sent to you at your home address and, when you have finished with them they are sent back. The is absolutely no charge for this service as the only cost you pay is the return postage
Booty-full review:
"2003 was a marvellous year for the GTR Owners Club. A newly formed club with the best cars in the world and with owners alike attending the major Japanese show events. Here is a review of the year 2003….."
Air Induction Systems:
"Working as an air induction designer for 6 years for some of the world's automotive companies (VW, Aston Martin, Jaguar, Ford, Saab, Opel etc) has given me a good insight into induction systems. There are various types of filter medium on the market with various bold performance claims…."
A preview of all the major events for 2004 from Japfest in May through to The GTROC AGM in December
A statement about the GTROC's membership of the Motorsport Association (MSA).
A brief review of the Brands Hatch Track Day held in March 2004
From Zero to Hero.
"It's probably true to say that notoriety has come late in its life. The Playstation generation of today drool over hugely modified GTR and pulling into a petrol station with a standard spec car will only confuse the average car wannabe. Such are the joys of owning one of the most highly regarded and instantly recognisable super-cars of today. However the Skyline today has been a story in the making for 50 years. In 1952 the Tachikawa Aircraft company….."
An article on the new SVA requirements for used car imports from Japan
This magazine saw the first of what was to become "members Monster". In this first edition we looked at Harry's R33 – now sadly demised. Each edition we take on member and write about their car, the spec and, from 2007, what it is like to own and live with such a car. Not every car is some fire breathing super beast and the range goes from standard all the way up to super modified and everything in between, and not all GTRs either.
The final article clearly explains the number plate regulations as they apply to imports in England & Wales and the regulations as they apply in Scotland today.
Like I said, unfortunately we have no back copies of this edition left but we will re-run some of the articles if there are a lot of people who want to read them and missed out the first time.
If you're not a member and you ever wondered what the talk of "Sky Lines" is hopefully now you will know. Since the first edition the magazine has gone from strength to strength and now boasts a wider circulation that ever. As well as that we have even more colour pages and many more regular features and contributors. It's also got bigger by the way! So, if you want yours check out the GTR Owners Club and sign up, the magazine is free to members anywhere in the world and comes out every 3 months.