Discussion Starter
·
#1
·
The second edition of the GTROC's
Sky Lines
magazine hit the streets in Autumn 2004, packed with 48 pages of information. Though still editorial and production virgins the expanding team of hard workers were making improvements all the time. In only one edition we had gone from colour cover pages to a full colour centre 4-page spread, allowing more opportunity to show some good quality pictures. Though limited we are now looking to give the magazine even more colour pages.
The cover photo was of the GTROC's first trip to the Isle of Man. With no speed limits around the mountain roads and a handful of Skylines there for the weekend it was one hell of a trip! As well as that we even managed to attend the Jurby Drag Meet and cleaned up with cars in all the top positions.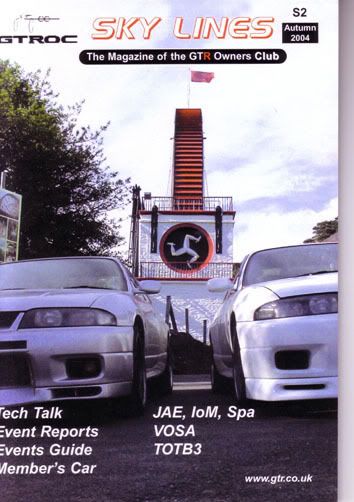 Other articles included a write up of the recently attended Japfest meet in Castle Coomb and a brief recap of the mayhem and fun of JAE 2004. Daz provided a write up about the fantastic Bolney Stage meet
Some of the other articles included profile of one of the Regional Reps – Kenan.
Other social events covered were and a special visit to the UKD1 drift day at Silverstone where the GTROC were granted special parking permits, right by the main grandstand.
There was also write ups on recent track visits and Track Days. Spa Francorchamps on 27 May and the Castle Coomb track day as well as a review of TOTB III, including some thoughts from Simon who drove all the way from Belgium just to see the day's activities (and meet a few fellow GTROCers of course!)
For the more technically minded there was an article on the workings of a gearbox. Specifically,
"the fundamentals of gear contacts, geometry and the materials employed. Major types of gears and their diverse operational properties. Seelection of gearboxes for given applications and the factors that need to be considered. Selection and application of the correct lubrication…."
Fopr this edition we ran the first of our
modifying and buying guides
. Kindly reproduced from original articles by Japanese Performance magazine this article featured the Skyline GTS Buyers guide. Nine invaluable pages packed full of information on what to look for when buying such a car.
The Members Monster for this edition featured Matt Payne's mildly modified R32 GTS.
Finally, rounding off the magazine was an article on the changes to import regulations and the newly announced ESVA system which was to apply for all post 1997 cars.
If you're not a member and you ever wondered what the talk of "Sky Lines" is hopefully now you will know. If you want yours check out the GTR Owners Club and sign up, the magazine is free to members anywhere in the world and comes out every 3 months.
If you missed out on the Sky Lines magazine edition 2 you can order from the stock we have of back copies. Copies are £5 each for GTROC members and £7.50 for non members. With 11 editions published so far if you're not a member you might as well join and save yourself £25 in the process! All orders should be sent with a cheque made payable to GTROC and sent to P.O. Box 43519, Putney, London, SW15 3WB, England. Please add £2 postage and packaging per order. We have copies of all editions of the magazine except
Sky Lines edition 1
, but remember numbers are limited.