Discussion Starter
·
#1
·
In
Sky Lines
magazine edition 4 we went from 48 pages up to 56 pages! The target is for the magazine to get bigger and better and right now we are still filling 56 pages every 3 months! For the short term we are changing the format so expect to see even more information packed into the existing 56 pages.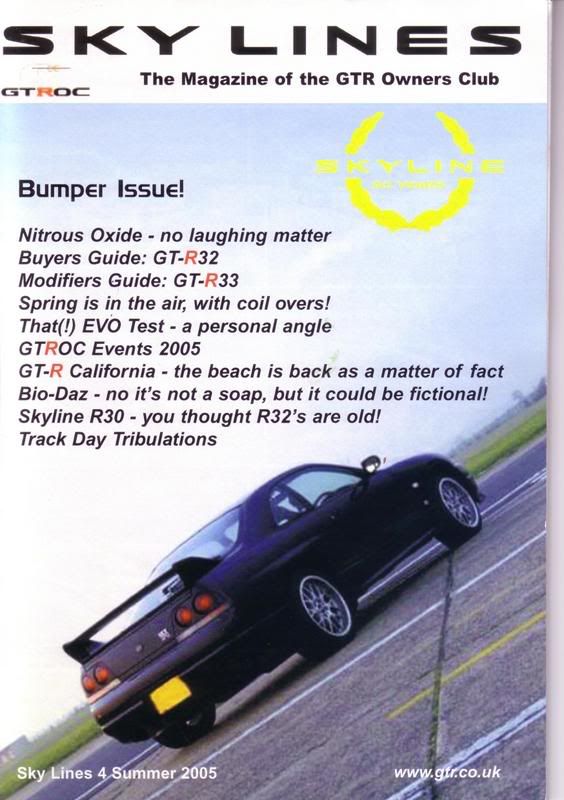 Some of the articles from edition 4 had the usual flavour but we had the second and third of our buying and modifying guides. In edition 4 we ran the
R32 GT-R buyers guide
, thanks to Japanese Performance magazine and the
R33 GT-R modifying guide
, again thanks to Japanese Performance. As well as that a write up about a Skyline meet in California and a profile of the South East rep: Daz Barnes and Straight Line Coordinator: Tim Webster.
The Members monster in this edition was the Garage Bomber - ATCO's monster powered R33 GTR.
There was a lot of coverage on suspension and in four articles we look at Springs and spring rates, Adjustable shock absorbers and Alignment settings, Chassis and Strut Braces. All of the information provided to us by Whiteline, the suspension specialist.
Some of the other notable articles covered how to set up a car for track days, thanks to Andy Barnes and some other great features;
Nitrous Oxide:
"Anyone who has seen The Fats and the Furious knows about Nitrous Oxide - right? It makes your car spit green flames and everything turns blurry as you accelerate when you hit the little red button. Well, Hollywood would like us to believe what we see on the big screen, but what is NOS to those of us not built like Vin Diesel? How does it work?...."
"On a Tuesday in February I went along to Bedford Aerodrome to take part in a £20k used car group test, organised by EVO magazine for a forthcoming article…. The cars to be tested were:
Nissan Skyline R33 GTR
Maserati 3200GT
TVR Cerbera 4.5 V8
BMW M5 V8
Lotus Exige S1
Honda NSX
Ford Escort Cosworth
Toyota MR2 (new)
VW Golf GTi (new)
Subaru Impreza WRX (new)…."
Track Day Tribulations:
"So you've chosen to do a track day, what should you expect? What does everyone else expect of you? and in what ways should you prepare your car prior to the event?...."
If you're not a member and you ever wondered what the talk of "
Sky Lines
" is hopefully now you will know. If you want yours check out the GTR Owners Club and sign up, the magazine is free to members anywhere in the world and comes out every 3 months.
If you missed out on the
Sky Lines
magazine edition 2 you can order from the stock we have of back copies. Copies are £5 each for GTROC members and £7.50 for non members. With 11 editions published so far if you're not a member you might as well join and save yourself £25 in the process! All orders should be sent with a cheque made payable to GTROC and sent to P.O. Box 43519, Putney, London, SW15 3WB, England. Please add £2 postage and packaging per order. We have copies of all editions of the magazine except
Sky Lines edition 1
, but remember numbers are limited.
more information on:
Sky Lines - edition 1
Sky Lines - edition 2
Sky Lines - edition 3