Discussion Starter
•
#1
•
Set the alarm for 7.30 and was on the road within the hour. Jumped in my BMW 330Ci, drove the 220 odd miles from Bromley to Stockport, handed over my keys and a small cash supplement, and drove away in this:
Pleased?? Yep. What a car. :smokin:
Here's a little detail:
Pretty standard, 44k mile car.
Nismo 320 kph clocks
1st UK owner
R34 Suspension with lowering springs (not sure what make yet)
Standard rims
Blitz Blow Off Valve
Blitz Induction Kits
Blitz Racing Meter (Boost Gauge)
Kakimoto Racing Hyper 2000 exhaust
A rubbish CD player!
No alarm! (Yet)
Had a long yet fun drive home, and although, much to my disappointment, TomTom told me to avoid the M6 toll road on the way up there, it didn't on the way back. Woo hoo - I love that stretch of road. Well worth £3.50. I wasn't the only one who enjoyed either, so did the chap in the red Ferrari F430 Spider! This is where I learned that my fresh import was still restricted. This was prolly a blessing in disguise because when the 430 driver eventually pulled off the M6 he clearly respected me. If my Skyline wasn't still wearing its chastity belt I think I may have made myself look like a bit of a tit. No matter how fast your Skyline is, he had a brand new Ferrari. Hats off to him.
Just prior to that I stopped at the services on the M6 to grab a bite. Wasn't hungry on the way up - too excited innit?!! So I parked up in a nice open part of the car park, like you do, so I could take some pictures with my phone. Anyway, when I came out, another GTR had parked up alongside me! Nice one!! Anyone on here by any chance?
Its amazing, when I first drove the car it didn't feel like mine. The minute you get out, do something (in my case eat a Wimpy meal), then get back in, it feels like its yours. I love it.
The last thing to mark the occasion was as I came on to the M25. As I turned on to the slip road I saw a bike (R1 or R6 I think) come up behind me. I put my foot down hard as it was clear in front of me and at the same time he opened it up, popped one up, and no word of a lie was on one wheel for about 10 seconds doing what was certainly at least bordering speed limit, about a metre from the back of my car! I thought he was trying to rest his front wheel on my spoiler! Anyway, that was pretty cool!
Gave the car a quick clean last night in the dark ready for its long overdue polish today, and it came up a treat. Didn't have a great deal of available time today, so only a quick effort. Used Scratch X on most of the car which seemed to work a treat on all the swirl marks, then followed by a drop of stage 3 carnauba wax. Black cars don't half clean up well.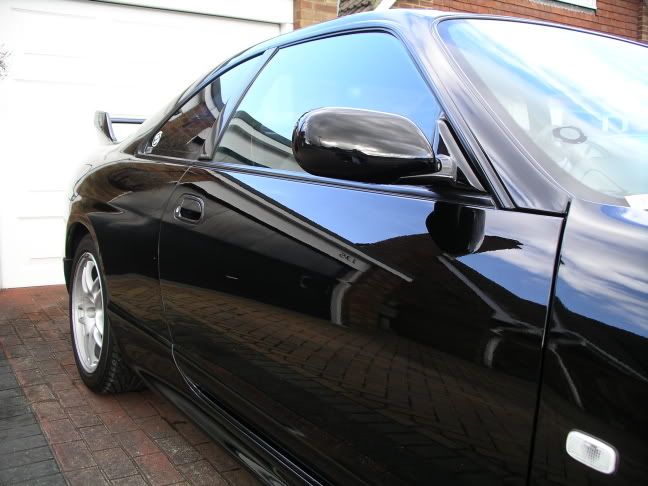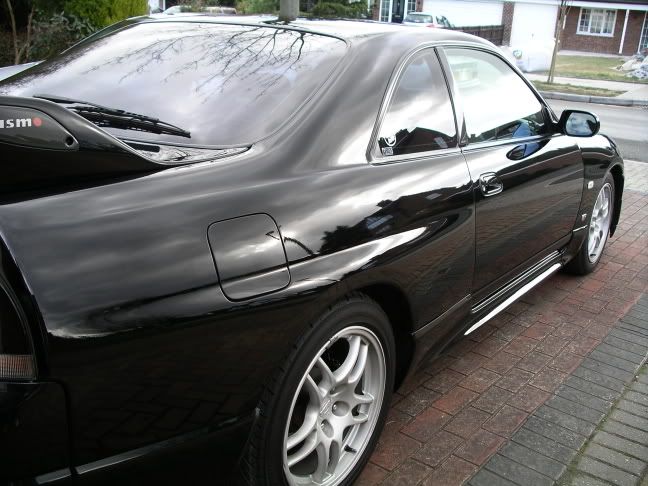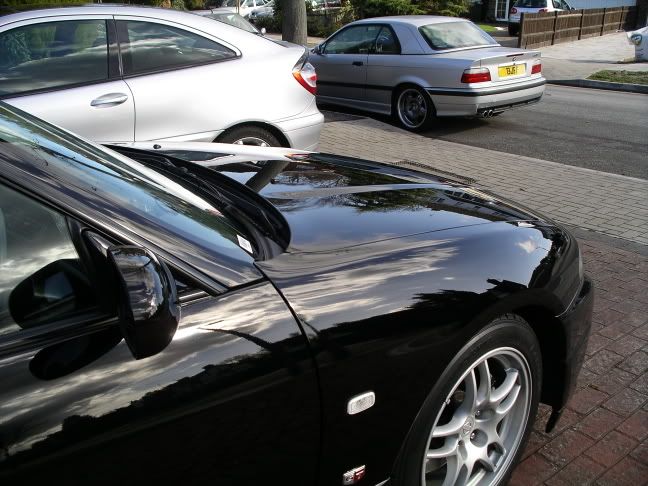 All in all, obviously very pleased with the car. Needs a new stereo, an alarm and a bit of paint on the front bumper/spoiler, but thats cool.
My only complaint, apart from the small petrol tank
, is the noise level. Don't get me wrong, it sounds like a beast, but I intend using the car every day. This is the exhaust it has, any good? Are there any that are a bit quieter?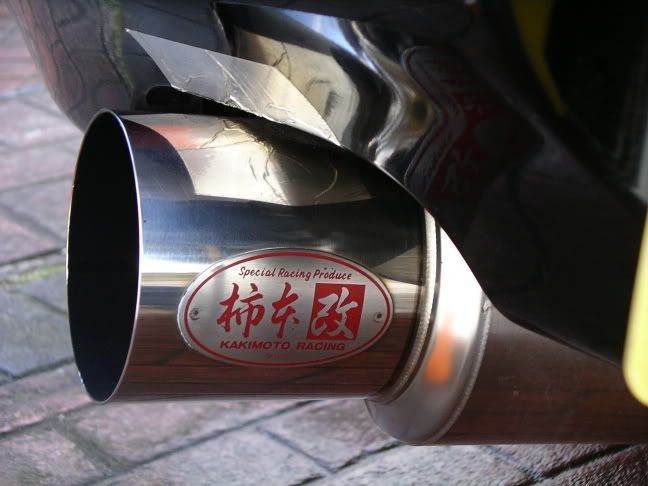 I'm new to the Skyline world so at the moment my knowledge in minimal. A few questions:
How do I tell if its V-Spec? Its supposed to be.
Do all Skylines have electric folding wing mirrors?
Do they all have a strut brace behind the front seats?
Do they all have what seem like a short-shift gear box?
So, advice from you guys please. What do I do next?