Discussion Starter
·
#1
·
Stage 1 R33 GTR, 1995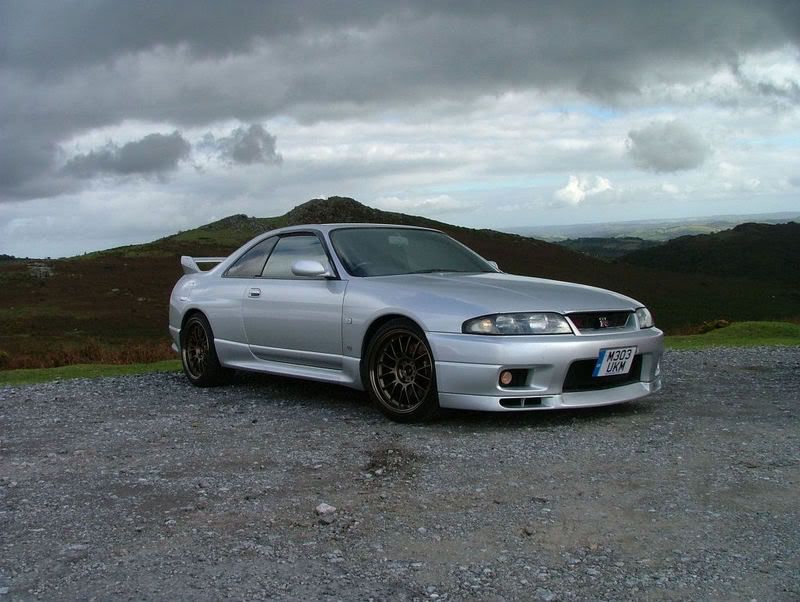 I imported this car in early 2004 through Newera imports making me the only uk owner. When the car was imported it had 45,601 km/28,341 miles on the clock (info/pics available from the Newera advert). When the car was recived it turned out one of the exhaust wheels had gone and scored the cylinders, belived to have been done by the handlers at the docks. At this point the engine was rebuilt to the spec below, a new clutch and suspension was also fitted. The car has always run good oil pressure since and is always warmed up and cooled down before and after driving. The car has been serviced regularly, 3K for engine oil 6-9K for diffs and gearbox. The cars power is about 400 at 1bar the fly, dyno sheet included in the pictures. This could be increased easily with a mapable ECU allowing the boost to be increased. The current mileage is coming upto 46K, she is taxed and tested. This is a much loved and regretful sale of a well looked after car. Please feel free to ask any questions as I'm sure I will have missed something out.
The current car spec is as follows (in random order):
Engine rebuilt at (Fitted at 29K)
Standard Turbos With Steel Internals (able to run 1.2/1.3 bar & Fitted at 29K)
1MM Over Sized Nissan Pistons
Tomie Steel Head Gasket
NISMO Oil Pump (Fitted at 29K)
Blitz Access ECU
Mocol Oil Cooler with remote oil filter.
Trust Airinx Air Filters
Trust PRofec B 2 Boost Controller (Running 1Bar)
Ganador Full Stainless Exhaust
Exeddy Single Plate Paddle Clutch (Fitted at 29K)
Volk Racing SE37 Alloys
Tein Suspension with EDFC (Fitted at 29K)
Uprated Brake pads (Unknown)
NISMO Oil & Water Cap
Painted Cam Covers (orange-purple flip)
Stainless Steel Fuse Box Cover, Engine Plate & Twin Turbo Plate
Custo Brake Stopper
Custo Carbon Fibre Strut Brace
Carbon Fibre Radiator Shroud
Bonnet Lip Spoiler
Personnel Steering Wheel (Carbon Fibre Look)
Clear Side & Front Indicators
Carbon Fibre (effect) Dash Trim/Surround
NISMO Boost Gauge / Torque Dial Replacement Kit
Apex Boost Gauge (currently disconnected)
NISMO Carbon B-Pillar Trims
Clifford Concept 300 Alarm, with remote window closure and built in turbo timer
Pictures taken over the last 2 weeks can be found here (sorry for quality)
kenan_hill/Skyline_sale - Photobucket - Video and Image Hosting
Older pics of the car
kenan_hill/Skyline_Random - Photobucket - Video and Image Hosting
Bad Points
The tyres will need changing soon.
Drivers window will not open, but you can hear the motor trying to close. Looking on the forum this seems a common fault and I plan to resolve this before sale.
Price
£13,500. I believe my car to be a good example hence the price, no silly offers please.