Discussion Starter
•
#1
•
As R35 GT-R owners, we are extremely fortunate to be able to drive one of the fastest cars on the Planet.
Many of us have raised power levels well beyond Nissan's original design, until now there has been no way to tune the suspension to match the changes in engine performance and tyres.
The R35 GT-R's Damptronic suspension was developed by Bilstein and is fitted to a number of high performance vehicles.
DSC Sport developed a Plug & Play programmable controller for the Damptronic suspension and very successfully applied their technology on track and road to the Porsche range of vehicles.
DSC have now developed a programmable controller for the R35 GT-R.
The DSC programmable controller adjusts the damping level of each individual shockabsorber in virtual real time with step control between the Sport and Comfort setting, resulting in an active suspension setup that provides more grip, greater stability and ride control while increasing comfort for all driving styles and road conditions.
The graphic below shows one of the main programming screens within the accompanying software package.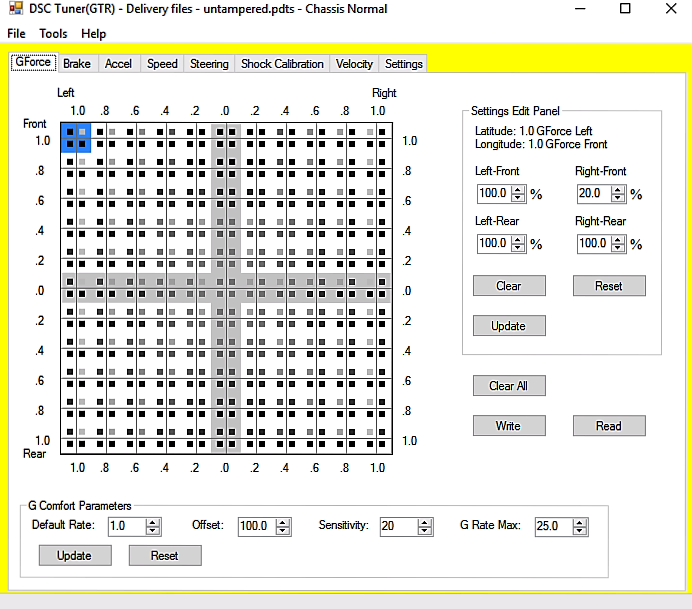 The box above, highlighted in Blue, shows the suspension settings that will be applied when the braking and cornering forces are 1G.
On the settings panel to the right, you can see that the left front and rear shockabsorber and right rear shockabsorber are set to 100% stiffness, the front right shockabsorber is set to 20% stiffness, allowing you to ride over any kerb with confidence.
The 10 x 10 GForce table allows 100 settings for each shockabsorber in steps of plus and minus 0.1G.
The Suspension Controller comes with starter maps that work very well. Users can create new maps for Track and street to suit their own driving preferances. Maps can be saved and uploaded / downloaded with ease.
More details can be found by visiting the
Performance Tuning Systems Website
Other parameters can be managed including comfort levels and also how the suspension reacts when the car is being launched.
The DSC system brings a level of sophistication that will greatly improve the driving experience and will greatly enhance our cars.
Thanks
Hugh