Discussion Starter
·
#1
·
A little bit of history...
I bought my trusty Premium edition R35 in May 2009.
Middlehursts put me a y-pipe, CF rear spoiler and reverse camera kit on it before I picked it up (all supplied by me).
I buckled after 3 months and Stage 2 Cobb'd it, adding in a loud Titan exhaust and PF rotors and pads all round as I started tracking it whenever I could.
Finally I added the usual adornments to make it a stage 4 running 620bhp, 600 ish lbsft torque. The limit for the stock internals was reached about 3 years ago and there it has remained.
Track days became few and far between because of the birth of my daughter in 2013, and taking on a Master's degree at the same time.
So over the last 2 years or so I've been toying with the idea of getting shot of it but I just couldn't think of anything affordable that could compare. Bentley GT Speed? Another R35 but a 2011+ car? All nice ideas but I just couldn't shake the fact that I absolutely love getting into the R35 every day, the way it drives, the way it looks.
Xmas 2014 saw intense and detailed negotiations with a higher authority which resulted in me being given the green light to start updating my old favourite.
I've been very lucky to have had Paul and his team from Riverside Racing here in Liverpool to look after me and install everything, their work is top notch and worry free!
Upgrades so far...
Sat Nav upgrade:
Andrejus's kit with the upgraded screen and nav unit is a revelation. I added in the newer dials for the AC panel too. Best £1400 I've spent on my car thus far. Took me a while to fit as I had all my old ipod connection and reverse camera stuff to remove. Bluetooth audio streaming? Utterly fab. You can now get this nifty upgrade from Andy at R35audio I believe, inc fitting.
Brake upgrade:
I knew my old PF rotors and pagid pads were getting very worn so I looked around for options. I looked at the Alcon BBK but I couldnt justify 12k+ for it and the fact you have to use proprietary pads put me off. I found a
thread
over at GTRHeritage were Shawn Hayes (a well respected GTR owner/forum member/track+diy enthusiast) had been reviewing a BBK set up by a small lesser known US company called Racing Brakes.
I did some digging and plumped for their BBK kit. All in delivered inc duties is about 4k less than the Alcons. Nice big calipers front and rear, 400mm front rotors, 390 rears and uses OEM size pads so I can swap them to anything I fancy at a later date. I like that approach. I opted for the hard anodised finish as it matched the car's colour.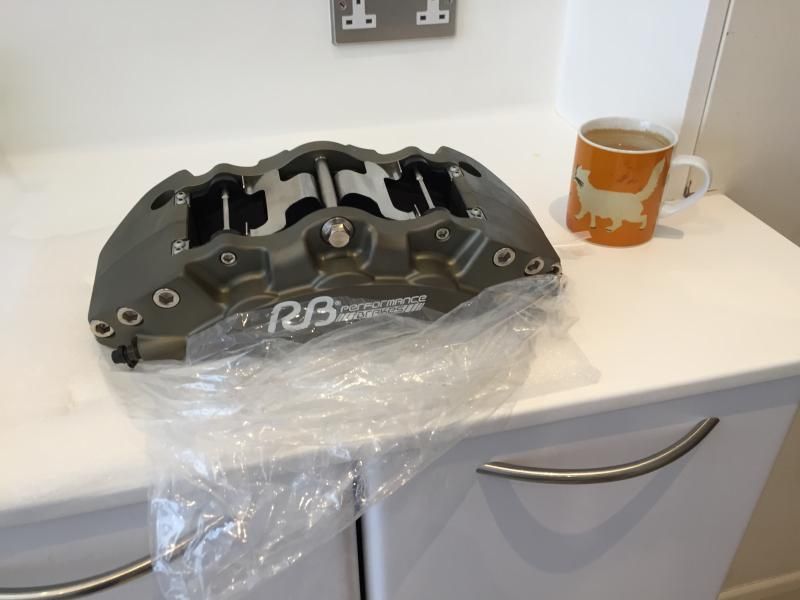 Monster front caliper next to a mug of coffee..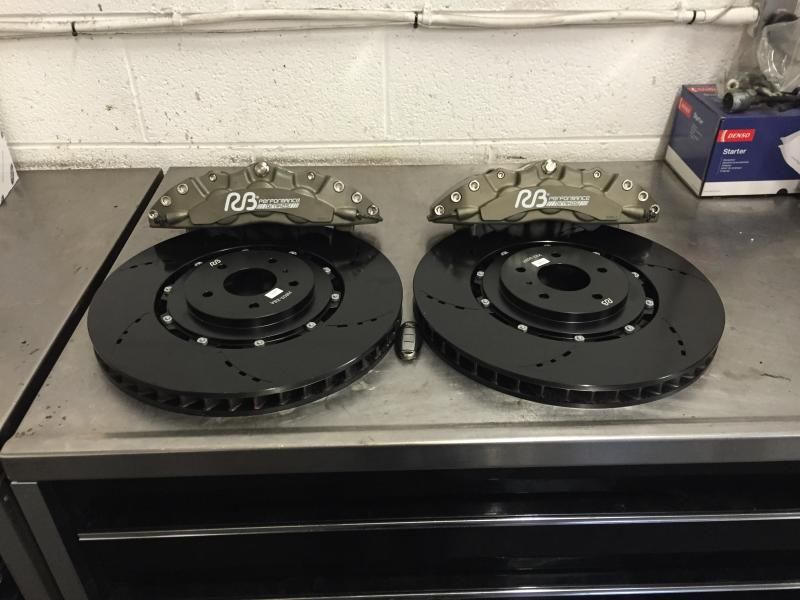 Front calipers prior to fitting with their protective covering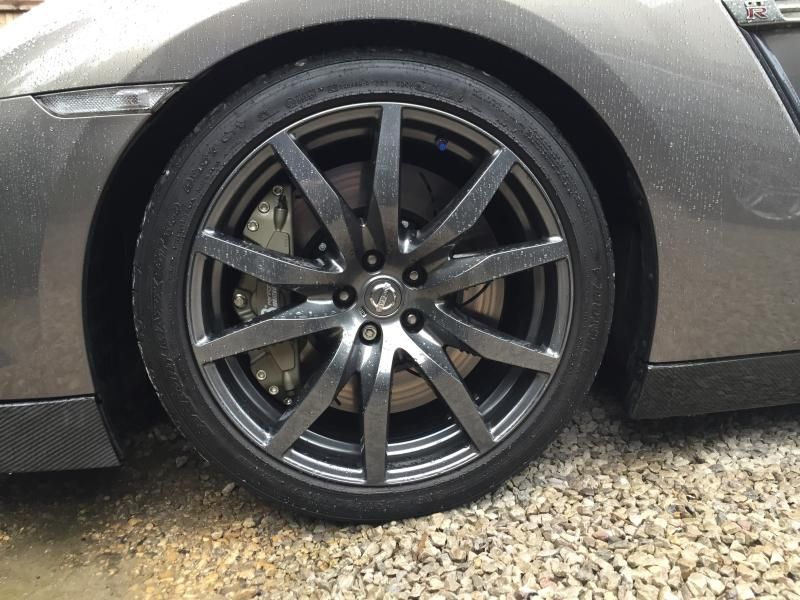 Front caliper and rotor fitted (after a little bedding in)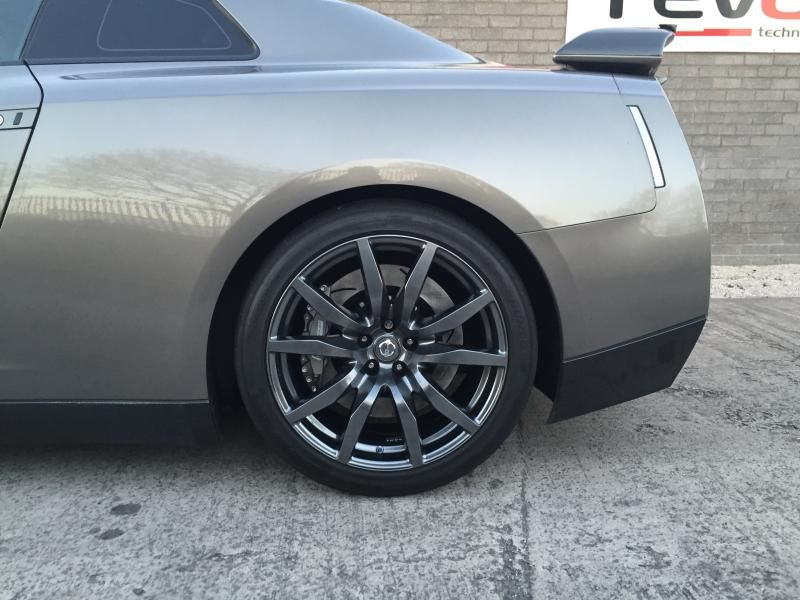 Rear rotors
These feel simply awesome. The kit comes with hard brake lines, street pads included. After bedding them in I've been stomping on these from over a ton with eye bulging effect. The increased thermal mass will come into its own on track but for a street upgrade, they're amazing, and cheaper than the Alcons to boot.
Alloy wheels and Recaros:
A lovely young chap called Tin sold me his 2011(?) wheels and front recaros. I've always loved the newer wheels and fancied the upgraded seats as I always felt my arse was on top of the older seats, not in them. The Recaros are so much more comfortable. You really sit into the seat and they're much more hugging. Love em.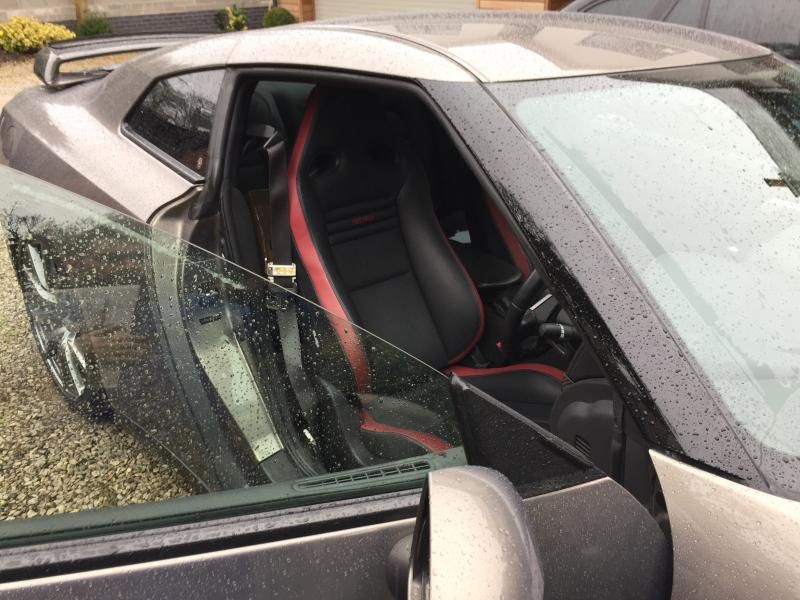 New front seats fitted.
Arty side shot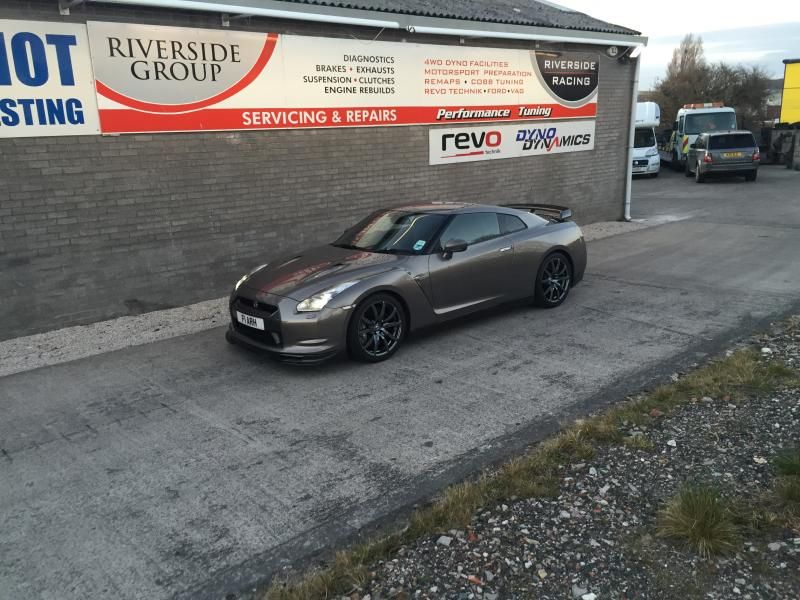 Another arty side shot
There's more to come here.
Paul and I are planning a 900+ build, so rods/pistons/fuel system/EFR turbos to come but so far so nice. We've addressed the main gripes I had with the car first, namely comfort (seats), usability (nav upgrade), and driveability (bigger brakes).
Next comes the power :runaway:
Many, many thanks to Paul, Warren, Tom and the gang at Riverside Racing.:bowdown1:

You guys are awesome.