Discussion Starter
·
#1
·
From
Tunerzine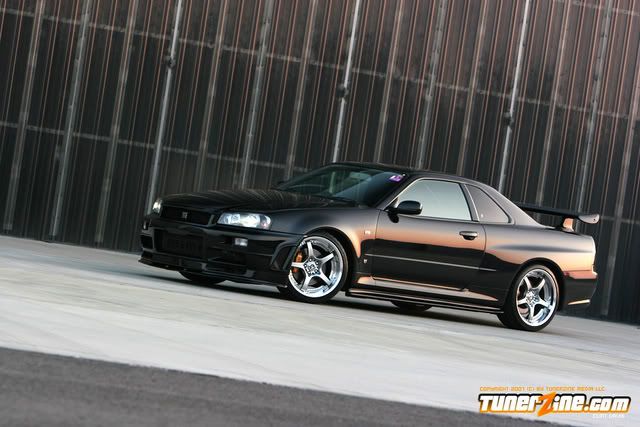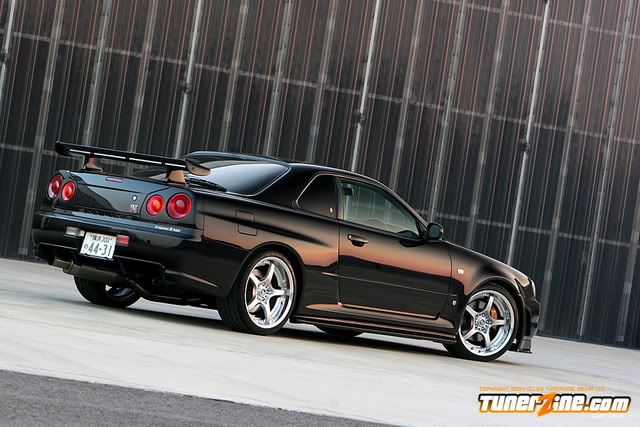 Despite the future arrival of the 2008 Skyline GT-R in the states, the Skyline name still remains a luscious forbidden fruit within the US. Most of us can relate their first experience with the word skyline to that miraculous car in Gran Turismo that could easily whip the competition and saving your thumbs hours of pain to beat the game. 10 years after the release date of Gran Turismo and we're still starved for the car titled "Prince" of Japan.

Where there's a will, there's a way, and Brad from Pennsylvania was able to snag a 2002 R34 GTR VspecII Nur. The limited edition Nur was named after the famous German Nürburgring racetrack, where the Skyline was developed. The Nur model featured an improved RB26DETT based on the N1 racing engine, used by Nismo in motorsports. Only 750 of these bad boys hit the streets, and it's rumored that only 2 rock the streets of the land of Britney Spears and Donald Trump. How he got a hold of one he wouldn't say, but he was nice enough to let us snap some pictures of his forbidden fruit.

The VspecII Nur is a gem in stock trim, but like all Skyline owners, they lust for even more power and speed. One glimpse under the hood and you will soon realize this is no ordinary RB26DETT. Shoved under the huge hood is a fully built balanced and blueprinted Tomei motor featuring forged pistons, rods, camshafts, springs, and many many many other tarmac shredding essentials. An Apex'I Power FC standalone ECU keeps the combustion flowing in beautiful rhythm like it should, and a Blitz boost controller reluctantly reduces the amount of force-fed air going into the motor.

Clothing the outside of the car is a collaboration of Nismo aero parts. Starting with the front bumper and working its way to the rear skirts. 19x10" Volk Racing wheels with Yokohama S-03 rubber make this Nur look like chariot fit for a…. well, prince. Behind the wheels are a set of 8-piston front calipers and 4-piston rear calipers with slotted rotors respectively. Tein fully adjustable coilovers give the Skyline an aggressive stance, and simply begs to be taken back to the 13.5 mile Nürburgring.

For most Americans, the thought of owning a Skyline GTR is no more than just a thought. And the thought of blasting down the Nürburgring in a special edition Skyline is something only made a reality in wet dreams. This VspecII Nur is the closest that dream will ever become on American soil.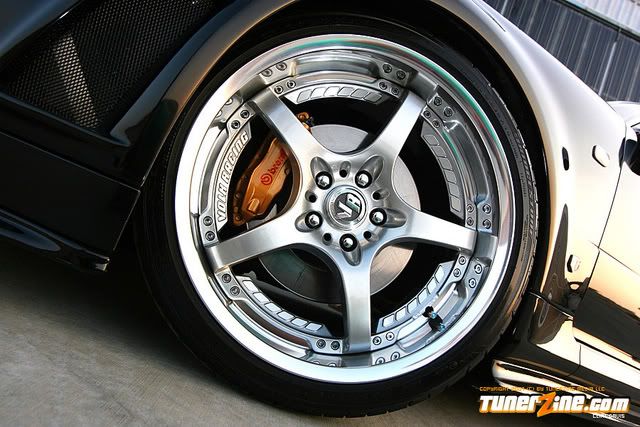 Exterior:
NISMO front bumper, NISMO side skirts, NISMO rear skirts, NISMO rear, carbon fiber diffuser, NISMO clear front and side markers, NISMO front diffuser, chrome brackets, HID headlights
Wheels:
19x10" Volk Racing wheels with Yokahama S-03, Rotora 8-piston front calipers with 405mm slotted & drilledrotors, Rotora 4-piston rear calipers with 355mm slotted & drilled rotors
Suspension:
Tein fully adj coilovers, GReddy front strut tower bar
Engine/Drivetrain:
Tomei fully built motor including:, balanced and blueprinted rotating, assembly, forged pistons, rods, Poncams 256/260 camshafts, springs and retainers, oil pump, oil pan baffles, ARC oil catch can, ARC titanium air rad guide panel, ARMS built turbos, Veilside downpipe, APEXI titanium cat-back, race-pipe, APEXI twin intake filters, APEXI Power FC standalone ecu with hand held commander, Blitz boost controller, NISMO twin dics clutch
Interior:
Field torque splitter, NISMO g-force meter, NISMO upgraded engine, display gauges, NISMO speedo and RPM gauges, Kenwood DVD player with in-dash screen, Diamond audio speakers and amps