1 of UK's largest stockists of Bodykits & Carbon Fibre. Performance parts specialist. Skyline's, Supra's, RX7's, Civics, Scoobies, Pulsar's & even Golfs Project and Show Car builders. Stockists of wide range of Carbon Aero parts for the New Nissan GTR.
​
More GTR parts here:
www.GTRblog.co.uk
Manufacturers, distributors and retailers of Carbon Fibre and Fibreglass products. Performance parts supplier, Import & Export specialists as well as bodywork and mechanical servicing and repairs.
Specialising in Japanese Performance cars including:
- Skylines (all ranges R32, R33, R34 & R35),
- Supra MKIV,
- RX7,
- Civic's,
- Subura Impreza's (all range including newest STi 10)
- Pulsar / GTiR
- Evo's all ranges
We also have worked on high end cars recently like Ferrari 360, Maserati's and Mercedes G55 Wagons as well as 997 Porsche Turbo's.
We have various UK warehouses totalling a stock hold of around £100k at any one time, meaning most products are ready for next day delivery! (perfect for those enthusiasts out there who just can wait!)
On site showroom built full of carbon fibre products so you can really see, touch and inspect the products before you buy (most other online retailers cannot offer this service).
We are also professional show car and project car builders, with our bodyshop schedule always fully booked 2 months ahead, it is always wise to call us up to discuss your project way in advance. By the way, we now only offer a Showroom finish paintjob and nothing less.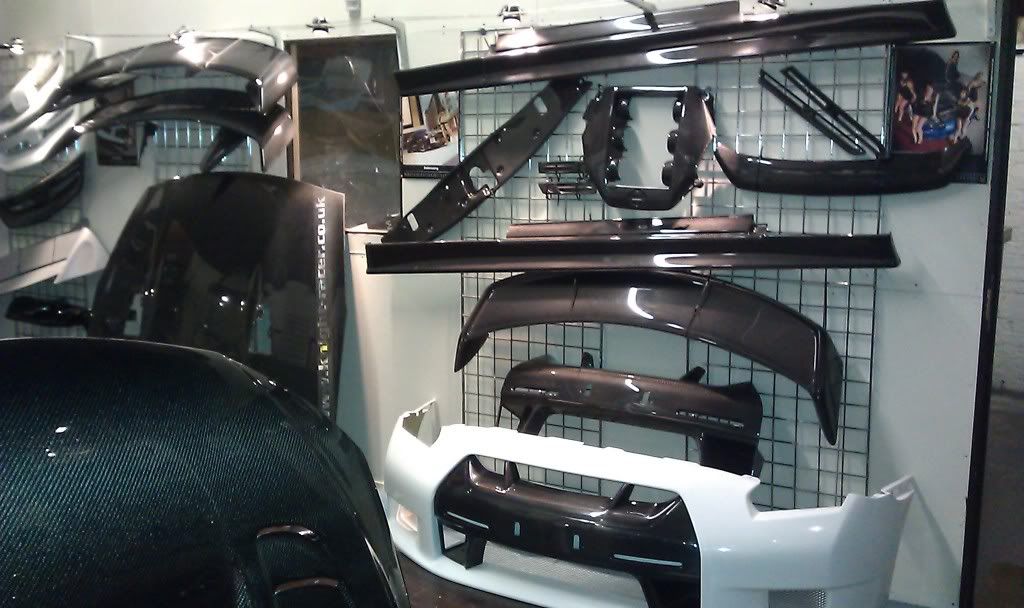 On site show room, fully kitted out garage workshop, fibreglass factory, bodyshop and MOT station... we truely are the ONE STOP SHOP you're looking for.
We have had numerous cars and company features in magazines such as Max Power, Fast Car, Banzai, Japanese Performance and Total Nissan.
Our main website:
www.knightracer.com
Our only shop:
www.knightracer.com/shop
Direct link to R35 GTR section:
www.GTRshop.co.uk
Direct link to R33
www.SkylineShop.co.uk
To read more about our HYBRID CARBON Technology:
www.HybridCarbon.co.uk
Knight Racer (Official Showcase 2011) - YouTube
​